by
Shooting Illustrated Staff
posted on February 8, 2012
Support NRA Shooting Illustrated
DONATE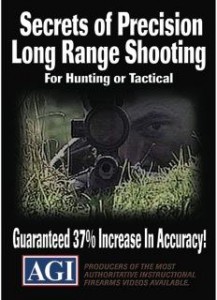 Long-range shooting expert Darrell Holland takes the viewer through a course of instruction specifically designed to improve one's long range shooting skills.
The initial discussion focuses on the rifle, ballistics, cartridges and bullets. Judging range and equipment calibration are discussed, as well as a selection of optics and range finders. Shooting techniques are covered from the point of view of both the hunter and tactical shooter. Holland gives tips for bench and field shooting positions, as well as demonstrates them with field expedient methods and accessories for optimum accuracy.
The viewer will see some incredible shooting at ranges up to 600 yards and learn how to make these difficult shots. Developed exclusively for AGI customers, this DVD includes a set of invaluable tables for calculating aiming points for long-range shots.
The AGI Secrets of Precision Long Range Shooting is available at www.americangunsmith.com for only $39.95 (Product ID# 322DVD).
If you want to start making money at the hobby you love, check out our basic AGI Professional Gunsmith course where, in 108 hours of your own time, you can become a certified gunsmith.