Support NRA Shooting Illustrated
DONATE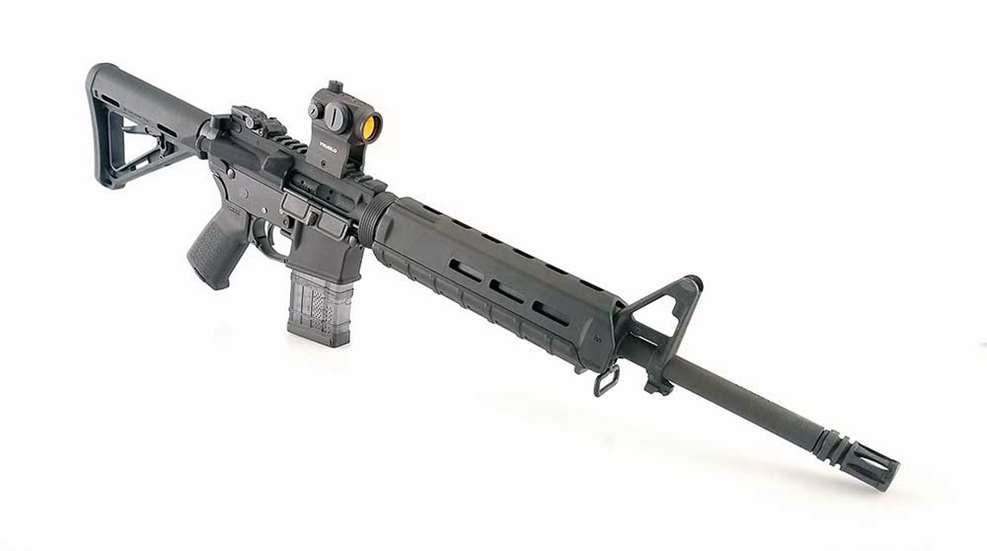 Not that long ago, I remember traveling to a gun show with my dad and coming upon an AR-15-filled table swarmed by show goers. The "Show Special" was a bare-bones, carbine-length, mil-spec AR topped by an inexpensive red dot and sold with a single-point sling. Price? $999. Times have certainly changed, and nothing showcases that change quite like the Palmetto State Armory Freedom Rifle Kit.

This kit makes it possible for AR aficionados to have an AR-15 complete with upgraded Magpul furniture and iron sights, all for less than $400. The kit itself comes with everything, including a Magpul MBUS rear sight, except for a lower receiver for $359.99.

For that, you get a mid-length gas system with an A2-style front-sight block and a barrel machined from 4150 chrome-moly steel and completed with a black-nitride finish. The barrel is chambered for 5.56 NATO and comes with a 1:7-inch twist rate, making it compatible with most surplus ammo options on the market.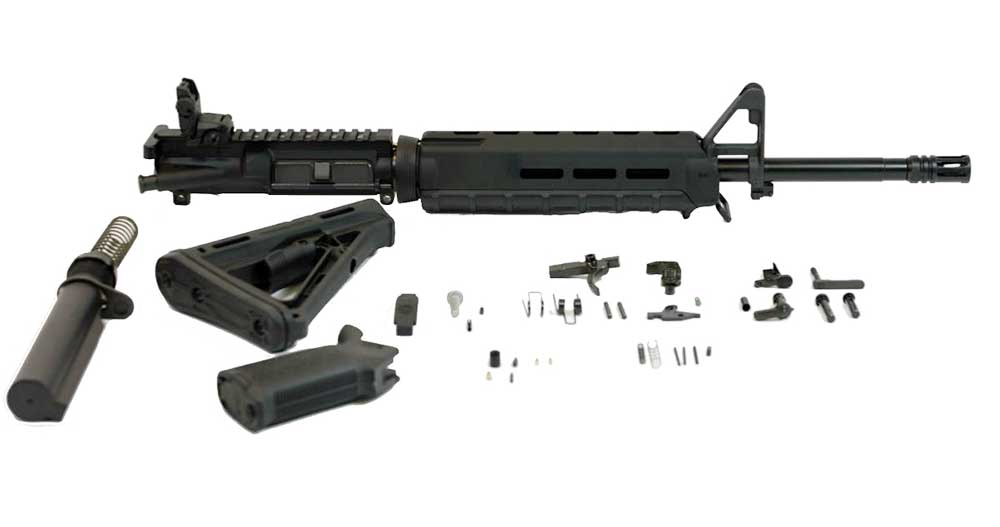 In fact, the entire upper receiver comes ready to roll right out of the box, featuring a forward assist, gas system, handguard, dust cover, rear sight and A2 flash hider already installed. The upper receiver itself, made in America, is an aluminum A3-style flattop receiver with a hard-anodized finish and M4 feedramp cuts. Some assembly is required, though, for the lower receiver components. The kit ships with a complete lower parts set, including a mil-spec trigger; Magpul MOE pistol grip, stock and enlarged trigger guard and a mil-spec buffer-tube assembly.

Notably, the Palmetto State Armory Freedom Rifle Kit ships with a complete M16-style bolt-carrier group machined from Carpenter 158 steel. The carrier and gas key are both chrome-lined, and the key is torqued and staked to military specifications. The kit also comes with a charging handle. Bottom line, unlike other AR build kits on the market, the PSA Freedom Rifle Kit comes with every single thing needed to produce a functioning AR-15, save the lower receiver.

For AR-15 receivers, the sky's the limit in terms of expenditure, but it's a safe assumption that budget is the aim when looking for a stripped lower receiver to pair up with the Freedom Rifle Kit. As of this writing, Anderson Manufacturing offered stripped lower receivers that can be found for the bargain price of $39.99 each, bringing the grand total of this entire build to $399.98. The serialized lowers are the only portion of this project that requires an FFL.

Some assembly is certainly required in this entire effort, and those who've never assembled an AR-15 lower might see that jumbled pile of parts as a daunting task. In fact, it's a very simple and forgiving process with the right tools and a little patience. Shooting Illustrated has a compilation here that walks through the entirety of the AR-15 build process, and Brownells offers a number of specialty tools that can ease several frustrations found throughout the procedure.

With the right tools and a careful eye on all my detent pins, I had this rifle up and running within an hour. The completed gun begs the question, though: How good is a sub-$400 AR? Shooting it is the only way to find out, so we used this Palmetto State Armory Freedom AR-15 as our test bed for an inexpensive red-dot round up (which included the TruGlo red-dot pictured on the rifle above), putting more than 1,000 rounds through the gun in a casual accuracy and reliability test.

With the red dots attached, we weren't looking for precision accuracy and we certainly weren't doing precision-shooting at 100 yards or more. However, the casual testing we did revealed that the gun, paired with a red dot, was capable of groups of about 3 MOA when using bulk Federal Premium MSR ammo. With premium match ammo and a high-power optic, those groups would certainly tighten up, but 3 MOA is certainly within acceptable parameters for a budget AR-15.

Accuracy is one thing, but reliability is essential. To push the Palmetto State Armory Freedom Rifle to its limits, we put more than 1,000 rounds through the gun without cleaning, shooting in intervals of 250 rounds at a time. Within the first 200 rounds, we noticed that the trigger would bind up occasionally. Walking trigger pins were at fault, likely due to spec issues with the receiver. I had a set of stainless-steel anti-walk trigger pins from Xtreme Precision on-hand and quickly swapped the components. No trigger issues were experienced for the rest of the test.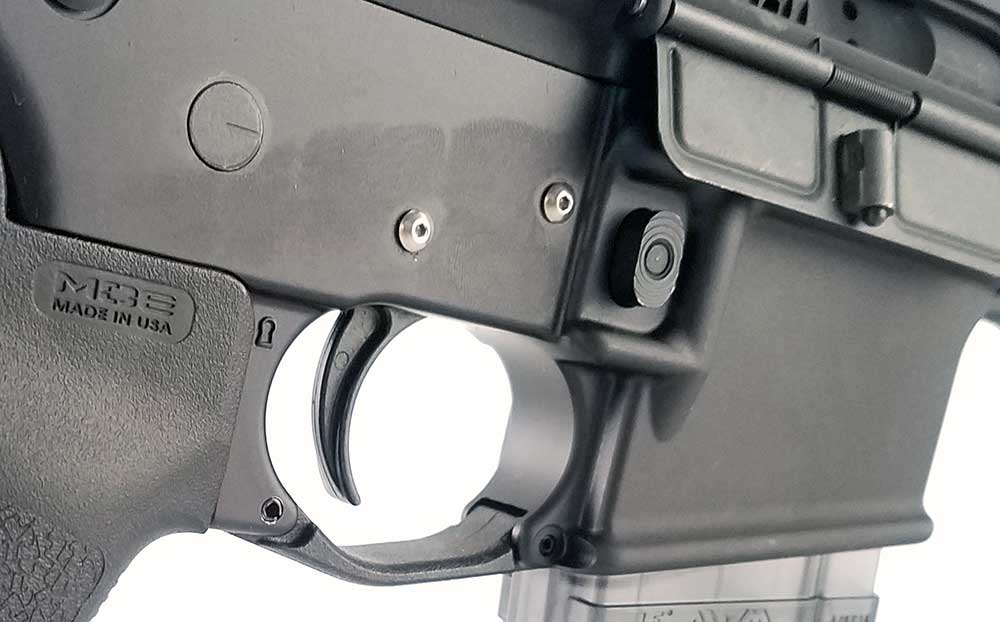 A handful of light primer strikes occurred when using Federal Premium MSR ammo. Other ammunition options tested worked fine, so it could just be an issue with hard primers. If not, extra-power hammer springs are available as an easy, inexpensive replacement. Overall, no other reliability or function issues arose when shooting the PSA Freedom Rifle.

AR-15 prices are lower than ever, and manufacturers like Palmetto State Armory are finding ways to get these modular guns into the hands of more shooters. What purpose does a gun like the budget PSA Freedom Rifle serve? It's a great shooter. Spending less on a quality rifle means there's more room for ammo purchases. Pick up the Freedom Rifle from Palmetto State Armory, and there's still plenty of room in your budget to grab a case or two of the company's great deals on 5.56 NATO ammo. After all, the best thing that any gun owner can do is to get to the range and practice, and the PSA Freedom is a great platform for it.