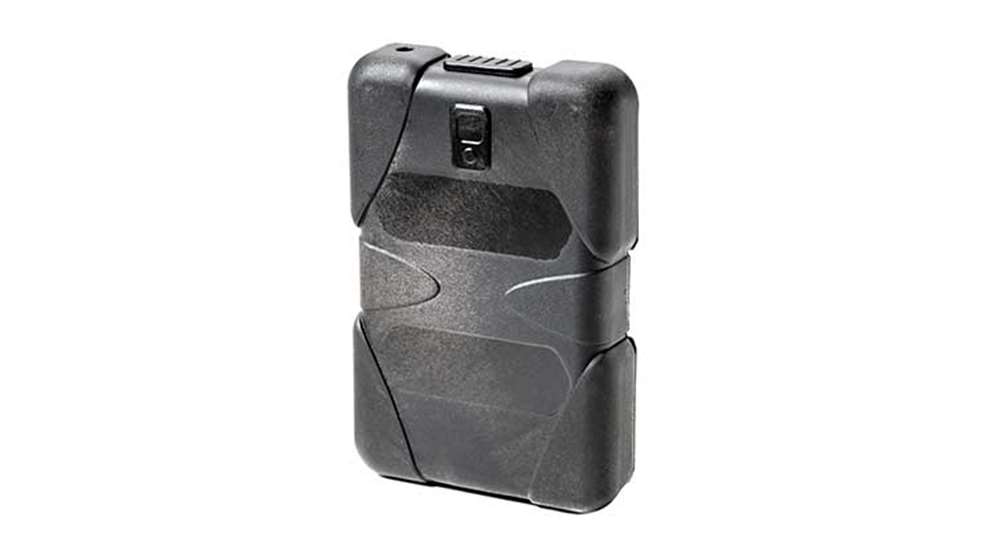 European American Armory recently introduced an innovative new concealed-carry product. At first I was tempted to call it a holster, but EAA's description as a "Concealed Carry Portable Firearm Safe" paints a better picture. However, the concept still requires further explanation.
At first glance, the ABDO is a belt holster in disguise.  In Latin, "abdo" loosely translates to mean "concealed" or "kept secret." A way of hiding a firearm on your belt in plain sight, the ABDO  resembles a large smartphone, or perhaps a small tablet computer in a belt case. While carrying a "phablet" on your belt may not be in vogue, it's less likely to attract attention.
It attaches to your belt via a sturdy metal clip. Inside, the pistol is held via a cleverly disguised rectangular enclosure on a vertical plastic peg that fits inside the barrel, and the hinged clamshell-style door locks closed. So, the pistol is disguised and discreetly encased on your belt.
While the pistol is oriented like a typical belt holster, the draw is anything but typical. To draw the pistol, simply slide the release button on top of the enclosure and the holster springs open, away from the body. The ABDO opens to nearly 90 degrees, and the pistol is able to pivot away from the body on the barrel peg. The draw is easy from any location you would normally use for belt carry, from appendix to behind the hip. The holster can also be adapted for right- or left-hand use.
What makes the ABDO a portable safe, as opposed to a mere holster, it has a simple detent lock that can be activated with the included key. The ABDO is designed to fit a variety of .380 ACP micro-size pistols. MSRP: $49; eaacorp.com

Stay tuned for a full review from Kevin Creighton on the ABDO Portable Firearm Safe.