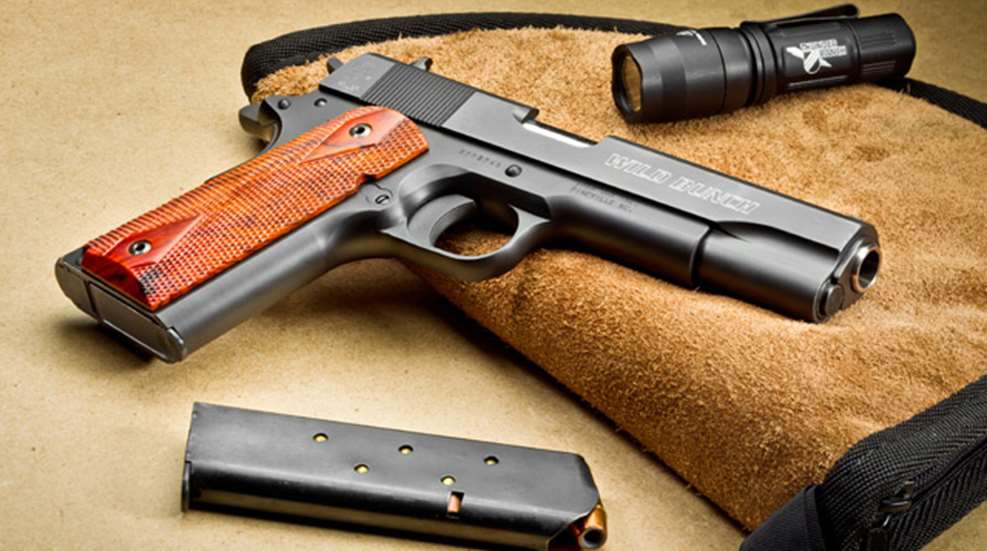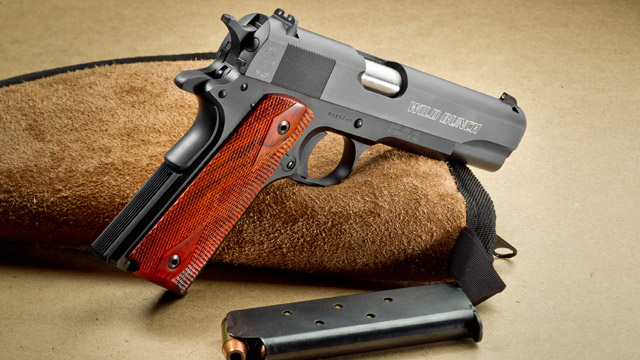 As a kid, I was a huge fan of westerns. Getting older, I became a great admirer of William Holden both as an actor and as a man. Finally reaching young adulthood, I became convinced the 1911 was the greatest semi-automatic pistol of all time. In 1969 these three elements came together in a movie called "The Wild Bunch," and, like much of America, I was a bit taken aback by the graphic violence but totally overwhelmed by the story.
Unfortunately, we can't bring back either Mr. Holden or the old west, but Para USA is manufacturing the handgun star of that movie. While it may not be exactly like the 1911s of the era, it is without doubt an excellent fighting handgun.
A quick external inspection reveals nicely checkered wood grips with large, smooth diamonds surrounding the mounting screw holes. The gun has a spurred hammer, solid trigger, flat mainspring housing and two magazines without bumper pads. Roughly centered on the left side of the slide are the words "Para 1911," while on the right side it says "Wild Bunch" in front of the ejection port with a small etching of the Single Action Shooting Society logo located behind the slide serrations. Rack the slide and you will see there is no guide rod and no integral barrel ramp.

The front sight blade and rear sight notch are both wider than on World War I-era 1911s, and the gun features the more modern three-dot sight system—not authentic, but much appreciated by us senior folks. While the grip safety seems to be a bit longer than what would be historically accurate, it prevents the spurred hammer from reaching over the tang and pinching the web of the hand. I was not bitten once during the range sessions, although I was not performing aggressive draw strokes during testing.
I hate to admit it, but I've become a bit of a 1911 snob, particularly in this 100th anniversary year during which I've been able to handle a large number of high-end pistols. As a result, I had minimal expectations for the Wild Bunch when I headed to the range. What a shock for Mr. Snooty when Para's new/old 1911 dazzled me with its performance.
First, there were no malfunctions—every round chambered and ejected cleanly every time with bullets ranging in weight from 185 grains to 230 grains, including some 200-grain lead semi-wadcutters from Black Hills. At 25 yards, jacketed ammo produced five-shot groups from less than 2 inches with Black Hills 230-grain JHPs to less than 2.5 inches with Black Hills 185- grain JHPs and Remington 230-grain FMJs. The aforementioned Black Hills semi-wadcutter bullets printed slightly more than 3 inches, and this from a gun I didn't think would work reliably with this semi-wadcutter design. I credit the wider sights for these groups, because the old V-shaped front sight blade and rear notch just don't work for me anymore.
The Wild Bunch's trigger pull measured around 5.5 pounds on my Lyman gauge, and while I could feel a very slight burr just before let off when shooting groups from the bench, I did not notice it when shooting offhand at silhouette targets. Keep in mind, this is a gun meant for action shooting, specifically cowboy action shooting with a theme period of the early 20th century. Despite the small group sizes achieved, this is not a bullseye gun, though I suspect you could win a few bets setting up some precision shooting contests on the side.
Were I to carry the Wild Bunch for self-defense, and I would be very comfortable doing so, there is nothing on the gun I would feel compelled to change. Initially I started a list, but the more I shot, the shorter the list got. The gun slides nicely in and out of one of my favorite holsters, Galco's original Gunsite training rig. Even lacking a beavertail grip safety, the gun never bit me, so I would have no qualms about taking it through a training class involving several hundred rounds. However, I would take some magazines with bumper pads just to protect the support-hand palm from the pounding it takes during the hundreds of loading drills one practices in such classes.
For street carry and self-defense situations, the Wild Bunch is good to go. It's a fighting handgun originally endorsed by our grandfathers that still serves military and civilians today.
Velocity Results
| | |
| --- | --- |
| Load | Velocity |
| Black Hills 185-grain JHP | 1,028 |
| Black Hills 200-grain LSWC | 885 |
| Black Hills 230-grain JHP | 881 |
| Remington 230-grain FMJ | 812 |

Velocity measured in fps 10 feet from the muzzle using a Shooting Chrony chronograph.