We marked the 100-year anniversary of the 1911-style pistol in 2011, and what a year it was. Two years later, there is still no shortage of makes and models of 1911 pistols. Ruger, Remington, Smith & Wesson, Taurus and many others all make their own variation (or variations) of the classic handgun. They can be had in any configuration imaginable, from standard 5-inch, GI-style pistols to fully tricked-out raceguns.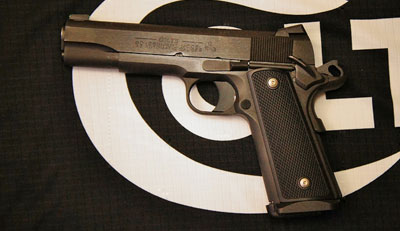 There's no argument that some improvements can be made to the GI-pattern guns to make them more shootable. Beavertail grip safeties, Commander-style hammers and better sights all come to mind as desirable features. But somewhere along the road, modern 1911s started coming out of the factory with unnecessary forward cocking serrations, full-length guide rods and other random modifications.
In 2010, Colt invited a group of gunwriters to Gunsite to shoot some of its new 1911s. At that meeting, executives from Colt asked the writers what they wanted to see in a 1911. The writers, by and large, wanted a simple, shootable gun with modern touches. All of the stuff you need—none of the nonsense you don't.
Fast forward to 2012, when Colt introduced its new 1911 Concealed Carry Government (CCG) as a limited edition for TALO Distributors. The 1911 CCG is a 5-inch, Government Model 1911 build on the Colt Series 80 system. The gun's features are exactly what you need to have a shootable 1911 right out of the box.
On the top, standard sights are gone, replaced by a fiber-optic front sight and blacked-out, extra-wide Novak rear sight. The gun doesn't have forward cocking serrations, and it uses a Commander-style hammer instead of the standard spur. The thumb safety is an extended, single-side variant, which is simple and reliable. The grip safety is a beavertail model, allowing for a higher grip on the pistol. From the factory, the gun ships with thin, attractive wood grips and two, eight-round magazines. No frills, no nonsense.
I performed my initial tests on the Colt CCG at Gunsite. Two days of hard use by gunwriters in the Arizona desert put the CCG through its paces. It digested at least 500 rounds over those two days, and I experienced no malfunctions with it during that time. Since then, the gun has fired another 1,500+ rounds of various ammunition and has yet to experience a failure to complete its normal cycle of operation.
There are a lot of good things to say about the CCG, starting with its accuracy. While 1911s are generally well regarded for their accuracy potential, the truth is barrel-to-slide-to-frame fit is tremendously important to wring that capability out of the pistol. The Colt 1911 CCG was tested with five brands of ammo for accuracy, including some 185-grain JHP match ammo from PNW Arms. At 25 yards from a rest, this load shot the best five-shot group of anything tested, with an impressive .93-inch group. Average velocity was 852 fps, which would produce a USPSA power factor of right around 157.
Other ammo tested included Federal American Eagle 230-grain FMJ, Hornady Steel Match 230-grain HAP, Tula 230-grain steel-cased FMJ, several brands of defensive hollow points and Atlanta Arms and Ammo 230-grain FMJ. The Colt fed everything without complaint, even the steel-case ammo. In fact, contrary to what you may read on gun forums, shooting steel-case ammo out of the Colt CCG did not cause the gun's extractor to explode into a giant fireball, incinerating everything within 100 feet.
Shootability tests went just as well. The trigger pull weight on the Colt is right at 5 pounds with a short take-up, crisp break and positive reset. Those features, combined with the excellent sights, meant that on the Dot Torture drill, the gun was able to shoot an excellent score of 50/50 at 5 yards. Speed drills went just as well—after all, the gun is an all steel, 5-inch 1911. We all know it's an easy gun to shoot well thanks to its superior ergonomics. Bill Drills (six shots at a USPSA A-zone) averaged right around 2.2 seconds, which is about as fast as I can reliably run any gun without spending a significant amount of time training on the platform.
My only real criticism of the Colt CCG would be in the stocks—they're too slim for larger hands, and the overall result is the gun isn't quite "grippy" enough for competition shooting or self-defense applications. That's an easy fix, however, as aftermarket options abound. I modified the test sample with Techwell Grips, which also incorporate a magazine funnel for faster reloads. These grips are aggressively textured, and adding them to the gun made it stick quite nicely during rapid fire drills. If aluminum grips aren't your speed, the choices from VZ Grips come highly recommended by 1911 aficionados. Like the Techwell, they give the proper balance of purchase without making the gun abrasive on your hands.
Colt has added the CCG to its main catalog for 2013, and the pistol's features and price point make it an incredibly attractive gun for someone looking for a 1911. Retail price is right around $1,000 for the CCG, and you're not getting some off-brand gun. For that price you're getting a Colt 1911—one that's been well built, set up correctly and is ready to go in your carry holster or to an IDPA match right out of the box. If you're looking for a flashy 1911 with a full-length guide rod, miles of checking, forward cocking serrations, three rails and all sorts of other stuff, the CCG isn't going to blow your skirt up. But if you're the kind of guy who seasons his steak with a little salt and a little pepper, if you like hot dogs with mustard on them, if all you want is a reliable, accurate 1911 with good features then give the Colt CCG a look. It's a classic Dodge Charger with a big V8; a simple gun for the shooter who prefers things straightforward.
| | | | | |
| --- | --- | --- | --- | --- |
| Load | Velocity | Largest Group | Smallest Group | Group Average |
| Atlanta Arms and Ammo 230-grain FMJ | 744 | 2.05 | 1.77 | 1.98 |
| Federal American Eagle 230-grain FMJ | 822 | 3.3 | 2.51 | 2.88 |
| PNW Arms 185-grain FMJ | 852 | 1.44 | 0.93 | 1.15 |
Velocity measured in fps at the muzzle for 10 consecutive shots. Accuracy measured in inches for five consecutive, five-shot groups from a rest at 25 yards.