by
Shooting Illustrated Staff
posted on August 4, 2017
Support NRA Shooting Illustrated
DONATE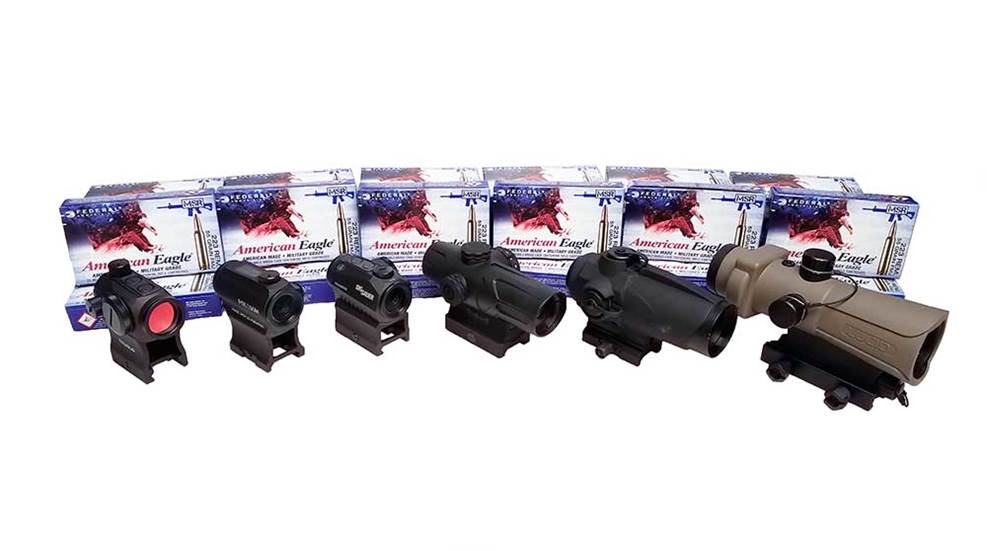 We feature many higher-end optics in the pages of Shooting Illustrated, and a common refrain we hear from our readers centers on budgetary concerns. It's a tightrope act, to be sure—no one picks up Car and Driver to read about the latest econobox; they want to read about the newest Lamborghini. With that in mind, we've decided to take a look at some affordable red-dot optics for a more economical shooting experience.

While the upper-tier optics are all excellent choices and make sturdy, reliable choices for a defensive long arm, there are myriad reasons to look for more frugal options. Whether you're equipping a back-up rifle (or three…) or simply want to save some money, here are some options that work just fine, but have MSRPs under $250. These options might not be as robust as military-grade offerings (although they might), but held up well in our testing.

We ran all optics through the same test: Zero the sight at 25 yards, then fire 250 rounds of Federal Premium MSR ammo. Zero was then re-checked on the same style target and the targets were compared to see how the groups moved. All of the optics tested experienced no discernable shift in zero, allowing us to say comfortably that these are worthy optics options for any range rifle.

The red-dot optics tested, in descending order of MSRP, are the following: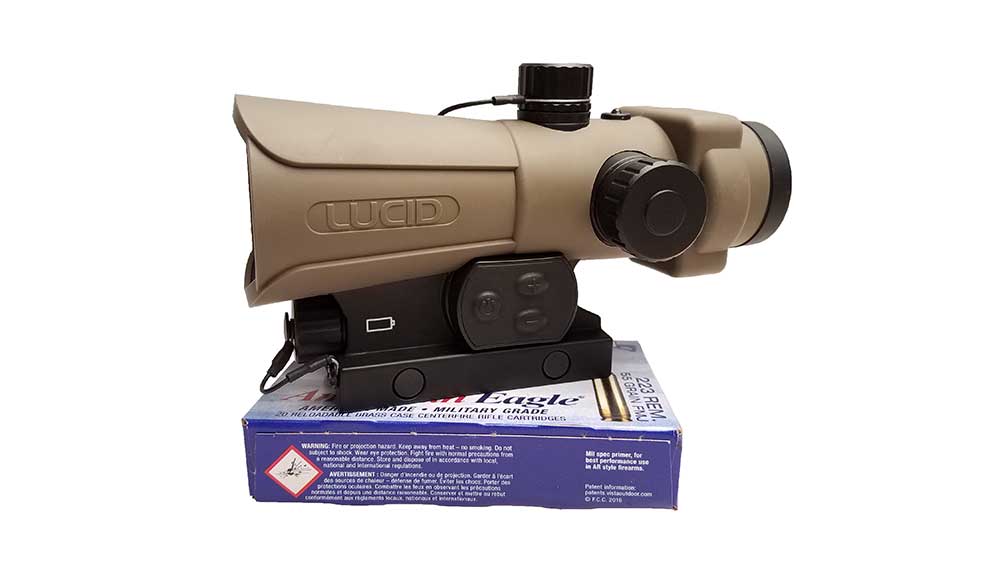 Lucid HD7 (MSRP: $249)

Built from a single piece of aluminum, the Lucid Optics HD7 features a rubber armor coating that protects the housing from nicks and scratches and provides a cushion against bumps. The red-dot optic comes equipped with four selectable reticle choices: 2-MOA dot, circle-dot, ranging reticle and chevron. The unit features a selection knob found on the left side of the optic, which allows users to select the reticle they prefer.

The HD7 runs off one AAA battery and features seven illumination brightness settings, set using + and - touchpads on the left side of the red dot. The optic also features capped turrets and is built with an improved light sensor, as well as ruggedized electronics.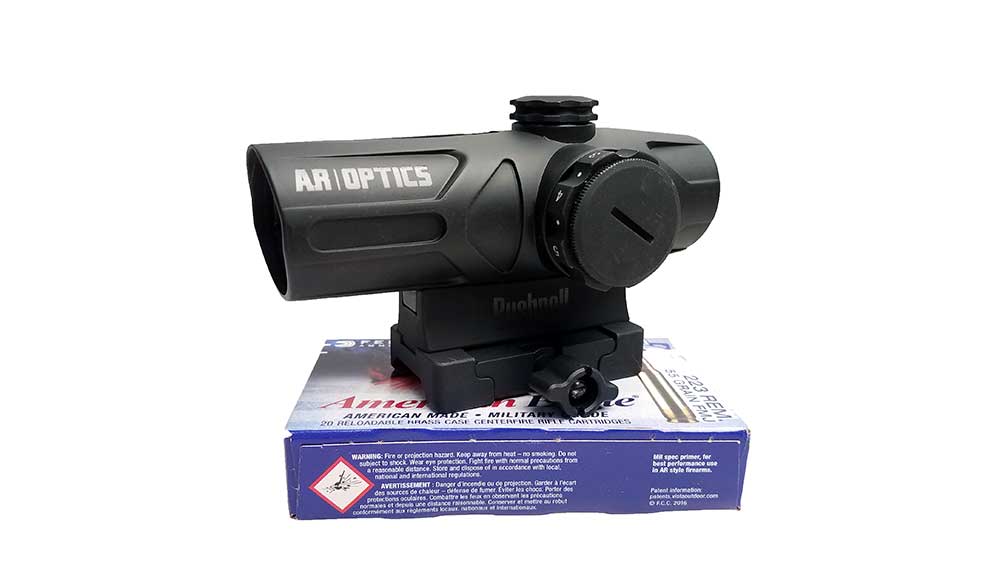 Bushnell Enrage (MSRP: $239)

The Bushnell Enrage is constructed with a high-rise mount, making it ideal for use on AR-style rifles for quick target acquisition. The red-dot optic features eight separate brightness settings, all visible to the naked eye with varying levels of intensity. The settings are selected through a knob located on the left side of the optic body, with "off" settings in between each brightness level, allowing users to be within one click of their preferred setting.

The Enrage provides consumers with a 2-MOA red dot, which is clarified and sharpened through the multi-coated lenses used in the sight. The Enrage weighs in at 9.8 ounces, uses capped adjustment turrets and features a battery life of 50,000 hours on a mid-range setting.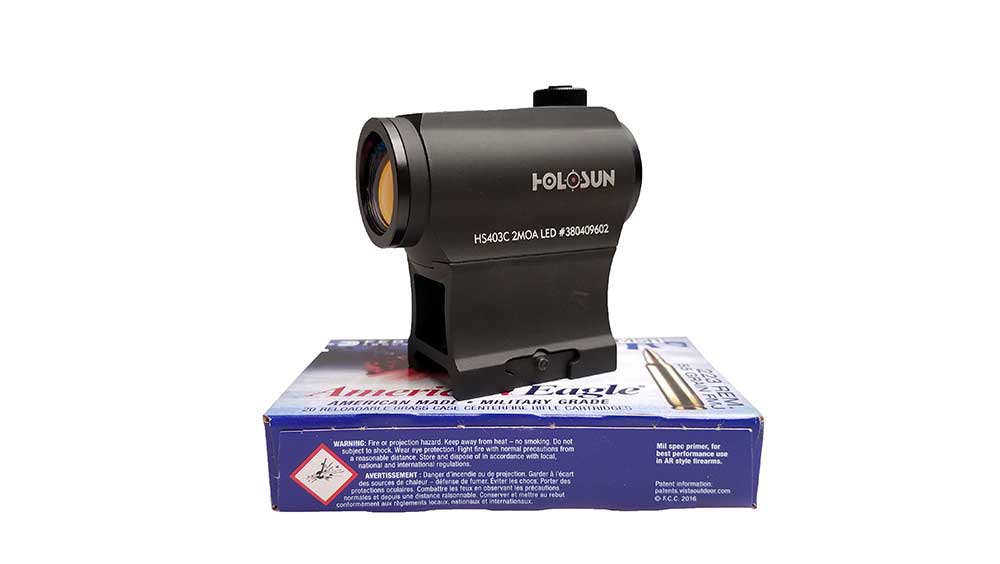 Holosun HS403C (MSRP $235.28)

The HS403C is constructed with a unique dual-power system, which enables the red-dot optic to run almost continuously, given adequate ambient lighting. The red dot features a solar-powered system that runs in conjunction with the battery-powered electronics found in the sight, ensuring that battery life can be preserved when ambient lighting is available for the solar-powered system. When used with the solar-powered system, the intensity of the red dot is auto-adjusted for the amount of available light.

The Holosun is equipped with a 2-MOA red dot and is built with improved LED technology that provides up to 50,000 hours of run time using one battery. The optic includes both a low mount and a higher co-witness mount for use with AR-15s.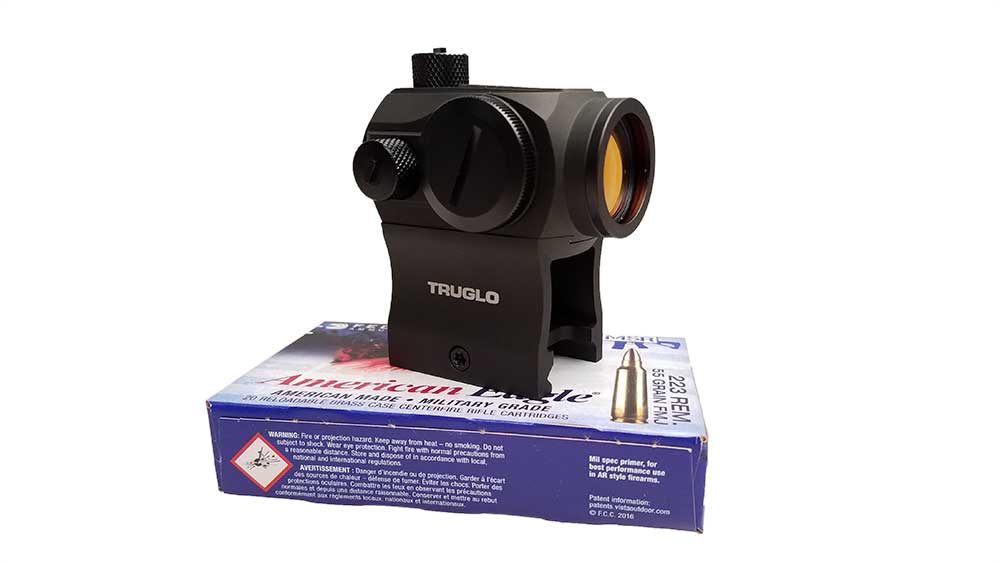 TruGlo TruTec (MSRP: $221)

One of the 2017 red-dot optics from TruGlo is its TruTec, which provides shooters with a 2-MOA red dot set inside of a 20 mm housing. The optic features auto-on and auto-off settings, which measure the movement of the red dot and detect when it needs to power up for use. After a period of inactivity, the red dot will power off to conserve battery life.

The TruTec features capped windage and elevation adjustment turrets, and the caps are conveniently designed to act as adjustment tools for ease of use. Multiple brightness settings are available, selected through a push-button pad located on the top of the housing. The optic comes with both high and low mounting bases, along with all necessary adjustment tools.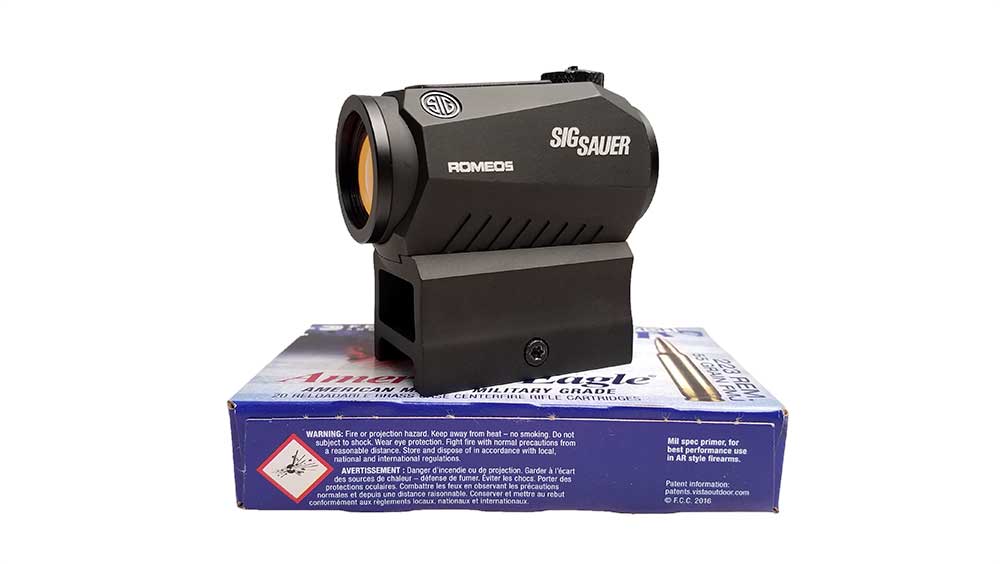 SIG Sauer Romeo5 (MSRP: $219)

From SIG Sauer's Electro-Optics line comes the Romeo5, which provides gun owners with a 1x red-dot optic with a number of quality features at an affordable price. The sight is built with an aluminum housing that is waterproof and fogproof and comes equipped with a 2-MOA red dot with 10 different brightness settings, two of which are designed for use with night-vision equipment.

The Romeo5 runs off a single CR2032 battery, which is accessible from a side panel, so users don't have to rezero the optic for a battery change. Users can expected to get more than 50,000 hours of use off a single battery. The motion-activated illumination technology used in the optic powers up when it senses movement and shuts down during inactive times in order to conserve battery life. The optic also comes with both a low riser mount and a high co-witness mount.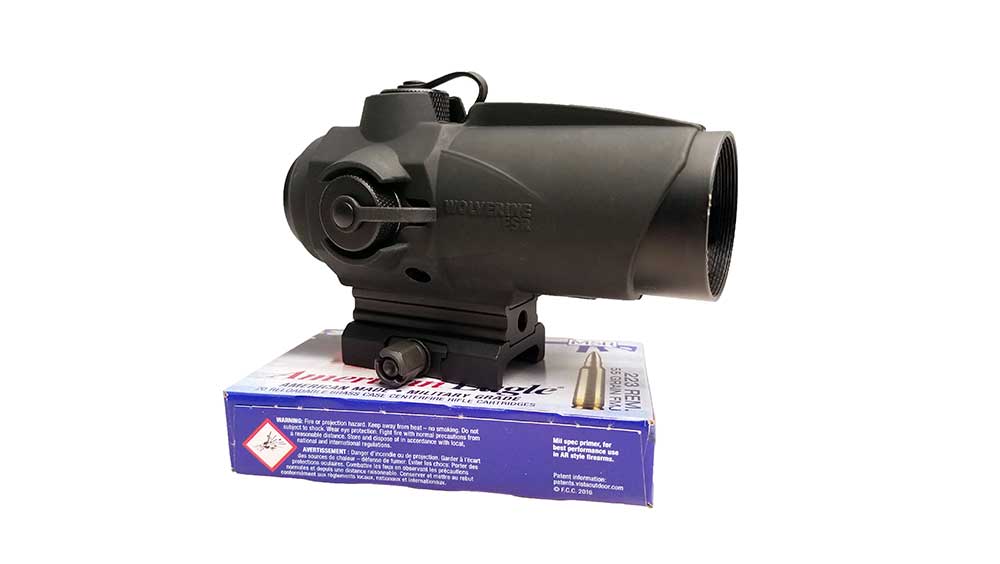 Sightmark Wolverine FSR (MSRP: $179.99)

The Wolverine FSR from Sightmark is a red-dot optic constructed with a one-piece aluminum housing, which is coated in a rubber armor for added protection against damage. Inside the housing, users will find scratch-resistant lenses and a 2-MOA red dot with variable brightness settings, including several options designed for use with night-vision devices.

One of the remarkable features of the Wolverine FSR is its incredibly long battery life. The red dot runs off a single AA battery, and its lowest setting provides 1,000,000 hours of use. On setting six, users can plan to see six years of continuous operation. The sight is waterproof and fogproof and weighs in at 12.3 ounces.

With an MSRP range between $180 and $250, most of the above red-dot optics will sell for somewhere in the $150 to $200 range. Premium options will sell for three to five times that amount, and while those options are certainly worth the price—designed with different parameters and goals—not everyone can afford that level of gear. Often, if gear passes the "does it work under normal conditions" test, it passes.  In our testing, the results speak for themselves: all units had no appreciable drift from one group to the next.

Again, if you're outfitting a defensive carbine for home-defense work or competition, you might want to save your pennies and get a hardy optic designed to take such abuse. If you're on a budget, setting up a backup carbine or don't need as many bells and whistles, here's a half-dozen choices that are worth investigation.