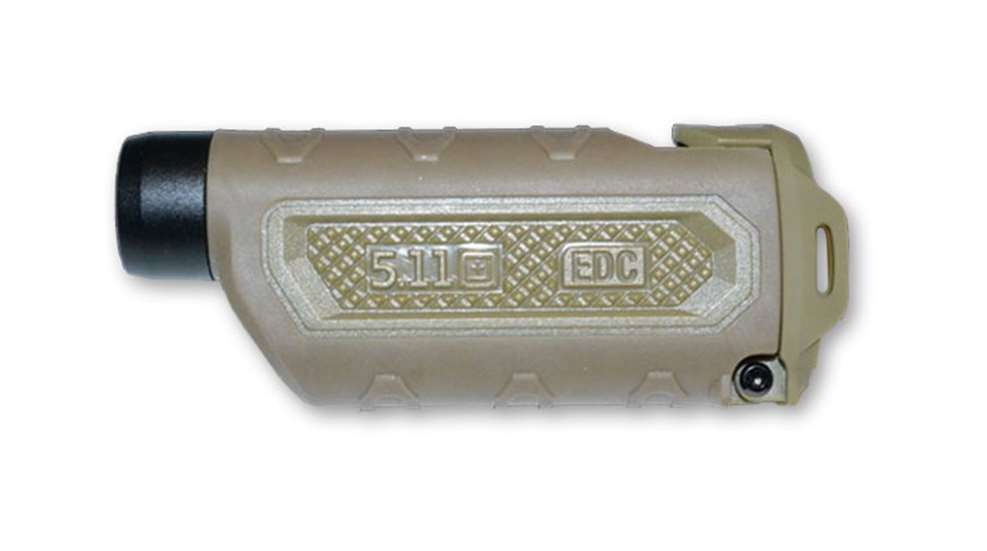 We all know that a good flashlight is an important piece of gear to have with you at all times, right? From lighting the way to your car in a dark parking lot to finding the quarter that rolled behind the soda machine, a good light is something you just plain ought to have on your person at all times.
Tactical flashlights offer unprecedented light levels and strobe options, but those multiple-hundreds of lumens come at a dual cost. Not only does it necessitate using pricier batteries, but the overall size—while lightyears smaller and lighter than the flashlights of even a decade prior—is still more than can be comfortably carried in standard business casual.
Enter the 5.11 Tactical TPT EDC flashlight. At slightly less than 2 ounces (1.87 ounces on our postal scale) with batteries, the slim design doesn't use a lot of pocket space nor weigh you down. Operation is dirt-simple: there are two modes, "on" and "off." That's it. No special strobe. No high/medium/low. No flashing messages or signals. Just click on. Click off. Lather, rinse, repeat.
With 91 lumens of output, it's not going to blind a potential attacker, but it's certainly enough to see someone lurking around your vehicle long before you get there. With a 4.75-hour runtime on two AAA batteries, it's easy to refresh and won't need to be changed often. A pocket clip and lanyard attachment round out the ease with which it can be carried.
MSRP: $22.99. Available in black, Flat Dark Earth and Traffic Yellow.