by
Shooting Illustrated Staff
posted on June 25, 2019
Support NRA Shooting Illustrated
DONATE
As more of today's rifle shooters enter the long-range precision game and firearm manufacturers churn out factory rifles capable of shooting sub-MOA groups, the need for enhanced optics is more evident than ever before. On either end of the price spectrum, optics manufacturers are innovating. Novel designs like the Golden Bullseye-winning Leupold Mark 5HD showcases high-end innovation occurring in the market, while the budget-minded among us have more high-magnification options than ever before. If you're looking to top your precision rifle with a highly magnified piece of glass, there has never been a better time to be in the market. Check out thirteen of the latest long-range riflescopes to emerge in 2019: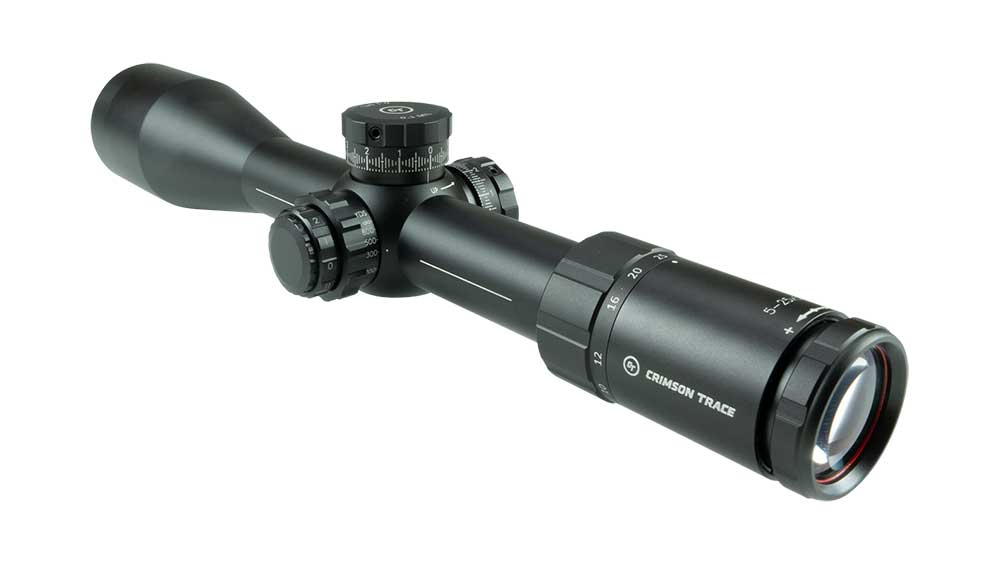 Crimson Trace | CTL-3525
Words like "solid," "beefy" or "substantial" are barely adequate to cover the new CTL line of riflescopes from Crimson Trace. The CTL-3525 features a first-focal-plane, mil-dot reticle with precise holdover points and 11 levels of illumination (3 night, 8 levels of brightness). It even comes with a lifetime warranty for extra peace of mind.
Magnification: 5-25X
Objective Lens Diameter: 56 mm
Reticle: MR1-MIL
Length: 15.7 inches
Weight: 35.1 ounces
MSRP: $1,199
(800) 442-2406; crimsontrace.com
---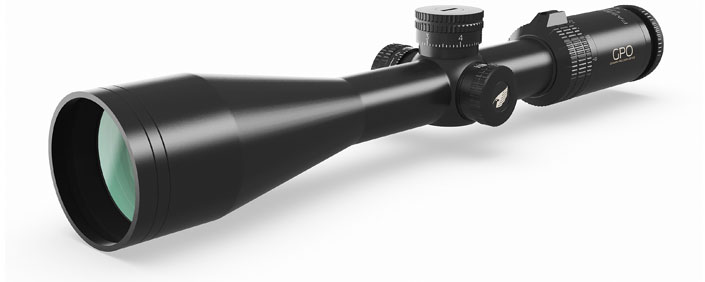 German Precision Optics | Passion 4X 6-24x50 mm
Built on 30 mm aluminum tubes, the Passion 4X offers an excellent range of adjustment, a custom MOA ballistic reticle and custom Kenton turret for your caliber of choice. Ideal for long-range shooting, this riflescope features double HD glass and the propriety GPObright lens-coating technology.
Magnification: 6-24X
Objective Lens Diameter: 50 mm
Reticle: MOA
Length: 15.4 inches
Weight: 27.2 ounces
MSRP: $999.99
(844) 692-4667; gpo-usa.com
---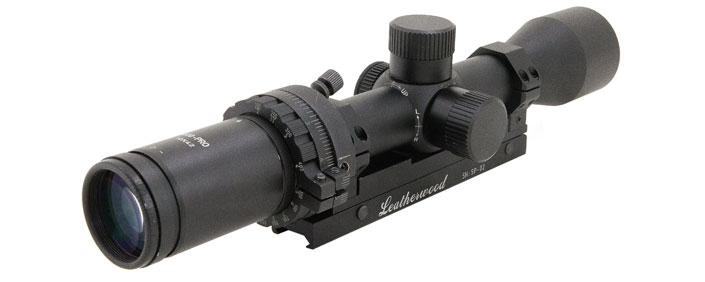 Hi-Lux Optics | Leatherwood ART M1000-PRO
In honor of the 50th anniversary of Jim Leatherwood's legendary Automatic Ranging Trajectory (ART) scope, Hi-Lux has redesigned its ART M1000-PRO. The ART system's general cam has been refined and improved in order to compensate the bullet drop of almost any caliber.
Magnification: 2-10X
Objective Lens Diameter: 42 mm
Reticle: HR1 MOA
Length: 12 inches
Weight: 32 ounces
MSRP: $515
(888) 445-8912; hi-luxoptics.com

---

Leupold | Mark 5HD
Building on the success of the Golden Bullseye-winning Mark 5HD 5-25x riflescope, the line expands with even greater reach. The 7-35X sibling offers the same winning features as the5-25X, with great optical quality, tactile adjustments and generous eye relief. The search for a scope for that super-accurate, long-range tack driver might just be over.
Magnification: 7-35X
Objective Lens Diameter: 56 mm
Reticle: H-59, CCH, TMR, Tremor 3, and Impact 60
Length: 15.7 inches
Weight: 32 ounces
MSRP: $2,989.99
(800) 538-7653; leupold.com
---


Meopta | Optika6 5-30x56 mm
Part of the new Optika6 line, the 5-30x56 mm model features a 34 mm tube and ED glass, which, at higher magnification, eliminates chromatic aberration. It also features target turrets, multiple reticle options, one-piece tube design, zero-reset, a throw-lever-equipped zoom ring and rear-facing zoom display for easy viewing.
Magnification: 5-30X
Objective Lens Diameter: 56 mm
Reticle: Multiple options, including Illuminated and DichroTech
Length: 14.3 inches
Weight: 25.8 ounces
MSRP: $899.95
(800) 828-8928; meoptasportsoptics.com
---


Nightforce | ATACR 7-35x56 mm F2
New for 2019 is a second-focal-plane version of the extreme-long-range 7-35X scope Nightforce has offered in a first-focal-plane variant. Other than the focal plane, the ATACR 7-35X scope retains the same bombproof construction, large field-of-view and reproducible precision you'd expect in a Nightforce optic.
Magnification: 7-35X
Objective Lens Diameter: 56 mm 
Reticle: MOAR-T/MIL-C
Length: 16 inches
Weight: 39.3 ounces 
MSRP: $3,100
(208) 476-9814; nightforceoptics.com

---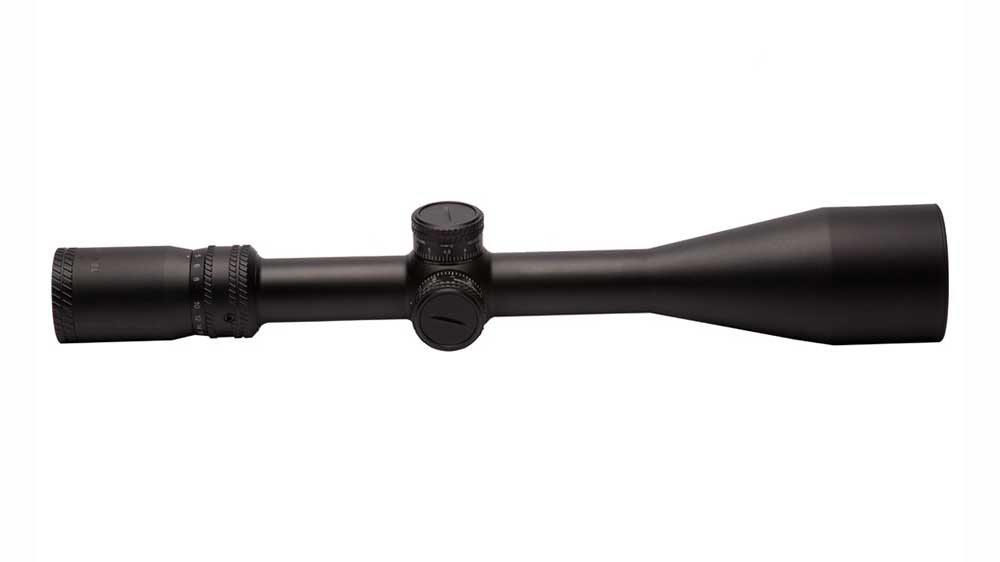 Sightmark | Citadel
A first-focal-plane, 30-power optic with an illuminated reticle, throw lever and sunshade for a little more than $500? Sightmark's Citadel line brings affordable long-range optics to the increasing number of equally inexpensive chassis bolt-action-rifle options.
Magnification: 5-30X
Objective Lens Diameter: 56 mm 
Reticle: Illuminated LR2
Length: 14.9 inches
Weight: 27,5 ounces 
MSRP: $515,99
(817) 225-0310; sightmark.com
---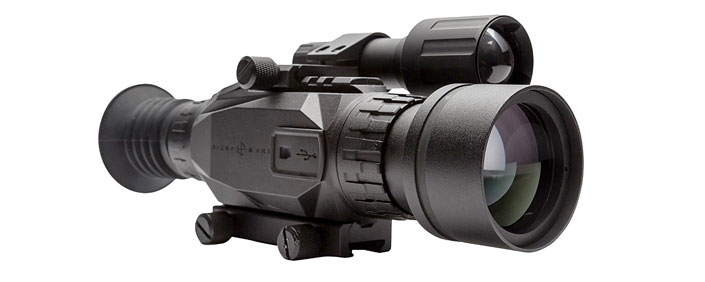 Sightmark | Wraith HD 4-32x50 Digital Riflescope
Digital magnification out to 32X, 10 different reticle options with nine different colors and night-vision capability along with an IR illuminator are a few high points of the Sightmark Wraith digital riflescope. It runs on 4 AA batteries and can record and export video.
Magnification: 4-32X
Objective Lens Diameter: 50 mm
Reticle: 10 options
Length: 10.5 inches
Weight: 36.3 ounces
MSRP: $599
(817) 225-0310; sightmark.com
---


Sightron | S-TAC4-20X50FFPZSIRMH
Designed for diverse tasks, the S-TAC4-20X50FFPZSIRMH features the new MH-4 reticle offering vertical and horizontal crosshair intersection. It also includes a zero stop, 22.9 MRAD of elevation adjustment, the ExacTrack windage- and elevation-adjustment system, multi-coated lenses and a flip-up lever on the magnification ring.
Magnification: 4-20X
Objective Lens Diameter: 50 mm
Reticle: MH-4
Length: 15 inches
Weight: 25.6 ounces
MSRP: $999
(800) 867-7512; sightron.com

---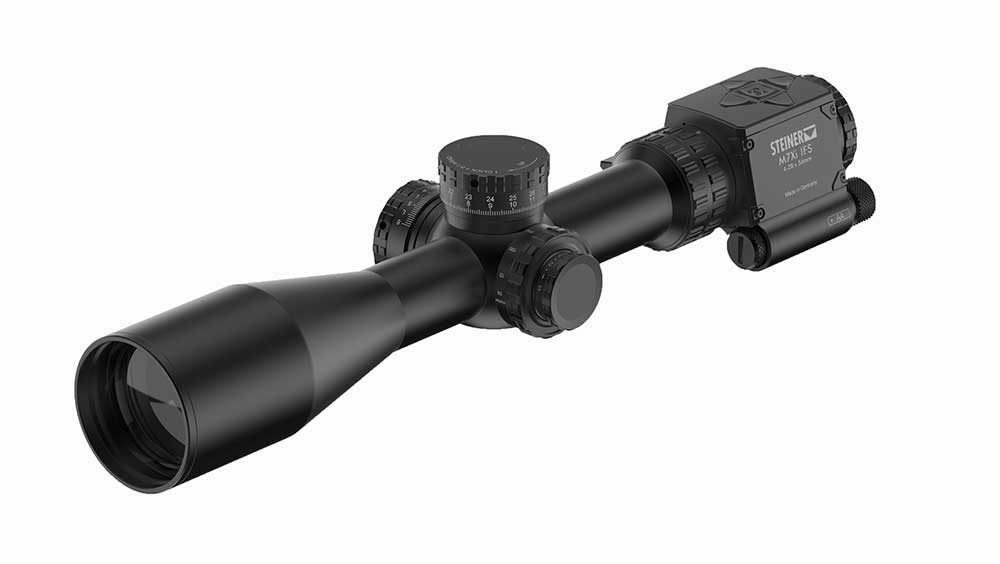 Steiner | M7Xi IFS
The Intelligent Firing Solution incorporated into the Steiner M7Xi provides critical, real-time information about the target environment to the operator. The built in Ballistic Calculator and Sensor Suite determines the bullet point of impact in real time (temperature, air pressure, inclination, wind drift). Just turn the turrets until the distance and wind correction in the display matches the information provided by the spotter.
Magnification: 4-28X
Objective Lens Diameter: 56 mm
Reticle:Tremor 3, MSR2 and G2B
Length: 15.4 inches
Weight: 40.6 ounces
MSRP: $5,749.99
(888) 550-6255; steiner-optics.com
---


Tract | Toric UHD 30 mm 4-20x50 FFP MRAD PRS
Improved to fit the requirements of PRS shooting, the new Toric 4-20x50 has an MRAD PRS reticle with a long-range "Christmas Tree-style" reticle sporting a .04-mil floating center dot and .2-mil windage correction holds. Schott HT glass provides outstanding resolution.
Magnification: 4-20X
Objective Lens Diameter: 50 mm
Reticle: MRAD PRS
Length: 13.7 inches
Weight: 34 ounces
MSRP: $1,294
(631) 662-7354; tractoptics.com
---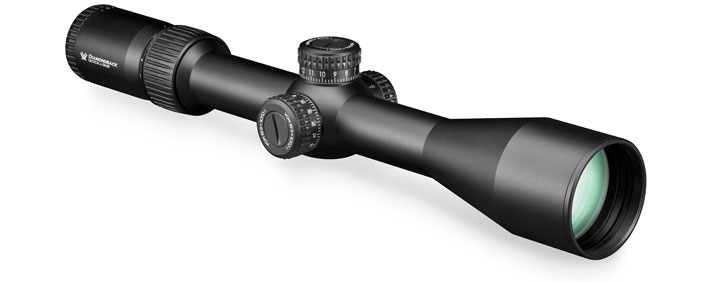 Vortex | Diamondback Tactical
A first-focal-plane optic for $500? The EBR-2C reticle is ideal for maintaining elevation and/or wind correction(s) while accurately engaging targets at distance. This scope features fully multicoated glass for sharp, bright images.
Magnification: 6-24X
Objective Lens Diameter: 50 mm
Reticle: EBR-2C
Length: 14.5 inches
Weight: 24.6 ounces
MSRP: $499.99
(800) 426-0048; vortexoptics.com
---


Zeiss | Conquest V4
Boasting a 30 mm tube and fully multi-coated lenses, Zeiss' new Conquest V4 offers a tremendous amount of reticle adjustment. It has 80 MOA of internal adjustment in .25-MOA clicks of its easy-to-manipulate, spring-loaded turrets. The ZMOAi-1 illuminated second-focal-plane reticle includes fine-line subtensions with 1-MOA graduations.
Magnification: 4-16X
Objective Lens Diameter: 50 mm
Reticle: ZMOAi-1
Length: 14.5 inches
Weight: 21.7 ounces
MSRP: $1,099.99
(800) 441-3005; zeiss.com