The team at
Galco Gunleather
expanded its holster lineup in 2018 with a range of new rigs designed to facilitate inside-the-waistband carry of the
Ruger Security-9
. This new-for-2018 double-stack, polymer pistol from Ruger (so new, we couldn't even get images with the Security-9 itself!) features 15 rounds of 9 mm and is sized right for concealed carry and built for personal defense. With these 10 different IWB holsters from Galco, consumers can find the best concealed-carry kit for their needs: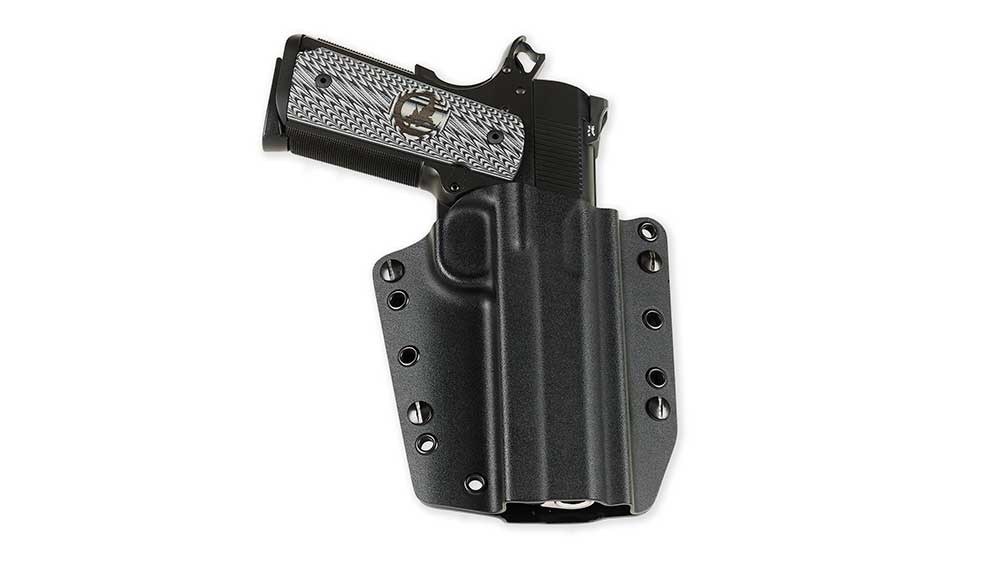 1. Corvus Belt/IWB Holster ($80)
With Galco's Corvus holster, consumers get more bang for their buck, thanks to a convertible design made entirely from Kydex that can be used as either an outside-the-waistband belt holster or an IWB rig, thanks to an included conversion kit.
The holster is built with an open top that facilitates a quick, easy draw and can be adjusted for ride height and cant. The rig ships with belt slots sized to fit belts measuring either 1.5 or 1.75 inches wide, as well as belt loops for IWB carry.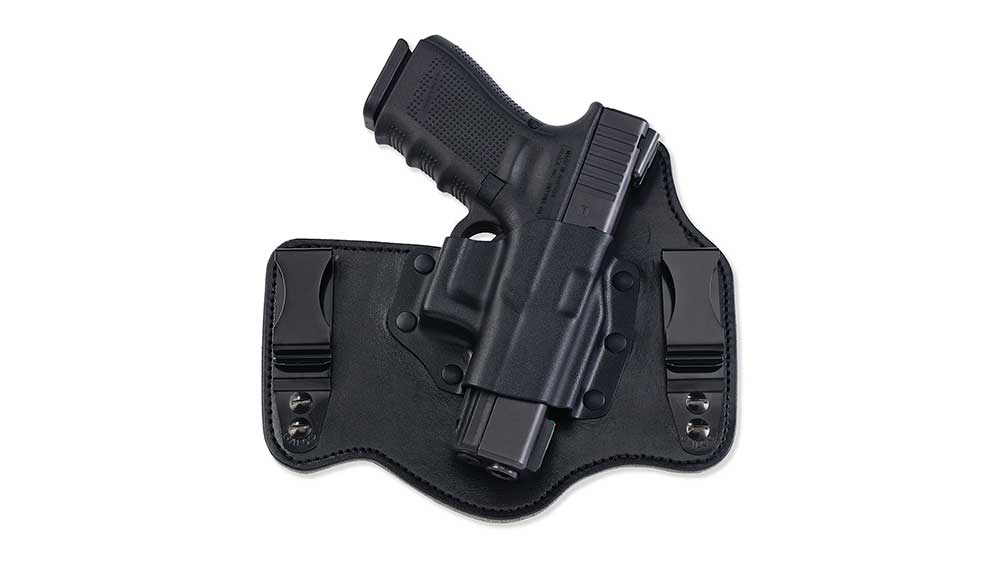 2. KingTuk IWB Holster ($80)
One of the company's more-popular holster designs is its KingTuk, combining both leather and Kydex for a setup that provides comfortable carry with secure retention and easy reholstering. The backing plate that rides against the body is made from center-cut steerhide and is matched up with a form-fitted Kydex pocket that fits the contours of the Security-9 exactly.
Carry height and cant are both adjustable with the removable metal clips sized to fit belts measuring up to 1.75 inches wide. Consumers can also opt for C-hooks molded from nylon to fit belts measuring up to 1.25 inches wide and providing a discreet, low-profile attachment option.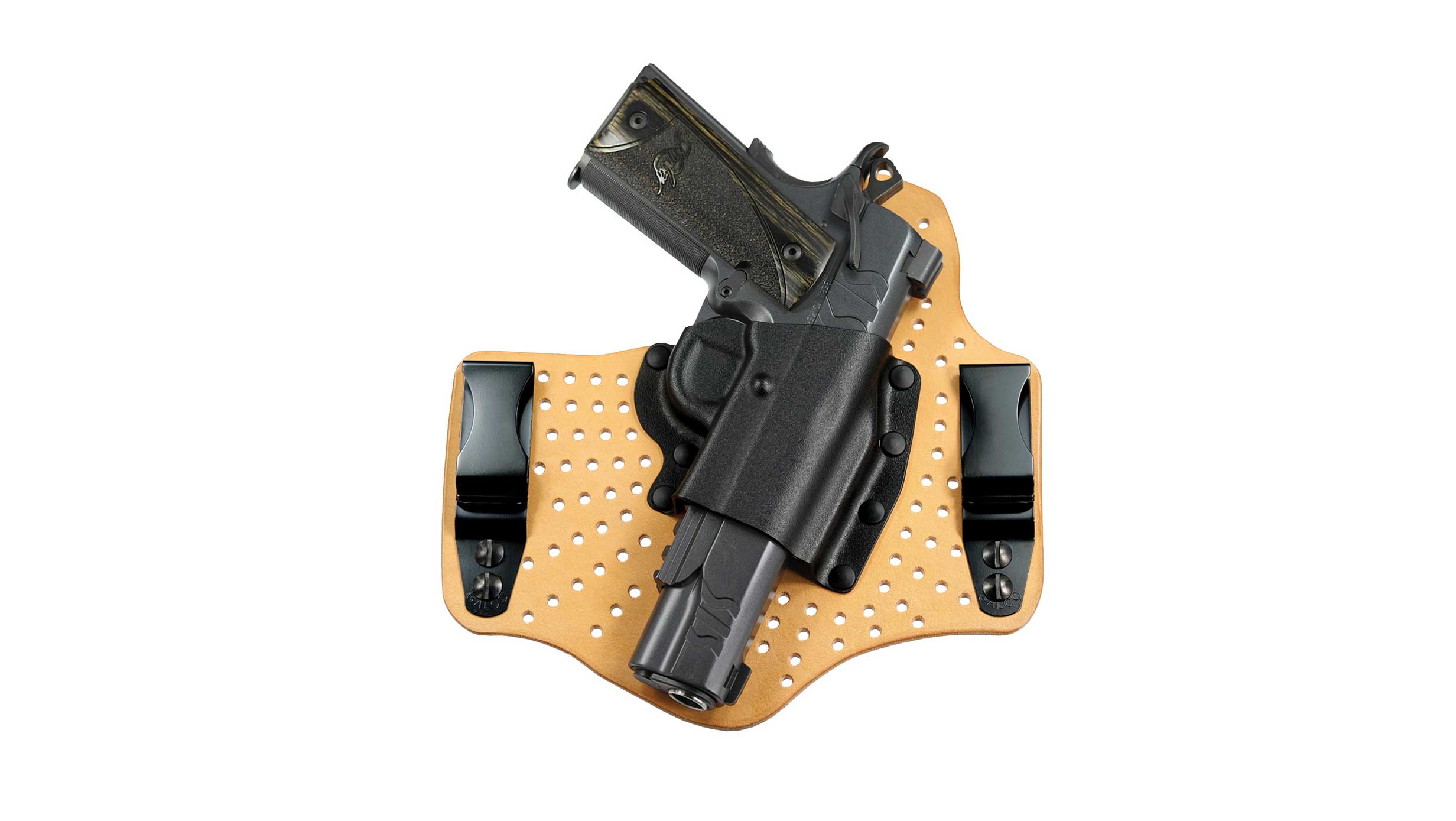 3. KingTuk Air IWB Holster ($60)
Like the company's original KingTuk, the KingTuk Air features a combination design with a leather backing plate paired up with a molded Kydex holster pocket. The holster uses metal belt-attachment clips and are compatible with the same low-profile C-hooks sold for the original.
However, the main difference on the Air is the perforated backing, which offers improved air flow over the company's original model. This is particularly beneficial in warmer, humid climates where large leather backing plates cause sweating and discomfort.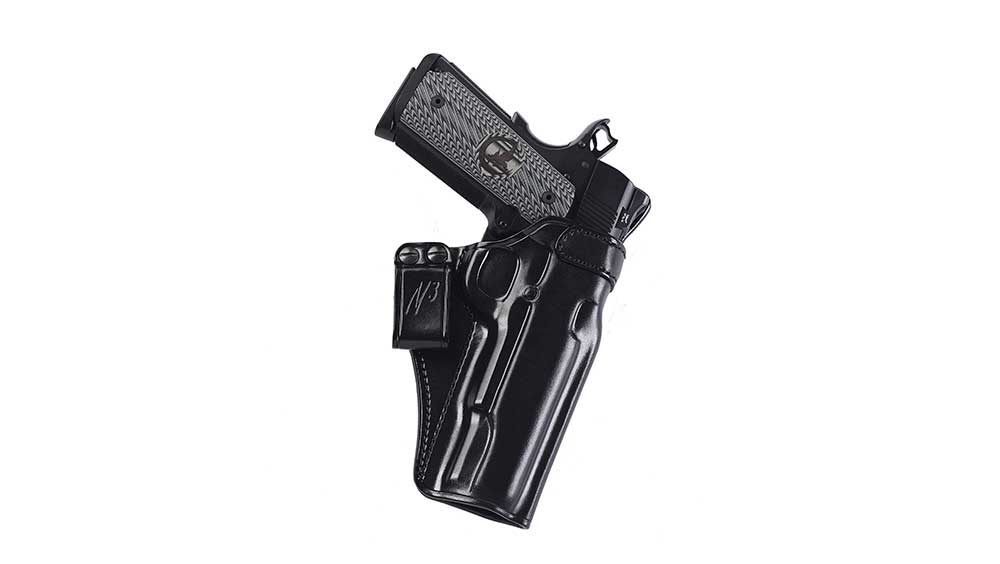 4. NSA N3 IWB Holster ($87)
Designers at Galco spent a tremendous amount of time perfecting this professional-level holster, having taken it through three evolutions. The third iteration of the design is built with a reinforced leather opening that enables users to reholster their pistols with ease.
Each rig is constructed with a raised sweat guard designed to prevent the pistol from contacting skin, warding off potential corrosion from sweat and skin oils. The holster attaches to the belt through a single belt loop designed to fit belts measuring up to 1.5 inches wide.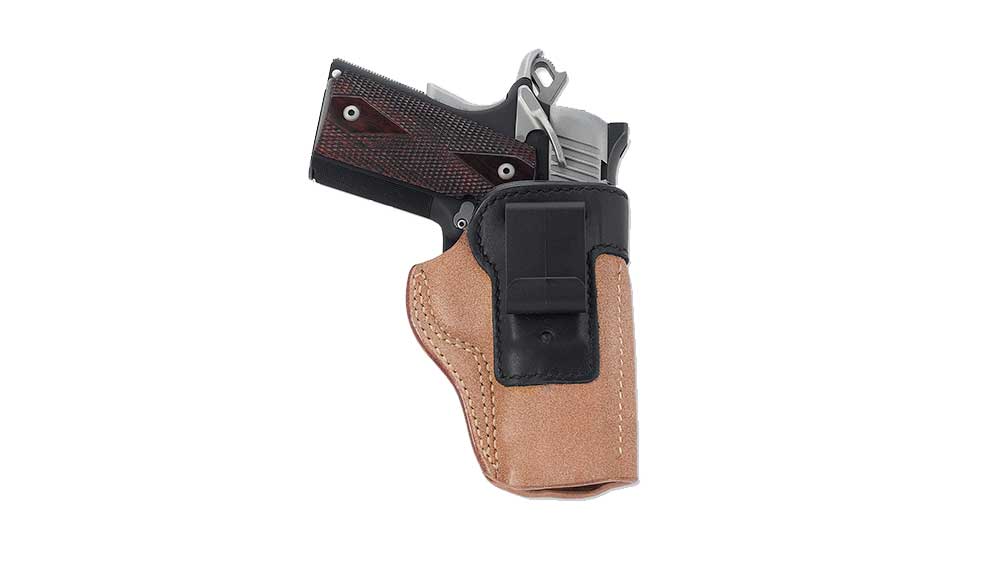 5. Scout Clip-On IWB Holster ($83)
Constructed from saddle leather, the Scout Clip-On flips the traditional leather-holster design, offering instead an inside-out format that places rough leather on the exterior. This provides added stability when anchored inside the waistband, and the smooth interior offers a low-friction surface for a fast draw.
A stitched leather sight rail provides added clearance, and the company's Gen II J-hook, made from injection-molded nylon, anchors the rig onto belts measuring 1.5 inches wide. With no build-in cant, this holster can be used as a strong-side, crossdraw or appendix-carry option.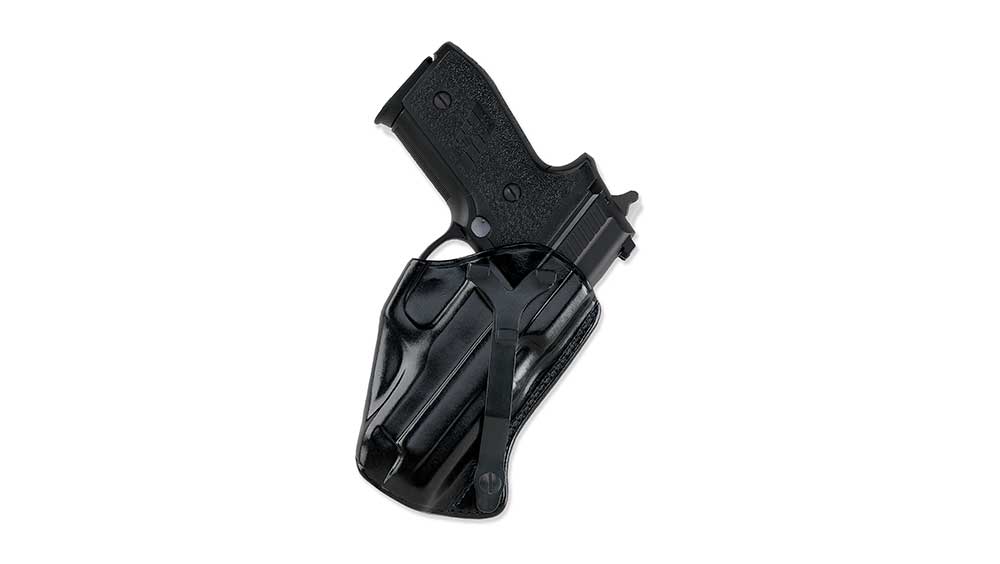 6. SkyOps IWB Holster ($80)
Initially designed to provide a total-concealment option for federal law-enforcement officers, the SkyOps is available for consumers as an easily concealed holster that anchors their gun in a strong-side carry position.
The unique feature of the SkyOps is the trademarked Y-hook belt attachment, which is much more discreet than traditional belt loops or clips. This enables the holster to solidly attach to the belt while at the same time disappearing from casual observers.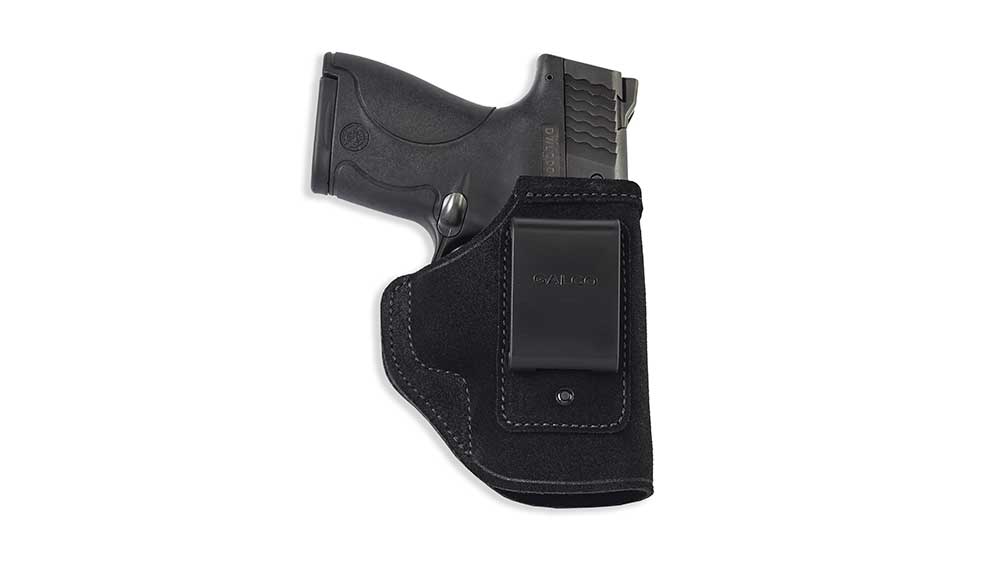 7. Stow-N-Go IWB Holster ($36)
Built as a simple, affordable carry option, the Stow-N-Go is constructed from high-quality, center-cut steerhide and features a reinforced mouth that enables reholstering while inside the waistband. The rig presents the gun vertically, giving the consumer options for strong-side, crossdraw or appendix carry.
A built-in polymer belt clip secures the rig to belts measuring up to 1.75 inches wide. Options are available for left- and right-handed carry and can be had in either tan or black.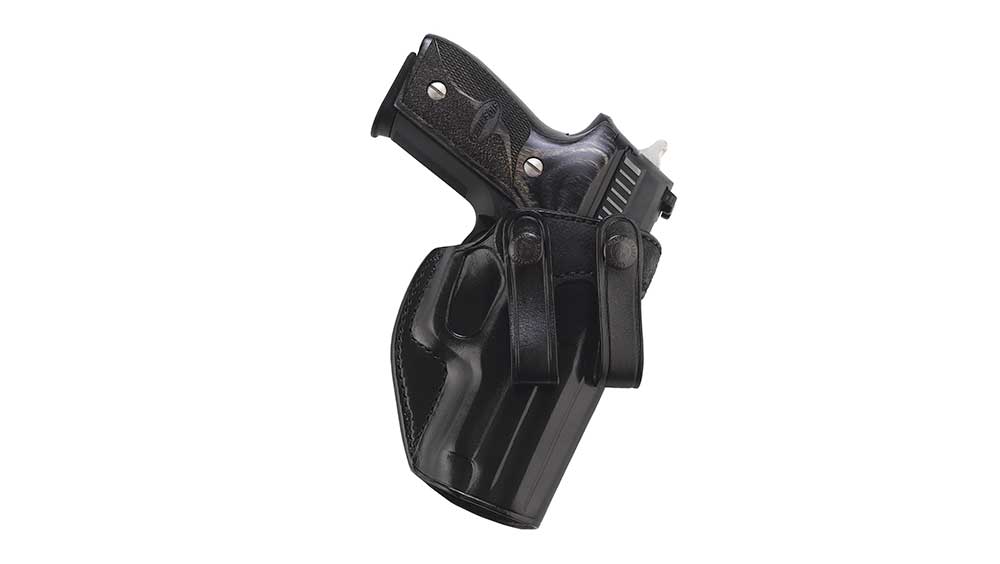 8. Summer Comfort IWB Holster ($83)
While the Summer Comfort, evidenced by its name, is marketed for warm-weather wear, this holster makes for a solid year-round option, thanks to a lightweight design purpose-built to provide consumers with a comfortable carry rig.
The holster is constructed from saddle leather and features a reinforced mouth and a combat grip that enables users to get a solid handle on their carry gun before a draw. Two one-way snap-on belt loops allow the holster to fit belts measuring up to 1.75 inches wide.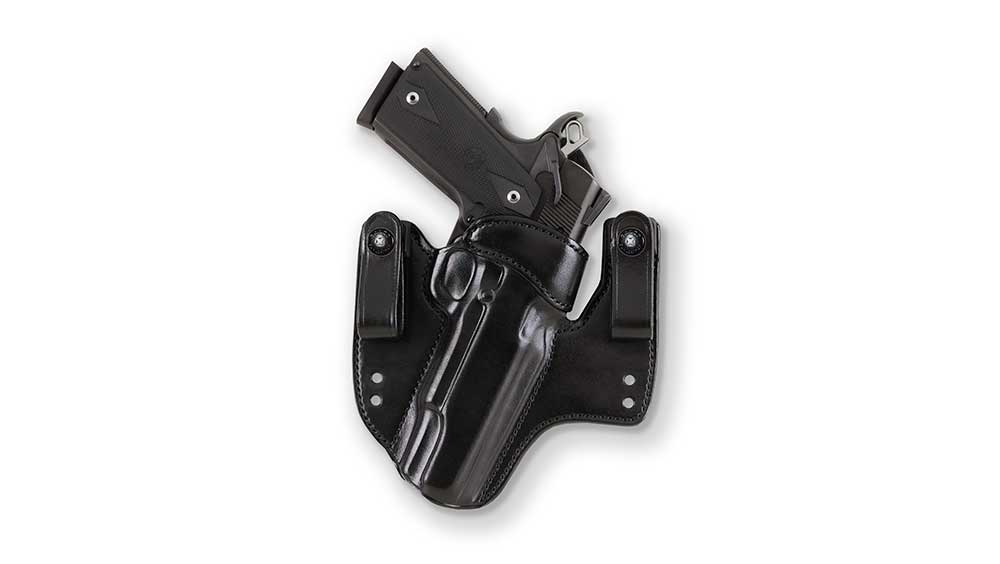 9. V-Hawk IWB Holster ($137)
One of the newest designs from Galco is the company's V-Hawk holster, a tuckable design made using high-quality, premium steerhide. The rig ships with both leather belt loops and injection-molded C-hooks, allowing consumers to select the best belt-attachment method for their needs.
The stand-out feature of the V-Hawk is the distance between the belt-attachment points, offering an incredibly secure carry rig that won't shift during daily activity.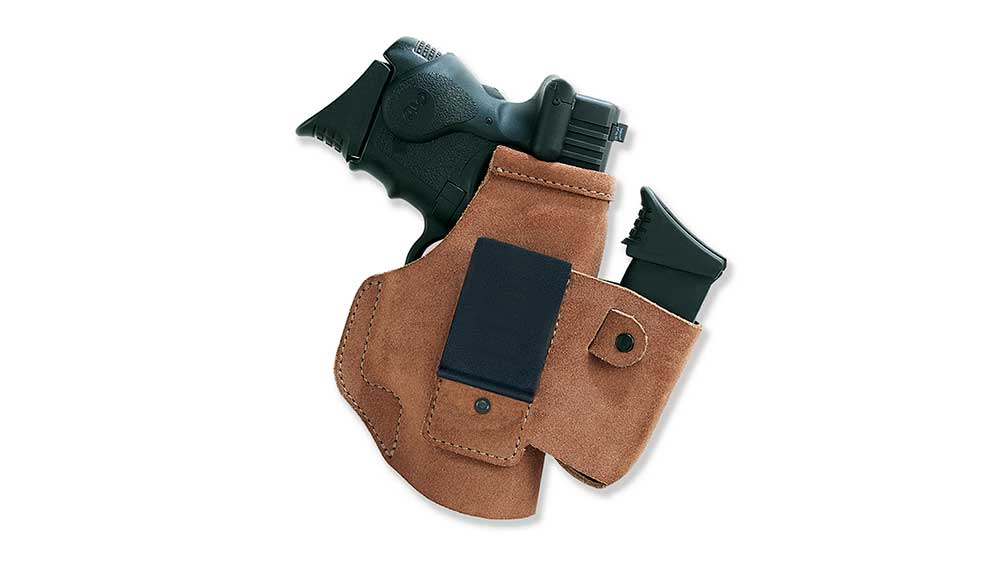 10. WalkAbout IWB Holster ($43)
An open-top design that allows for a quick, obstacle-free draw, the WalkAbout is purpose-built to provide consumers with an affordable, durable and easily usable daily carry rig. As part of the company's Concealed Carry Lite product lineup, the features of the WalkAbout mirror the company's popular Stow-N-Go, allowing for strong-side or appendix carry.
However, one of the added features of this particular holster is the addition of an integrated magazine carrier, ensuring that users always have a reload on-hand. The WalkAbout fits belts measuring up to 1.75 inches wide.