by
posted on June 14, 2021
Support NRA Shooting Illustrated
DONATE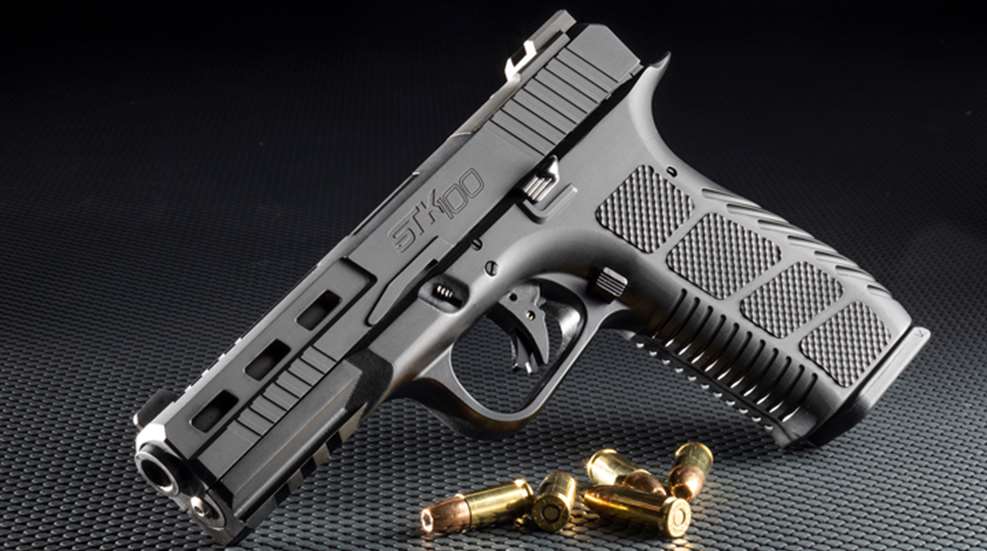 Rock Island Armory (RIA) today unveiled its new STK100 9 mm pistol. The semi-automatic handgun puts a new spin on the ubiquitous striker-fired, polymer-frame pistol by leaving out the polymer. 
That's right. The STK100 is a striker-fired, double-stack (17-round magazine) pistol with an aluminum frame. Why aluminum? It's been a proven frame material for decades; much longer than polymer. Colt trusted it to handle the .45 ACP cartridge when it introduced the Commander more than a half-century ago. Like polymer, aluminum doesn't rust. It weighs a bit more, but there are advantages to that. Lastly, some people just prefer metal, but haven't had it as a frame-material option in a recent, leading-edge pistol.
Leading edge is right. Aside from the inclusion of aluminum, there is nothing anachronistic about the STK 100. It incorporates almost all of the latest trends in tactical pistol design. The sight picture consists of a single white dot on the front post combined with a black, serrated rear sight face.

Moreover, the rear sight is ledge-style, for one-handed racking. There are fashionable lightening cuts in the slide, a gentle radius beneath the trigger guard for a high hand hold and a beavertail for comfort and control. The dustcover features a Picatinny rail and the slide is already cut to accommodate a micro-red-dot sight.
We informally tested the new pistol with a selection of ammunition, including Federal Syntech, Hornady American Gunner, Speer Gold Dot and Super Vel's solid copper hollowpoints. It fed and fired all without a hitch. The trigger felt moderately heavy, but there was less mushiness at the break than is common on a lot of striker-fired pistols. There is a distinct snap when this one breaks.
Personal-protection carry guns are meant to be carried a lot and shot a little. Many designs are (for want of a better term) "weighted" in favor of ease of carry. However, the extra weight of the STK100 gives it an advantage on the range. True, it doesn't flex like polymer (which absorbs some of the felt recoil), but it does counter the gun's recoil impulse, resulting in less movement. In theory, aluminum's greater rigidity may result in enhanced accuracy, too. What was most distinct in my brief shooting session, though, was the fact that the STK100 didn't break down my grip during long strings.
Its empty weight is about the same as a Colt Lightweight Commander, though its generous ammunition capacity makes it much heavier when loaded than the fully loaded Colt. It is also, of course, several ounces heavier than similar-size polymer pistols. Still, if you don't mind the extra weight on your hip, or only intend it as a range or home-defense gun, you're getting a lot of pistol for $599.