by
posted on May 26, 2021
Support NRA Shooting Illustrated
DONATE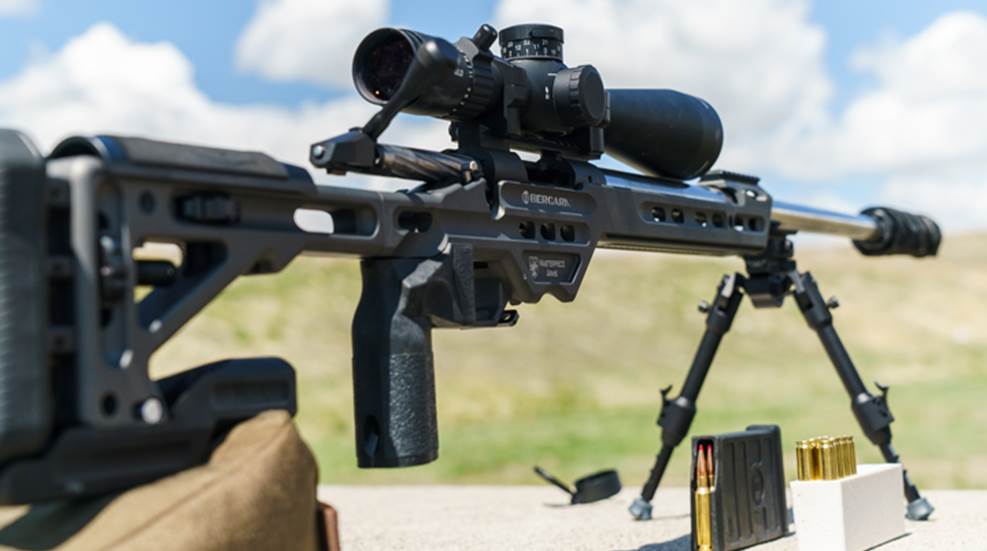 Bergara and CVA showcased their latest guns during a Long Shot Tour event this month, but it was a pair of centerfires—the Premier Competition Rifle and the Sidekick handgun—that attracted the bulk of attention. Both bolt actions performed flawlessly and lived up to each company's hard-earned reputation for accuracy and flawless reliability.   
Nearly 100 people gathered at the Great Falls (MT) Shooting Sports Complex for the event. This third in a series across the nation was the final one to provide firearm media with hands-on experience and one-on-one access to experts—rare treats in a year that saw the SHOT Show fall victim to the COVID-19 pandemic.
The diverse lineup also included innovative muzzleloaders, rimfires and more. Each of the firearms produced tight groups in impressive style, although two stood out.
Bergara Premier Competition Rifle
There are two versions of the new Bergara Premier Competition Rifle. The 6.5 Creedmoor model is already shipping, and a 6 mm Creedmoor flavor will be available soon—likely late this summer. Each will wear a 26-inch, No. 7 profile, stainless steel competition Bergara barrel with 1:8- or 1:7.5-inch rifling, respectively. They are threaded 5/8-24 for muzzle devices and the guns ship with a thread protector.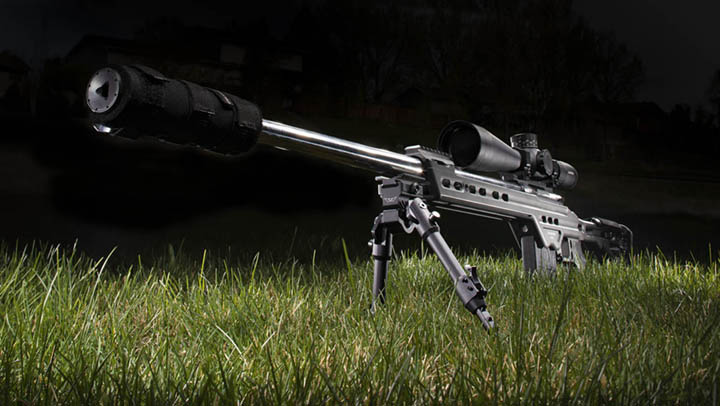 The design makes both rifles ready for PRS Production or Tactical class competition right out of the box. Simply add the optic of your choice. This pair is about a lot more than just weekend matches, though. The list of features is extensive.
At the heart of the guns is the American-made Bergara Premier action. The bolt is fluted, has dual ejectors and a cocking indicator at the rear. The receiver is tapped for Remington 700 bases with 8-40 screws, which gives owners a wide variety of choices for mounting optics.
An MPA BA Comp Chassis, which is built from 6061 aluminum and features a V-bedding system, allows owners to easily adjust length of pull from 13.5 to 14.75 inches, as well modify cheekpiece height. The recoil pad is adjustable for both cant and height. Its ARCA Swiss rail allows for fast-and-easy adjustments and a hole underneath mounts easily to standard camera tripod adapters for a rock-solid rest. The chassis includes multiple QD sling-attachment points and features MPA's Enhanced Vertical Grip.
Bergara partnered with TriggerTech for the project and uses the company's Frictionless Release Technology. The installed trigger is creep free, enviably crisp and user adjustable.
The guns come with a 10-round, AICS-style detachable magazine and 1-MOA guarantee. After watching this gun in action I'd be disappointed if budget ammo produced anything wider than 3/4 inch at 100 yards—before break-in. Weight for both comes in at 12.7 pounds and overall length is 46 inches for both. MSRPs are $2,499.
Sidekick
The Sidekick bolt-action handgun was also unveiled at the event, the first in Bergara's series of Small Batch Firearms. Only 200 will be manufactured in all, and from the crowd's response they'll sell out fast. If you miss out on this limited-edition run, you can sign up here to be among the first to learn what's coming next. Lips were zipped tight when asked what that might be, but if it's anything like this first run it's bound to be a huge success.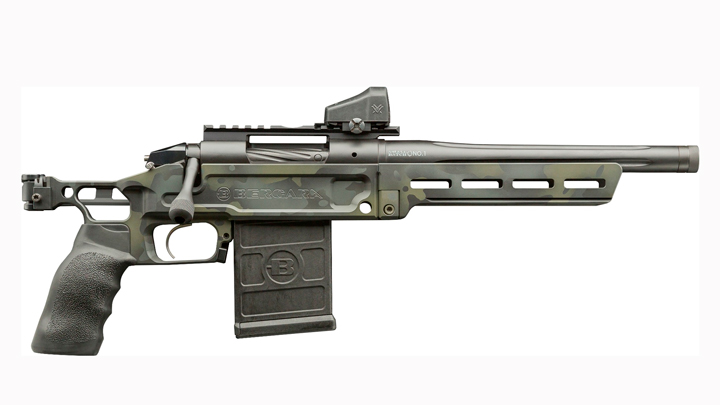 The Sidekick has 10.5-inch Bergara barrel constructed from stainless steel that is fluted and threaded for muzzle devices (each ship with a thread protector). Everyone who got behind the Sidekick connected at 50 and 100 yards. Once the Leupold DeltaPoint Pro's brightness was dialed down, 250 was within anyone's reach. The rock-steady grip provided by Bog's DeathGrip tripod helped, but the inherent accuracy is a product of the company's attention to fine details.
Chamberings available include .308 Win., 6.5 Creedmoor (tested at the event) and .223 Wylde. The handgun is built on Bergara's Premier action and rifling throughout the line is 1:8 inches. The chassis was custom developed with Black Collar Arms and has M-Lok slots at the 3-, 6- and 9-oclock positions with a section of Arca rail underneath. The magazine release is ambidextrous.
The folding brace is an SB Tactical FS1913, which attaches to a strip of Picatinny at the back of the handgun's receiver. Its steel hinge locks in both the deployed and folded positions, and the nylon strap is adjustable. The pistol grip is from Ergo and the chassis includes two QD mounts for sling mounting on both sides.
Once again, the trigger is a TriggerTech, user-adjustable for let-of weights anywhere from 1.5 to 4 pounds. The manner in which members of the media pulling one for the first time connected at distance speaks volumes the performance and consistency.
The gun is tapped for optics in a Remington 700 pattern, again with 8-40 screws. Overall length—with brace out—comes in at 28.25 inches, the chassis is finished in Multicam Cerakote and the barrel is Cerakote in Graphite black. The handgun weighs 5.8 pounds, comes with a 10-round AICS-style magazine and ships with a Eberlestock Little Trick pack. New owners also receive a challenge coin minted from barrel blank material. MRSP is $2,899.