by
Shooting Illustrated Staff
posted on February 10, 2021
Support NRA Shooting Illustrated
DONATE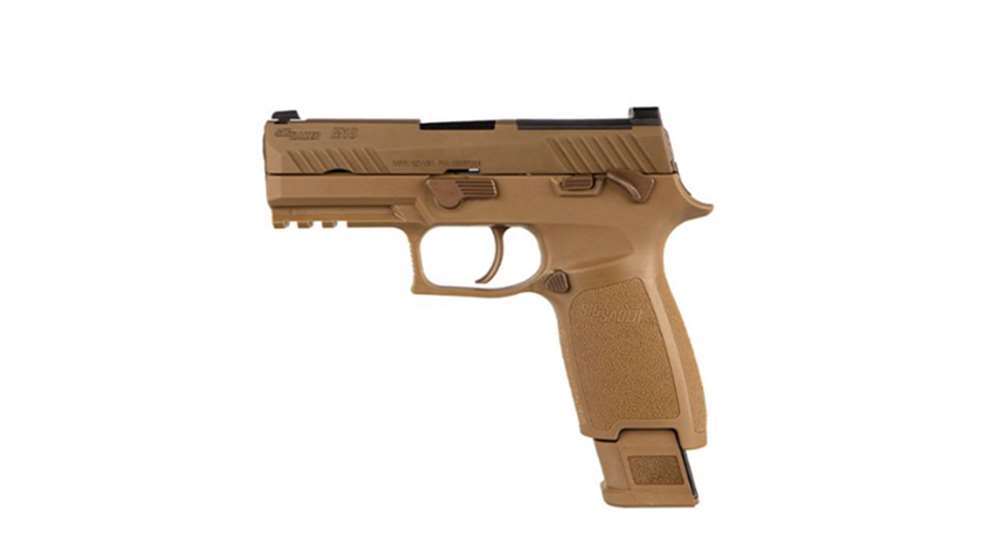 In 2017, SIG Sauer was awarded the contract to provide a new sidearm for the U.S. military. The M18 is a 9 mm polymer-framed, striker-fired gun that is based on SIG Sauer's popular P320 pistol. The M18, like its P320 predecessor, uses a combination of grip frame that cradles the fire control unit, providing you with an almost limitless combination of grip frame sizes and colors.  
Now SIG Sauer is celebrating the acceptance of the M18 into service with the limited release of the M18 Commemorative Edition of the official U.S. military service pistol. The M18 Commemorative pistol shares the same components, coatings, and markings as the firearm that was awarded the U.S. Army contract for the modular handgun system (MHS), and was recently chosen as the official sidearm of the U.S. Marine Corps.  
To complement the M18 Commemorative, an exclusive M18 Collector's Case is available and features a slate-grey flocked foam insert and precision laser placement cuts for the pistol, the official serialized M18 Commemorative Certificate of Authenticity, and the serialized M18 Commemorative Challenge Coin. The pistol also ships with one 17-round and two 21-round magazines
M18 Commemorative Edition Specifications
Caliber: 9 mm

Magazines Included: One 17-round / and two 21-round steel magazines

Sights: SIGLITE Front / Night Sight Rear Plate

Overall Length: 7.2 inches

Overall Width: 1.6 inches

Height: 5.5 inches

Barrel Length: 3.9 inches

Weight: 28.1 ounces

Sight Radius: 5.8 inches

Accessory Rail: M1913 Picatinny

Trigger Action: Striker-fired

Trigger Type: Standard Curved

Grip Module: Carry Polymer Medium

Grip Color: Coyote Tan

Barrel Material: Carbon Steel

Frame Finish: Stainless Steel

Frame Material: Stainless Steel

Slide Finish: Coyote PVD

Slide Material: Stainless Steel


More information on pricing and features for the M18 Commemorative Edition pistol as well as other products from SIG Sauer is available at sigsauer.com.