Building off the popular
PC Carbine Chassis
model, Ruger recently introduced the new PC Charger Pistol chambered in 9 mm. 
Loaded with features, the PC Charger Pistol comes with an integrated rear Picatinny rail for adding a brace, while a Picatinny top rail makes for easy optics mounting. In addition, the pistol features a 6.5-inch barrel with glass-filled polymer chassis system and flared mag well, as well as an ergonomic pistol grip with extended trigger reach. 
The new PC Charger Pistol utilizes several key features from the Carbine Chassis, including an interchangeable magazine well system for acceptance of Security-9, SR9, and Glock double-stack magazines. Additionally, the PC Charger utilizes a dead blow action with short bolt travel to reduce felt recoil and muzzle rise, while a reversible mag release and charging handle allow for ambidextrous use. 
The chassis system is a glass-filled polymer design that accommodates standard AR pistol grips. The hardcoat anodized aluminum handguard comes with M-Lok attachment points at the 3, 6, and 9 o'clock positions. The pistol also comes with a factory-installed handstop at the 6 o'clock position. 
Conveniently, the PC Charger ships with the SR Series/Security-9 mag well installed, while the Glock mag well is included but not installed. The pistol is available with a 17- or 10-round magazine depending on state requirements.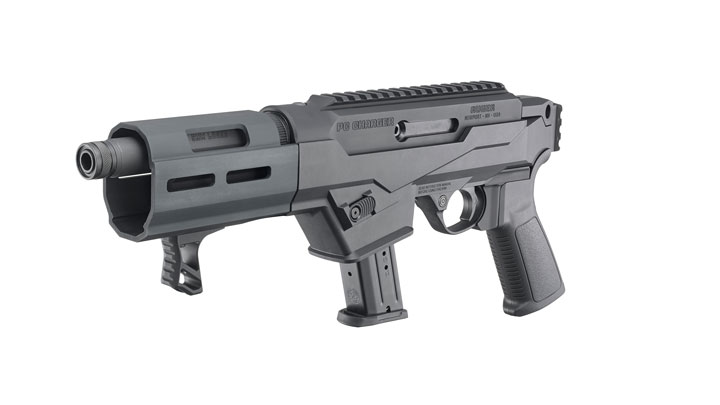 Ruger PC Charger Pistol Specifications:
Handguard: M-Lok 
Capacity: 17 rounds  
Weight: 5 pounds, 3 ounces  
Barrel Length: 6.5 inches 
Overall Length: 16.5 inches 
Stock Option: Takedown 
Sights: None 
Grip: A2-style 
Barrel Features: Threaded; 1/2x28 tpi 
Barrel Material: Alloy Steel; Blued 
Grooves: 6, 1:10-inch, right-hand twist 
Receiver: Aluminum Alloy; Type III hardcoat anodized 
The PC Charger comes with an MSRP of $799. For more information on the PC Charger, check out
Ruger.com
.