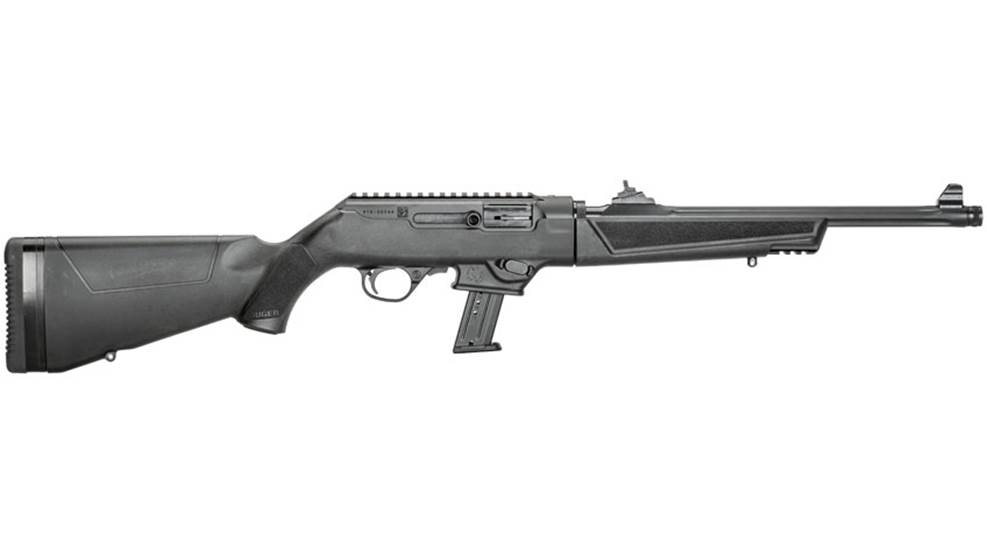 Over the past few years, there's been a significant rise in the amount of interest in pistol-caliber carbines, with manufacturers of all kinds introducing long guns chambered for pistol cartridges. Most of these have been based on the tried-and-true AR-15 platform, and priced in the neighborhood of $1,000. The Ruger PC carbine also uses a tried-and-true platform—the original Ruger PC-9 patrol carbine, and has been redesigned with a host of desirable features. Best of all, Ruger's new PC Carbine has an MSRP that's well below most of the AR-style guns out there, allowing you to enjoy all the benefits of a pistol-caliber carbine, without having to shell out a lot of money.
The Ruger PC Carbine is a takedown 9 mm carbine featuring a 16-inch, fluted barrel that is threaded for a sound suppressor. It is blowback operated with a newly designed bolt that lessens recoil and improved reliability. The gun quickly comes apart by pressing a locking stud underneath the barrel and rotating the barrel a quarter-turn counter-clockwise. Weighing slightly less than 7 pounds unloaded, it's light enough to toss in a backpack on a hike, or to keep you safe on your next trek into the woods.


Out of the box, the PC Carbine is set up to use the same 17-round magazines as the Ruger SR9 and American 9 mm pistols, but as a nice touch, Ruger also includes an additional magazine well that will accomodate the use of 9 mm Glock magazines, allowing you to have up to 33 rounds ready to go in your magazine.
The Ruger PC Carbine also has a short length of Picatinny rail on the front of the stock, making it easy to mount an accessory light or laser sight. While this is a welcome feature, I would prefer Ruger add two more sections on either side of the stock to give the user more flexibility to mount accessories where they are needed and also to allow for more than one accessory to be mounted at a time.

Sights on the carbine sport a protected blade up front and a ghost-ring rear aperture that's mounted a bit farther forward than on most long guns, ensuring it will stay in alignment with the front post when the gun is taken apart and stashed away. There is also a short length of Picatinny rail on top of the receiver to mount optics, so I installed a Holosun H506A red-dot scope on top the receiver and went off to the range to put the PC Carbine through its paces.


Because the Ruger PC Carbine has much the same ergonomics as the company's classic 10/22 rimfire, it only took me seconds to learn the controls of this gun and get it up and running. Also, as a nice touch to people like me who shoot long guns left-handed, it has a reversible charging handle and a reversible magazine-release button for easier southpaw operation. The gun ships with three different stock spacers to adjust length-of-pull to better fit the shooter, although I found the spacer that came installed from the factory to be perfect for my needs.
As the effective range of a 9 mm carbine is usually 200 yards or closer, I consider a red-dot optic to be a perfect match for this versatile type of firearm. The Holosun optic gave me a nice, crisp 2-MOA dot for more-precise shots and has a 65-MOA circle that was perfect for lining up on the center of a silhouette target inside of 40 yards. 


Weighing 6 pounds, 13 ounces unloaded and digesting 9 mm rounds, the Ruger PC Carbine is very easy to shoot. Its new, heavy bolt design allowed for quick follow-up shots and fast target transitions. With the optic sighted in at 25 yards, it was easy to lay down precise shots out to 50 yards and beyond. I experienced no malfunctions of any kind during the 250 rounds I put through the gun, and it turned in solid accuracy for a pistol-caliber carbine.
Easy to shoot, easy to carry and built so it's easy to run, the Ruger PC Carbine is a great value in a semi-automatic long gun for competition, home defense or personal protection away from the home. Further-more, with an MSRP of $649, it's also easy on your wallet.
If you've been wondering just how beneficial a pistol-caliber carbine could be for you, the new Ruger PC Carbine is a great place to start your journey.