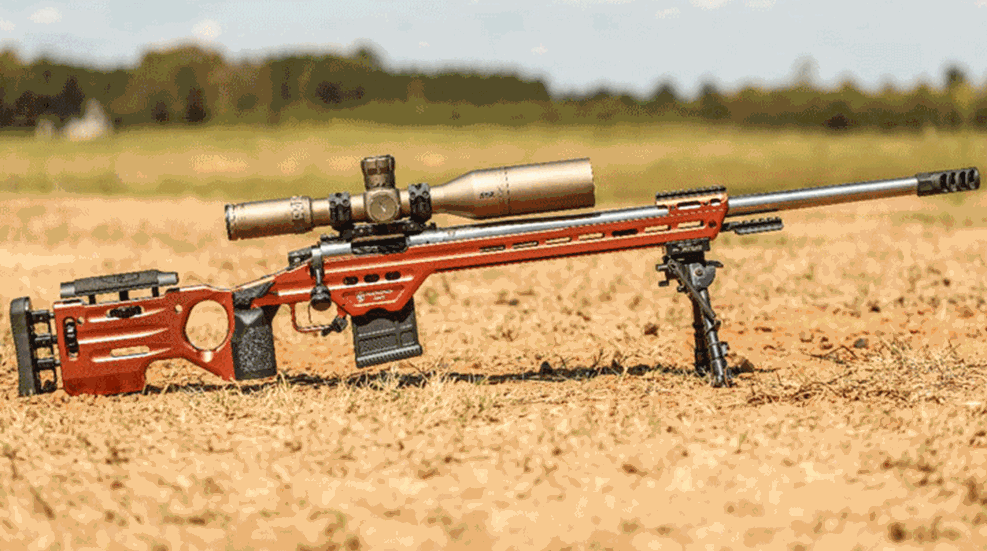 MasterPiece Arms (MPA) is known for making high-quality, precision rifles and chassis systems and is introducing its newest rifle: the MPA Matrix Rifle. This rifle uses MPA's recently released Matrix Chassis and is available for purchase in a wide variety of calibers, actions and other configurations such as grips, thumb rests and trigger-finger support options.  
MPA has developed a hand measurement chart for the MPA Matrix Chassis to help identify which grip configuration may work best for each individual shooter. The MPA Matrix Chassis features five different grip options (three swept and two vertical), three different thumb rest designs and four different trigger-finger supports options. The rifle also has M-LOK slots along the side of the chassis fore-end and barricade stop holes along the bottom of the fore-end.
The MPA Matrix Chassis is CNC-machined on MPA's CNC from 6061 aluminum to exacting tolerances. The chassis also includes a built-in inclinometer, thumb notch, night-vision bridge and V4 spigot mount. The rifle is compatible with the R.A.T. system and has a user locatable barricade stop system. The MPA manufactured buttstock comes with an adjustable cheek riser and length-of-pull. The v-bedding system of the rifle provides additional clearance for the glass bedding action and straight section of the barrel. The rifle also features an MPA DN3 Premium Muzzle Brake and comes with a 10-round AICS compatible magazine.
The MPA Matrix Rifle includes a precision gun drilled, reamed and honed Spencer/MPA 416RQ Stainless Steel Hand Lapped Barrel. The barrel is pull button rifled and the chamber is indicated within 0.0001 inch or less to the bore of the rifle.  
Specifications:
Caliber: Available in 6 BR, 6 BRA, 6 Dasher, 6 XC, 6 GT, 6x47 Lapua, 6.5 Creedmoor, 6.5x47 Lapua, 6.5 PRC, .308 Win., .300 Win. Mag., .300 PRC, .300 Norma or .338 Lapua. Other options are available upon request.
Action: Available in Curtis Custom Axiom, Vector, Impact 737 Short or Long, Defiance Deviant, Big Horn TL3, Stiller TAC Series, Kelbly Atlas Tactical
Action/Bolt Design: Remington 700 Type
Bolt: One-piece bolt with spiral fluting
Chassis: MPA Matrix Chassis
Chassis Weight: 6.2 pounds
Rifle Weight: Varies with barrel length and profile
Barrel: Spencer/MPA 416RQ Stainless Steel Rifle Barrel
Barrel Twist: Depends on caliber and bullet weight
Barrel Length: Customer's choice
Barrel Muzzle Thread: 5/8-24 TPI or ¾-24
Barrel Profile: Customer's choice
Front Bridge: Removable (Included)
Coating: Cerakote
Length-of-Pull: 13.5 – 15 inches (shorter LOPs are available)
Trigger: Available with either a Trigger Tech Special, Diamond or Timney HIT trigger
Trigger Pull: Adjustable from 4 ounces to 3 pounds
Magazine: AICS-type magazine
Left Hand/Right Hand: Both
Night-Vision Bridge: Standard Bridge/Standard Rail, Enhanced Bridge/Enhanced Bridge Length Rail
MSRP varies from $3,650 to $4,050, depending on which options you choose. The fully customizable MPA Matrix Rifle is a hand-built precision instrument and is available for order to your exact specifications. To see MPA's latest delivery and lead times for all bolt-action rifles and chassis systems, visit them online at masterpiecearms.com.