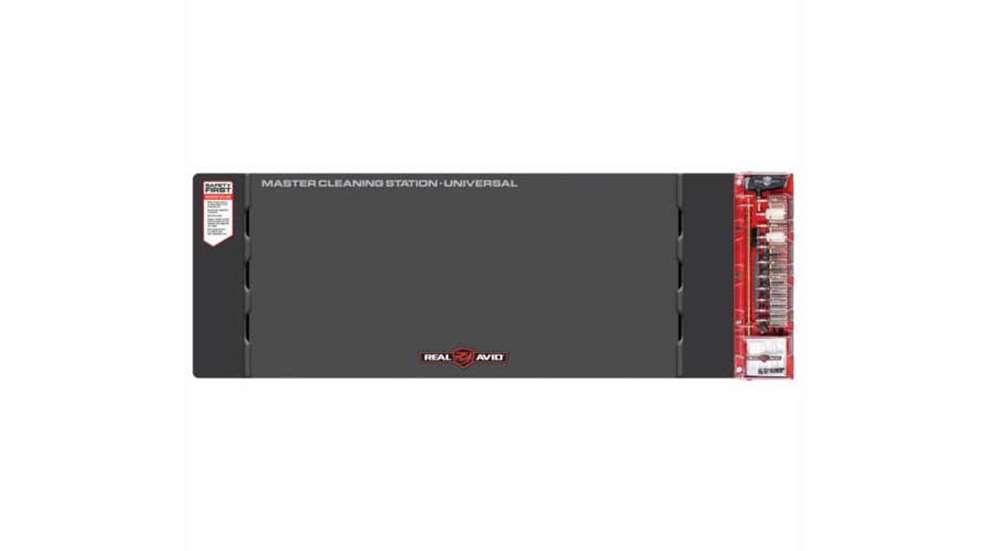 Keeping your gun clean and functioning is an essential part of responsible firearms ownership. However, the shelves of your local gun store are filled with a bewildering variety of brushes, swabs and cleaning supplies. This can quickly lead to confusion and a concern that you're using the right equipment to get your guns clean.

Real Avid's new Master Cleaning Stations are meant to eliminate this confusion. These are not "Deluxe Cleaning Kits," but rather, they are an all-in-one cleaning solution designed to give you a compact, universal cleaning kit that aids you in keeping your firearms well-maintained.

The self-storing, all-in-one gun cleaning stations are organized and designed so that gun owners can thoroughly clean their guns inside and out. Whether you're looking to do a quick touch up on range or a full break-down in the gun room after a day out shooting, a Master Cleaning Station is your solution to getting your guns thoroughly clean, no matter where you are. The case for the Cleaning Station unfolds to create an easy to use, spill-proof organization which features a proprietary pop-up storage riser, keeping every tool easy to use and then return to where it belongs.

The Master Cleaning Station stores and organizes a comprehensive set of gun specific cleaning tools which are clearly labelled and locked into place, yet easy to access when needed. A magnetic parts tray help keep small gun parts from getting lost during cleaning and an oil resistant, no-slip padded cleaning mat provides a large and safe cleaning surface. Best of all, the complete Master Cleaning Station rolls up and slides into a compact storage bag.

The Master Cleaning Stations is available three versions; AR-15, Universal and Handgun. MSRP on each of these kits is $39.99 and more information is available at realavid.com.