by
Shooting Illustrated Staff
posted on November 21, 2011
Support NRA Shooting Illustrated
DONATE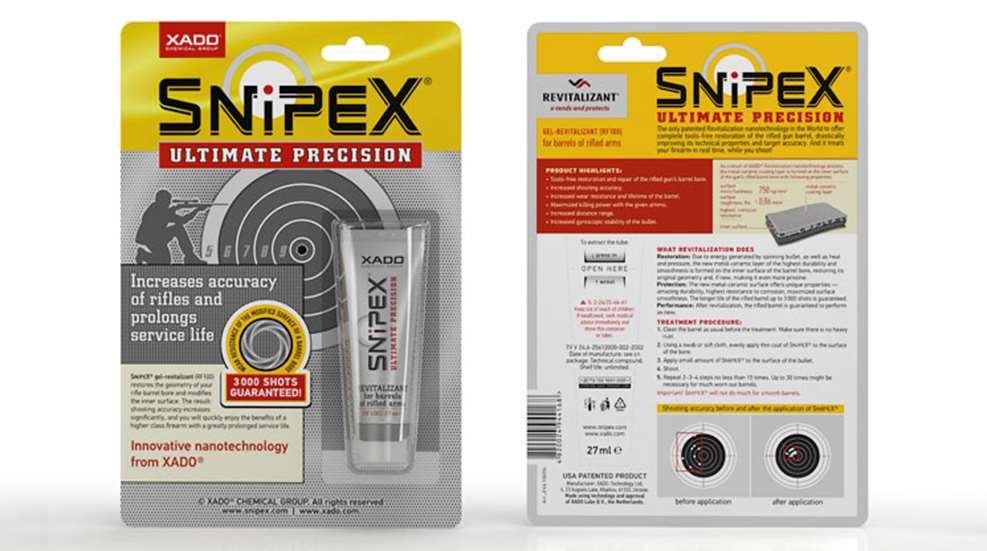 SnipeX restores/repairs rifled barrels of used firearms and even upgrades characteristics of new firearms to make them a higher-class weapon.
Packed in a handy tube, SnipeX is easy to apply and treats the barrel in just 30 shots. With no tools, no down time, SnipeX will restore the barrel's inner geometry from scratches, micro-cracks and spalls. The result: drastically improved grouping, increased roundness of shots and killing power. In addition, it will protect the barrel for up to 3,000 shots.
Formal tests are now underway, but typical of the reactions to preliminary tests by hunters (with 82 percent recommending SnipeX) is this report: "I take pride in all my firearms, and I used XADO's SnipeX on my AK-47. I followed the instructions to the letter. Before I used it, I was in about a 4-inch group at 200 yards. After using it on my rifle barrel, I was shooting in a 1- to 1-.5-inch group. This stuff really works!"
XADO (pronounced "HAH-doe" or "KSAY-doe") is a leading European manufacturer of innovative nano-technology products, including advanced restoring chemicals for automotive and firearms industries. Now making inroads in the United States, XADO's newest unique product is SnipeX. MSRP is $49.95.