It's undeniable that many gun owners also enjoy a fine cigar, but what many firearm enthusiasts might not realize is that the opposite is also very true. We have all been at the range and noticed the aroma of a fresh stogie in the air, but how many of us have been to a cigar convention only to be overpowered by gun owners and discussions about the Second Amendment? Believe it or not, the connection is deep between these two industries, and I set out to shed some light on why.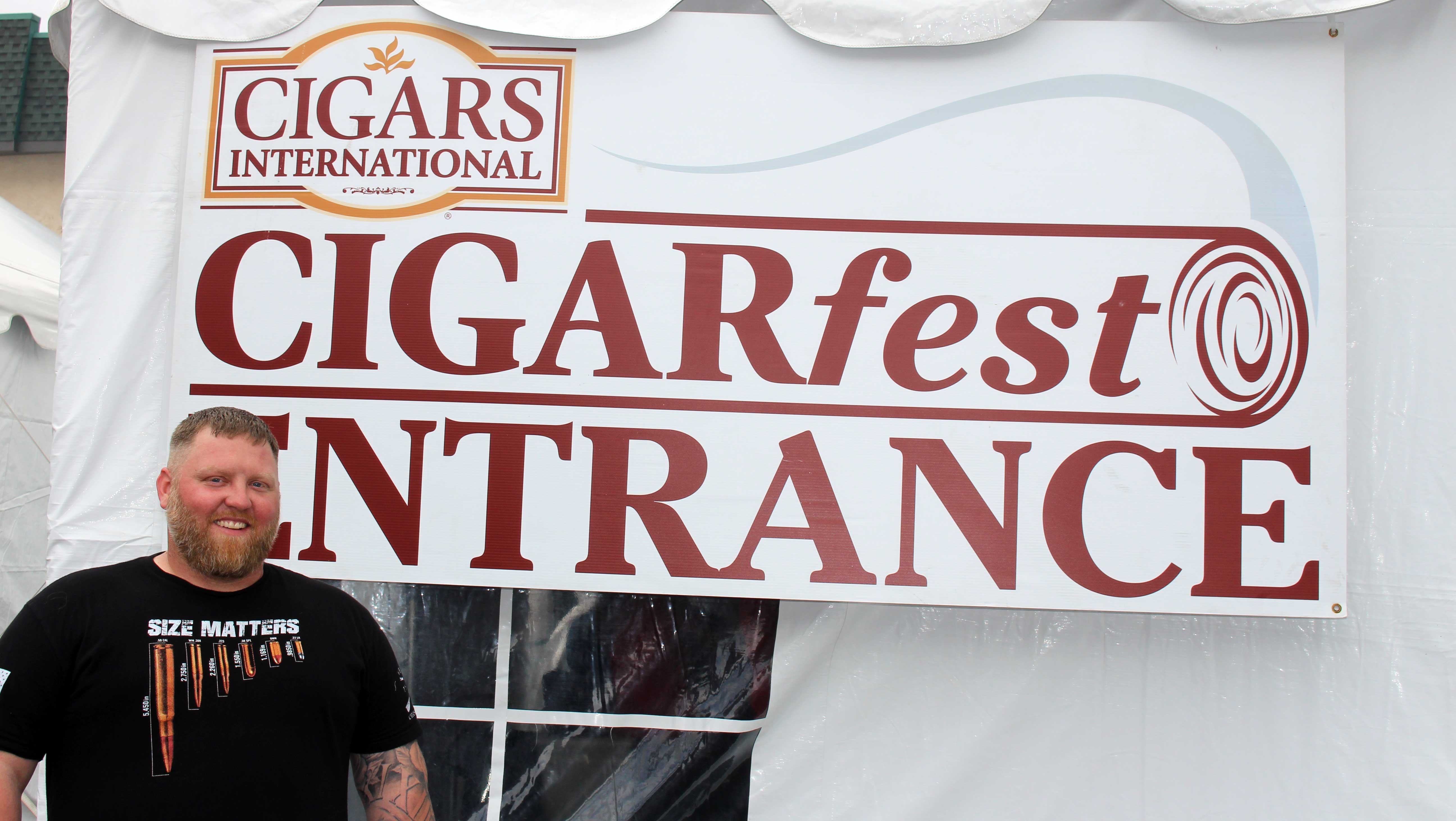 The month of May is like a second holiday season to me. As the firearms community gears up for the NRA Annual Meetings & Exhibits, the cigar community prepares for its largest consumer event as well. Known as Cigarfest and held every year by Cigars International, I took advantage of the nearly back-to-back conventions and interviewed some friends from each camp to see what they thought about the connection between guns and cigars. Some of the answers were very obvious; however, some really made me ponder my own question.

Mind Riot Consulting

Mind Riot Consulting is owned and operated by industry fixture Kevin Phillips. These folks have worked on some of the biggest marketing projects in the firearms industry as well as helped numerous companies get their start. I have had a number of cigars with Kevin as we set out to solve the world's problems while burning gunpowder and tobacco leaf. One of the most interesting things about Phillips is that he also moonlights as a factory representative for Tatuaje cigars. Here he helps distribute and even develop some of the company's signature blends. At the NRA Show, Kevin explained:  "Cigar smoking invokes a bit of primal instinct, just like shooting. Both hobbies are best enjoyed outdoors."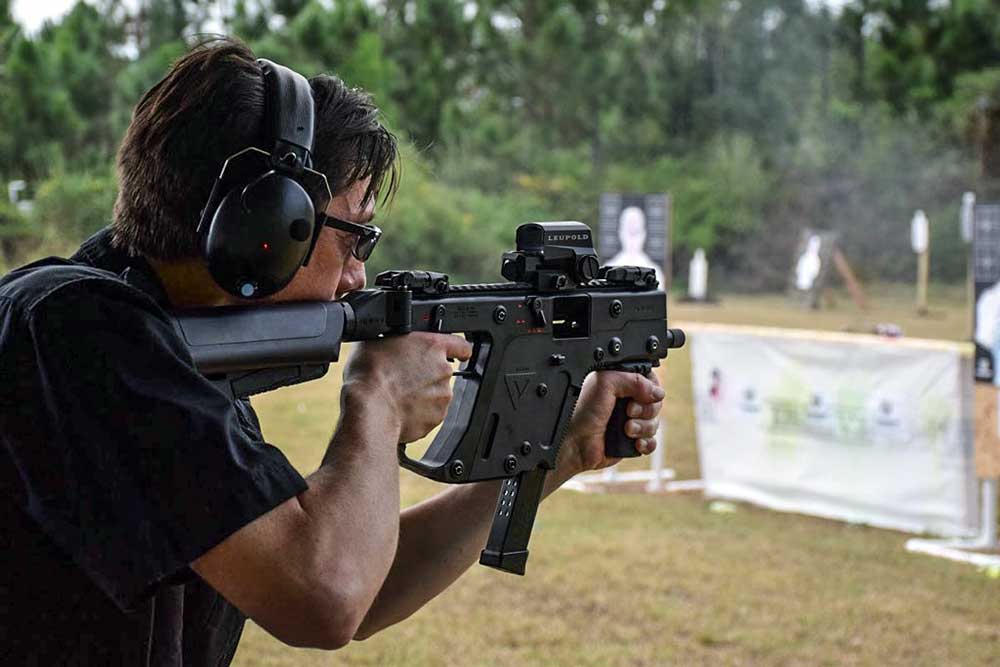 Kevin enlightened me in only the way somebody deeply familiar with the creation process of both products can, as he compared a good cigar roller to a good gunsmith. "Folks who enjoy either hobby often enjoy it because they get to put impeccable craftsmanship in their hands and enjoy it with like-minded folks," he said. I really thought this was an interesting angle because until you get down to it, both are tough to make and require a delicate balance of skill and art.

Brownells Inc.

No trip to the NRA Annual Meetings is complete without a stop to visit my friends at Brownells. This year, I was particularly excited, because I knew there were a slew of employees there who share my passion for a good smoke, and I decided to gather a few of them for a little bit of a roundtable discussion where I again posed the question of "What's the connection?" Lots of great answers came my way ranging from "the shared historical aspect" of both hobbies to one friend pointing out that "smoking a cigar and shooting guns are both Zen-like experiences." I can certainly identify with that, when done correctly, either will help you block out external worries and just enter a deep state of relaxation. Another went on to point out that "both are considered characteristics of rugged individuals." However, my favorite answer from the group was also the simplest: "They just go together."

The Gurkha Cigar Company

Kicking things over to Cigarfest, we try to get in as soon as possible and get to this booth, because it is always swamped. If you look at the overhead photo of the event, you can easily figure out where they are! The company gets its name from the famous Nepalese soldiers and their heroics, particularly during WWII. Gurkha CEO Kaizad Hansotia is a firearm enthusiast extraordinaire, owning a collection that I myself am jealous of. He is also deeply involved with getting cigars overseas to our troops in the sandbox. A little-known fact: when Seal Team 6 neutralized Osama Bin Laden, it was a Gurkha cigar they smoked on the ride home.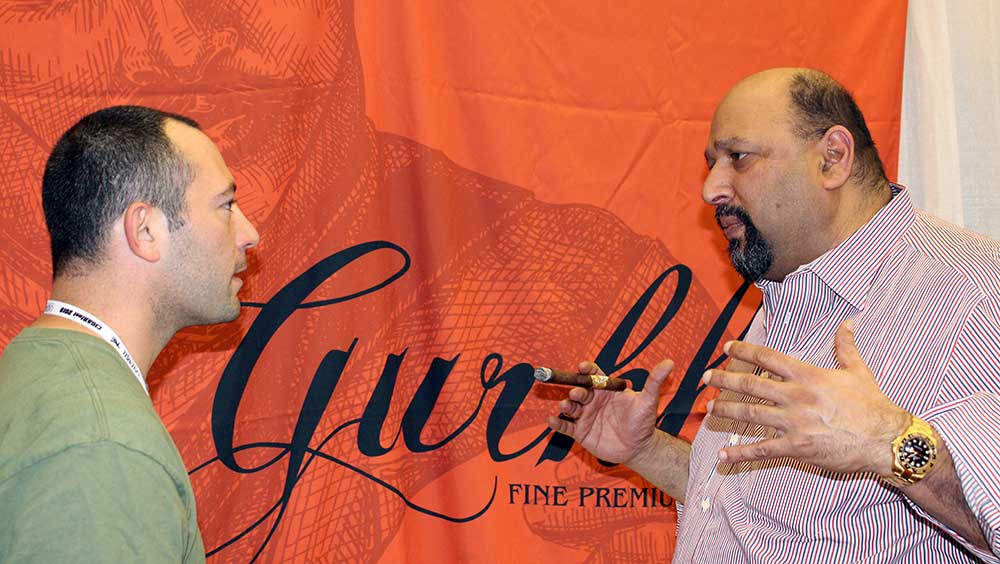 Moved by this honor, Kaizad created a commemorative cigar for the Seals, aptly named "Assassin." Along with that, he said, "Cigars are like guns. Everyone has their favorite, but they also love trying something else." Aside from being able to enjoy variety in both, his most forthcoming answer to the question of connection was simply brotherhood. To this I can attest, as we all come together with a fine cigar the same way we all come together on the firing line. Kaizad went on to explain, "It doesn't matter if you're rich or poor, right? When you sit down and smoke a cigar with five guys who are of all different walks of life, for one hour you are all the same. When I go to the range, it's the same feeling". As the National Rifle Association is 5 million members strong at the time of this writing, it's safe to say he is on to something.

Cigar Rights of America

The Bureau of Alcohol, Tobacco and Firearms is equally hard on the "Alcohol" and the "Tobacco" part of its name as well as the "Firearms" part. Fighting for their industry is Cigar Rights of America. These folks are collecting funds and accumulating members to gather enough strength to take on big government and its rampant overregulation (sound familiar?). Their most recent fight involves challenging recent legislature that requires each individual blend to go through expensive testing with the FDA. Can you imagine if Hornady had to have a cartridge recertified by SAAMI just because the company simply changed the powder?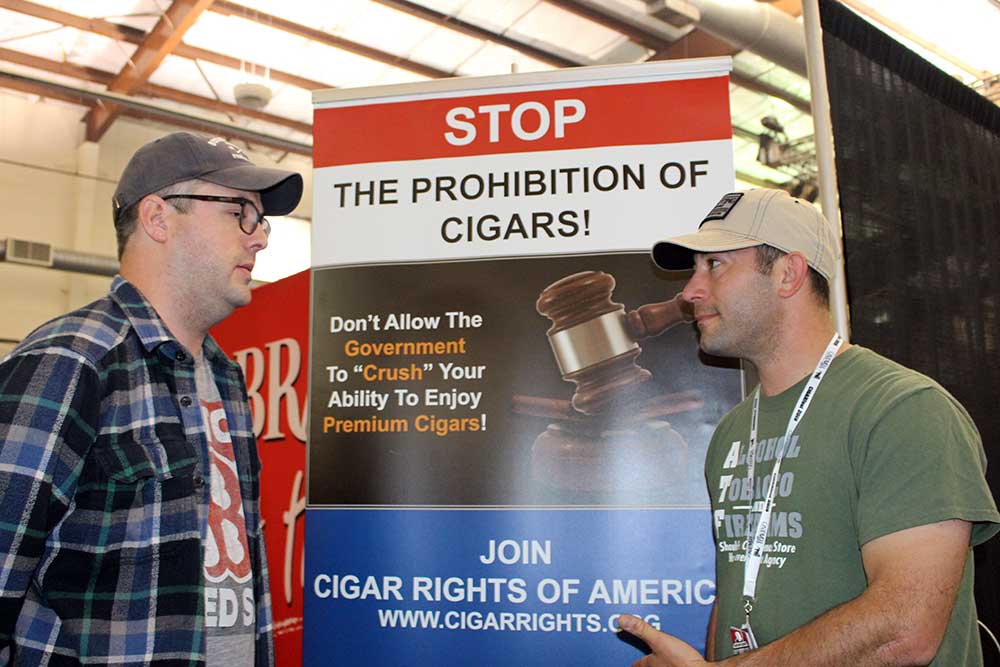 A moment with Legislation Assistant Cody Carden was very enlightening, as he explained this and how the Tobacco Control Act is prohibiting new blends from coming to market, crippling the growth of the industry. "These costs are causing jobs and even entire small businesses to close up shop, as they cannot afford the 6-figure testing fees for each type of cigar they make," he said.

Adding my own input to the cause, I can note that both camps often find themselves as the "odd duck" in today's society. Cigar smokers and gun owners are often looked down on as second-class citizens and together, we find comfort in each other's company. I also have to agree with the Brownells crew, as cigar smoking can certainly enhance the "tough-guy" image, but I have to expand on that by pointing out it can also accentuate a bit of class. Smoking a cigar after field-dressing a deer or winning a match definitely enhances the moment. However, nothing makes me feel more refined than when I am in my best suit and I just fired up a quality smoke.

If you enjoy firearms, spark up a conversation at the cigar lounge and see where it goes. If you're at the range and need a light, know that you won't have to look far at all. It seems that both these industries have a lot in common, and that includes its enthusiasts.