by
Shooting Illustrated Staff
posted on November 13, 2019
Support NRA Shooting Illustrated
DONATE
In recent years, suppressors have been popular accessories for rifles and pistols alike, as more enthusiasts discover the increased enjoyment of shooting with suppressors, as well as the added hearing protection that comes with reducing rifle and handgun reports. However, one of the difficult elements of suppressor ownership has been onerous waiting periods and other burdensome elements of NFA regulation. To mitigate this, suppressor owners have sought general-purpose, do-it-all designs that can be applied across multiple firearm platforms, and the new
SilencerCo
Omega 36M suppressor is purpose-built to be one suppressor that can accommodate multiple platforms and calibers.
The SilencerCo Omega 36M suppressor is constructed with a two-piece modular design constructed around a fully welded core at the front and rear of the can. The rear section of the suppressor incorporates Cobalt 6 and Inconel into the baffle material, which ensures that the suppressor can withstand the high heat and pressure from magnum-caliber rifle rounds.
The front of the suppressor features an all-new, lightweight baffle design that aims to shave weight off the overall unit while still maintaining the can's ability to withstand high-pressure rounds, extreme heat and high rates of fire. The entire baffle design is shrouded inside a titanium outer tube that features a lock ring to keep the unit sealed tightly. To enhance durability, the external surfaces of the Omega 36M are treated with a Cerakote finish.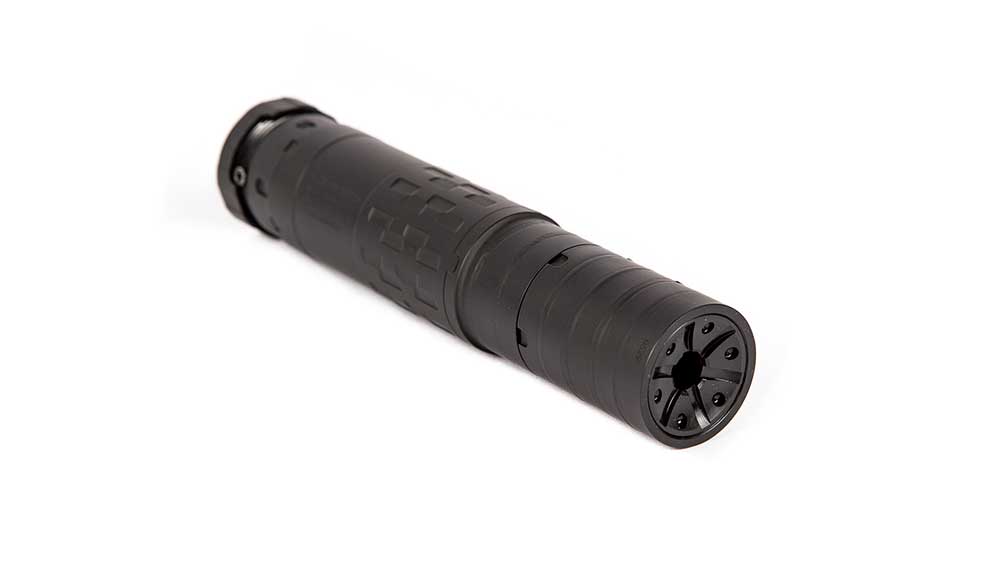 Each SilencerCo Omega 36M suppressor ships with the company's Charlie ASR mount, and the can is compatible with all other Charlie-style mounting systems offered by SilencerCo. An updated front-cap design allows for easy, tool-free removal, and the rear-mounting Charlie system ensures improved suppressor retention.
In its shortened configuration, the Omega 36M measures 5.1 inches long, and with both modular elements installed, the overall length of the suppressor is 7.6 inches. Depending on configuration, suppressor weight is either 9.2 or 16.5 ounces. The suppressor is rated for centerfire calibers ranging from .22 Hornet up to .338 Lapua Mag.
When mounted on 5.56 NATO rifles, the Omega 36M is rated down to a 10-inch barrel. On 7.62 NATO rifles, minimum barrel length is 16 inches. For magnum rifles chambered in .300 Win Mag. or .338 Lapua Mag., the minimum barrel length is 20 inches. The suppressor is full-auto rated and, depending on caliber and configuration, can lower firearm noise to as little as 128.9 decibels. The unit is available to consumers starting in December 2019, and suggested retail pricing on the Omega 36M is $1,187. For more details on this new-for-2019 suppressor, visit
silencerco.com
.