by
Evan Brune, Associate Editor, Shooting Illustrated
posted on September 26, 2018
Support NRA Shooting Illustrated
DONATE
In recent years, much has been made of modern sporting rifles and tactical handguns that are aimed at the home-defense segment of the market. However, a longtime mainstay in the realm of home-defense guns is the general-purpose shotgun, and this particular firearm has remained king in this category, at least in the realm of public perception.

One reason in particular for the prominence of the 12-gauge, pump-action shotgun as the home-defense tool of choice for many is the eminent affordability of the platform. Sure, there are AR-15s that would work great as home-defense platforms, but as we've covered previously on Shooting Illustrated, an affordable AR will run roughly $400-500 in today's market.

As a companion piece to our affordable ARs story, we decided to take a glimpse at the less-glamorous but still popular market for tactical-style shotguns set up right for home-defense use. To qualify as a solid defensive option, we set some requirements. First, the gun must have a pump-action operating system fed from some kind of magazine. Second, the barrel length must be no more than 20 inches long, so as not to impede movement. Third, the gun must be chambered in 12-gauge, as it's certainly the most-ubiquitous and popular choice for a personal-defense chambering.

Pricing-wise, we took the listed sale price from three separate retailers and averaged them to produce a general market rate by which to rank the guns. Some guns on the market will sell for more than the listed price, and some will sell for less. So, without further ado, here are eight pump-action, 12-gauge tactical shotguns that are absolutely affordable for home-defense use: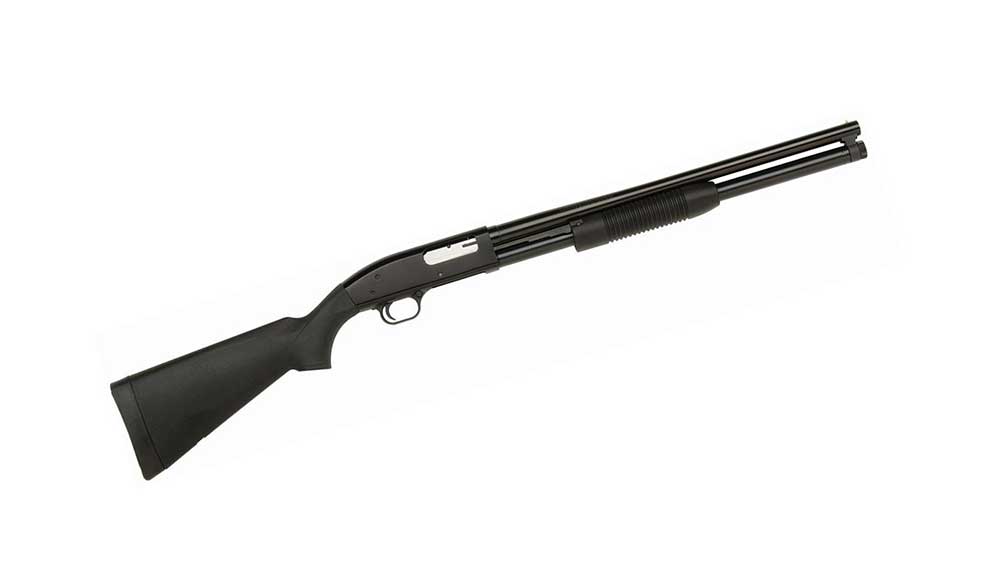 Mossberg Maverick 88
Average Price: $196.94

While Mossberg is certainly known for its line of 500 series shotguns, many models of which are reasonably affordable in their own right, the company's Maverick series of shotguns offer budget-minded consumers an alternative that's still built with many solid components that made Mossberg shotguns famous for their reliability, such as the twin action bars and dual extractors.

The gun is compatible with many aftermarket accessories designed to fit the Mossberg 500 series of shotguns, but the trigger groups are not interchangeable, and the Maverick 88 does not ship with a drilled-and-tapped receiver or the top-tang safety seen on other Mossberg shotgun models. However, the Maverick 88 Security ships with an extended magazine tube installed, which provides seven rounds ready to reload with its reliable, pump-action operation. Though some of the gun's components are made out of the country, primarily in Mexico, each gun is assembled in Texas.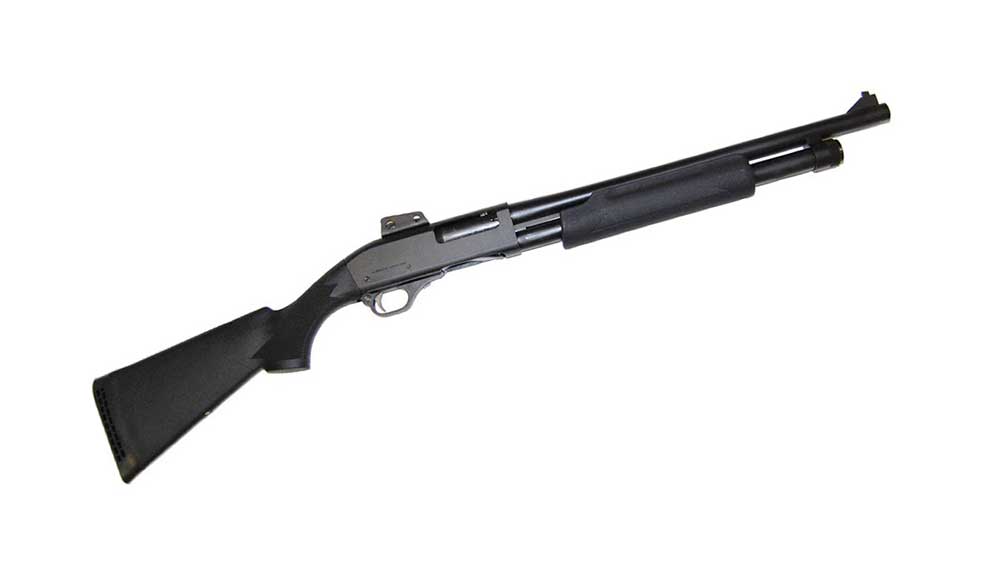 Interstate Arms Hawk Model 982
Average Price: $192.99

If the Hawk Model 982 looks strangely familiar to you, there's good reason for that. Manufactured by the Chinese arms company Norinco and imported to the U.S. through Interstate Arms, the Hawk Model 982 is simply a Chinese copy of the popular Remington Model 870. Though it's close to the 870 in design, it isn't an exact clone, so some aftermarket parts designed for the Remington may not work on the Interstate Arms gun.

Otherwise, elements of the Hawk Model 982 offer a solidly built, rugged home-defense gun for those on a budget who aren't able to buy name brand. The shotgun ships with ghost-ring sights, is machined with a solid-steel receiver and features machined components rather than MIM parts, like the extractor, ejector and trigger guard.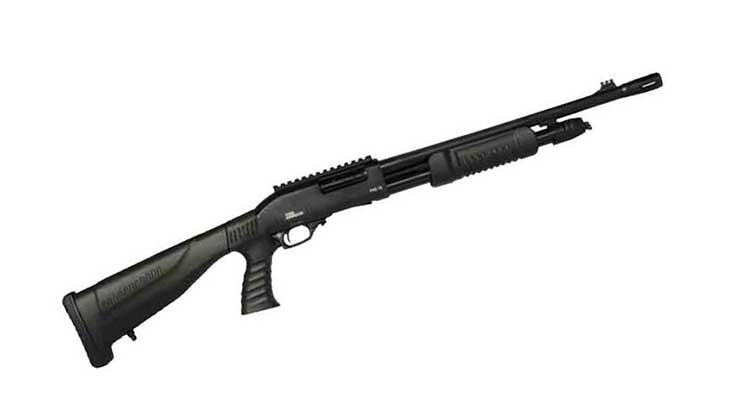 Iver Johnson PAS12 Pump
Average Price: $189.25

With the Iver Johnson PAS12 Pump, we come to our first Turkish-made shotgun, produced by Armed Guns in Izmir, Turkey. In recent years, the Turkish firearm industry has stepped up in production of well-built guns for import to the U.S. under familiar brand names. Iver Johnson is one of these classic firearm brands taking advantage of the long tradition of Turkish gun-making, and the result is this affordable, no-frills shotgun designed for defensive duty.

The PAS12 Pump is equipped with a 3-inch chamber and features a magazine tube capable of stashing four rounds, plus one in the chamber for a solid stack of defensive shells. The entire gun is decked out with matte-black polymer furniture, and for a minimal added price, the shotguns ship with a ventilated muzzle brake that works to minimize the harsh felt recoil often associated with 12-gauge defensive shotshells.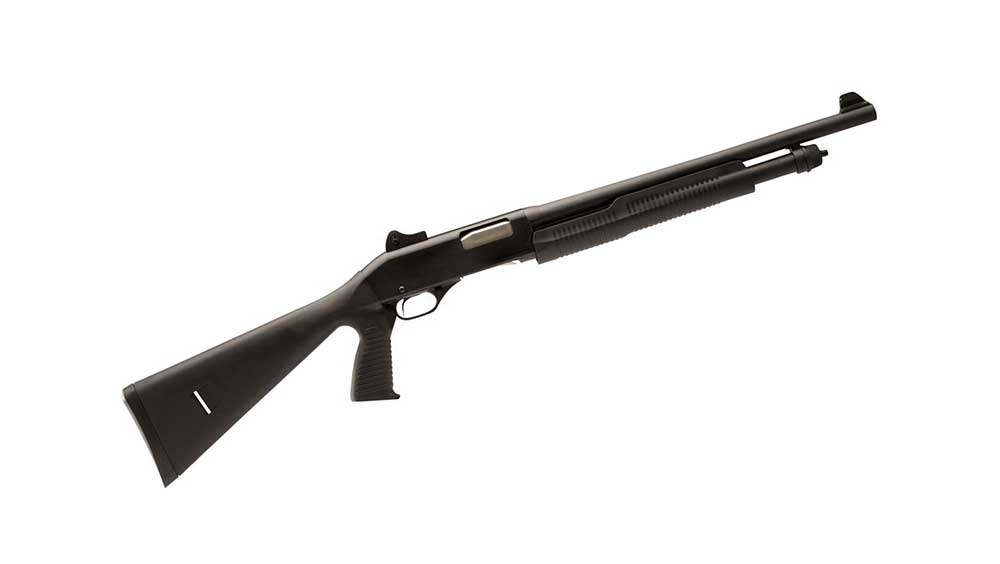 Savage-Stevens 320 Security Pump
Average Price: $188.30

Based on the proven design of the popular Winchester Model 1300, the Stevens 320 Security Pump is built as an affordable, no-frills home-defense gun that can be had in a number of different configurations, depending on your preferences, all with minimal added cost. The basic model is equipped with a standard brass-bead front sight, pistol-grip stock and a five-round magazine tube.

To save on costs for the consumer, the shotgun is equipped with a hollow, polymer buttstock and a thin, rubber recoil pad. It also features a standard cross-bolt safety located just in front of the trigger guard. A 3-inch chamber provides flexibility with different shotshell loads, and Savage Arms offers field barrels for hunting as well.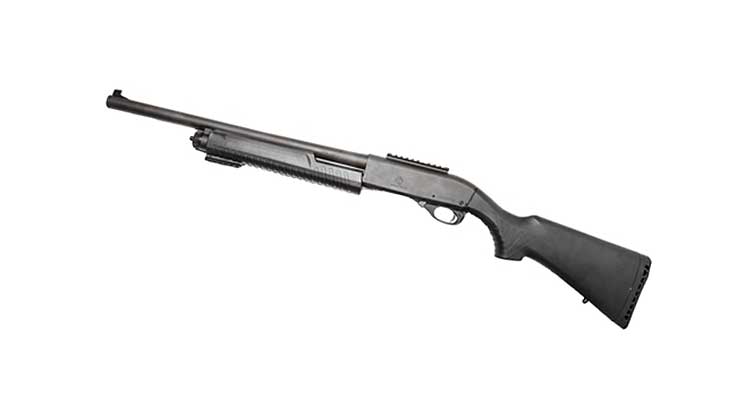 ATI S-Beam MB3-R Pump
Average Price: $174.11

One of the more-recent Chinese imports on the U.S. market, the S-Beam MB3-R Pump from American Tactical Imports features an 870-style receiver paired with a standard-length 18.5-inch barrel and a four-round magazine tube. A 3-inch chamber allows for the use of a wide range of shotshells.

One of the unique elements of this shotgun is the inclusion of a Picatinny rail atop the receiver, which allows users to easily add any affordable red-dot optic on their gun. A rail is also found on the front edge of the fore-end, enabling the attachment of a light or laser. Sling-swivel studs provide a foundation for attaching a sling.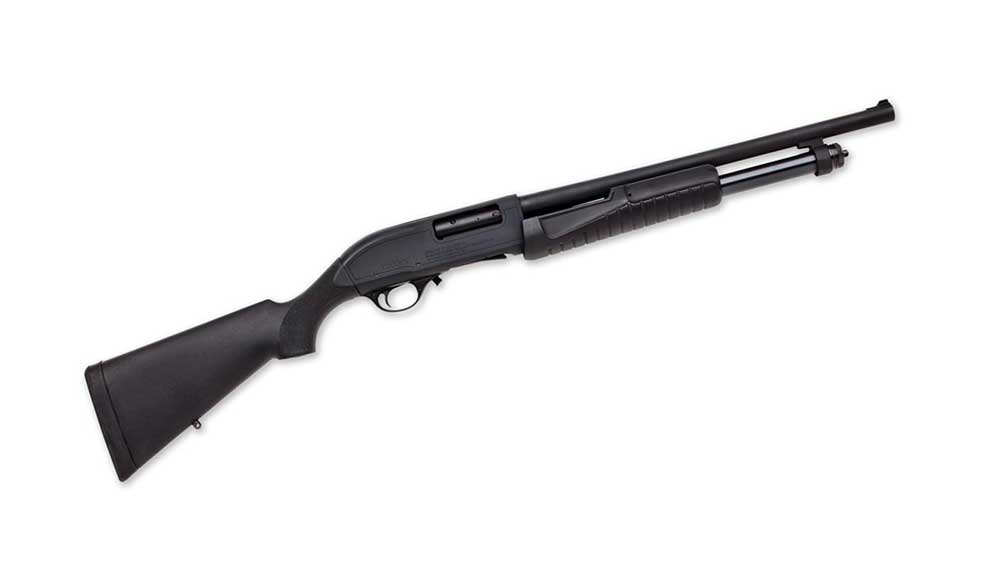 LSI Escort AimGuard
Average Price: $167.99

Another popular value-priced import from Turkey is the LSI Escort AimGuard, which offers a no-frills option with all the basics of a solid home-defense gun. Like other options on this list, the gun ships with a 3-inch chamber and a five-round magazine tube. The 18.5-inch barrel is machined from nickel-chromium-molybdenum steel and features a chrome-plated bore that guards against corrosion.

The receiver is made from aluminum alloy and features a black-anodized finish, and the stock and fore-end are molded from black polymer. A fiber-optic front sight stands out against the background, and the shotgun is equipped with a traditional cross-bolt safety. For those able to spend a bit more, the Escort AimGuard can also be had in 20-gauge models, as well as a nickel-finished MarineGuard version that better resists corrosion.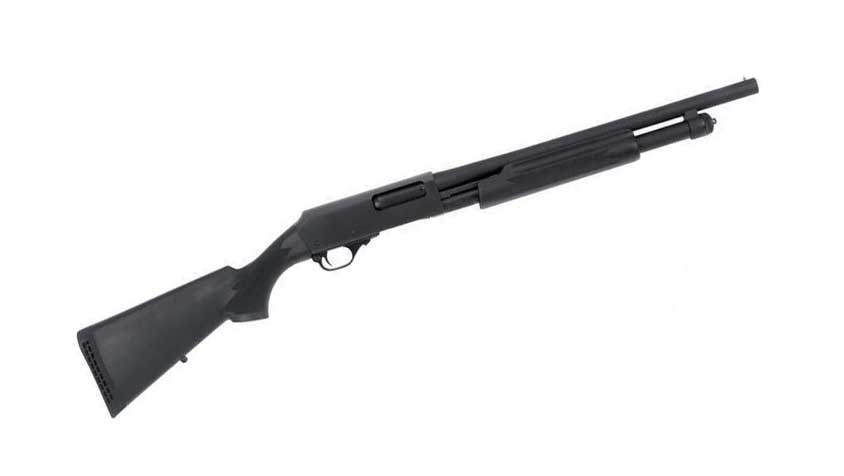 Harrington & Richardson Pardner Pump Protector
Average Price: $160.72

Traveling even further down the affordability list, we hit the Pardner Pump Protector from a classic brand name: Harrington & Richardson. Now a Remington affiliate brand, the Pardner Pump Protector is produced in China by Norinco and is about as no-frills as it gets from a recognizable brand. Built on an all-steel receiver and barrel, the gun weighs 7.5 pounds empty and features a synthetic stock and fore-end with textured surfaces to aid grip.

As far as stand-out features go, there are few. It features a 3-inch chamber and a magazine capacity of five rounds. A simple brass bead at the muzzle end offers an aiming point, and sling-swivel studs allow users to add on a sling, if desired. The receiver is drilled and tapped for a scope base, and an oversized extractor, ejector and twin action bars provide surefire operation when racked stoutly.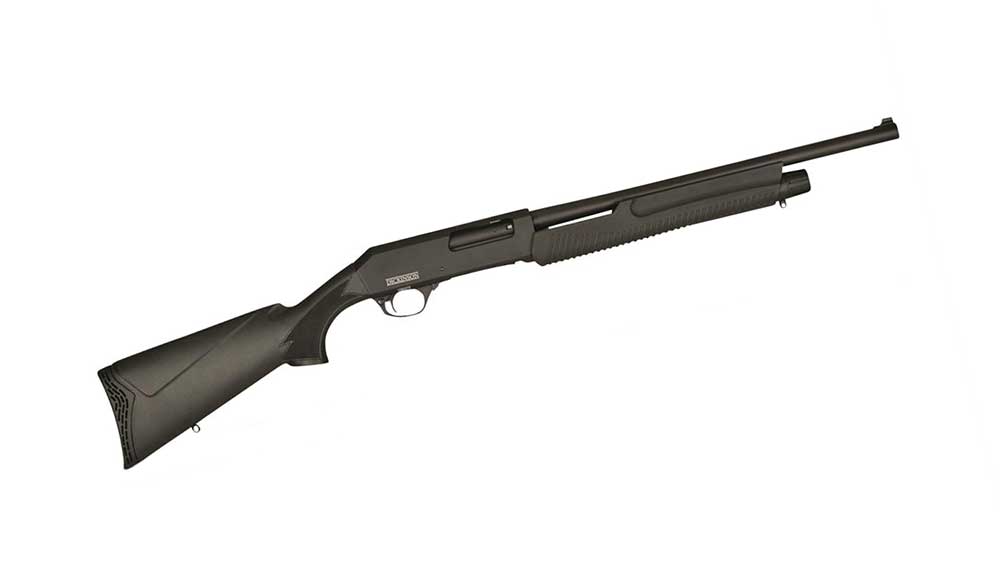 Dickinson XX3B-2 Commando Pump
Average Price: $154.21

All right, here it is. The lowest-priced, defense-oriented, pump-action shotgun money can buy is the Dickinson XX3B-2 Commando Pump. Like other brands on our list, this shotgun is produced in Turkey and features twin action bars, a 3-inch chamber and an 18.5-inch barrel with an all-black finish and polymer furniture. With a cylinder-bore barrel, budget-minded shotgunners can run all manner of defensive loads through it.

Built on an aluminum receiver, the shotgun weighs in at 6 pounds empty. The muzzle end of the barrel is finished with a brass-bead front sight, and the tube magazine can hold up to five shotshells. Though not a feature of the gun itself, an added benefit of the Dickinson package is that each shotgun ships with a hard-sided case.

Together, these eight budget-priced shotguns prove that having a handy home-defense option isn't out of the realm of possibility for the fiscally challenged among us. It doesn't take much investment to take control of your personal security in today's firearm world, so whether you're looking for an inexpensive truck gun or your very first home-defense gun, these options can help start your search.