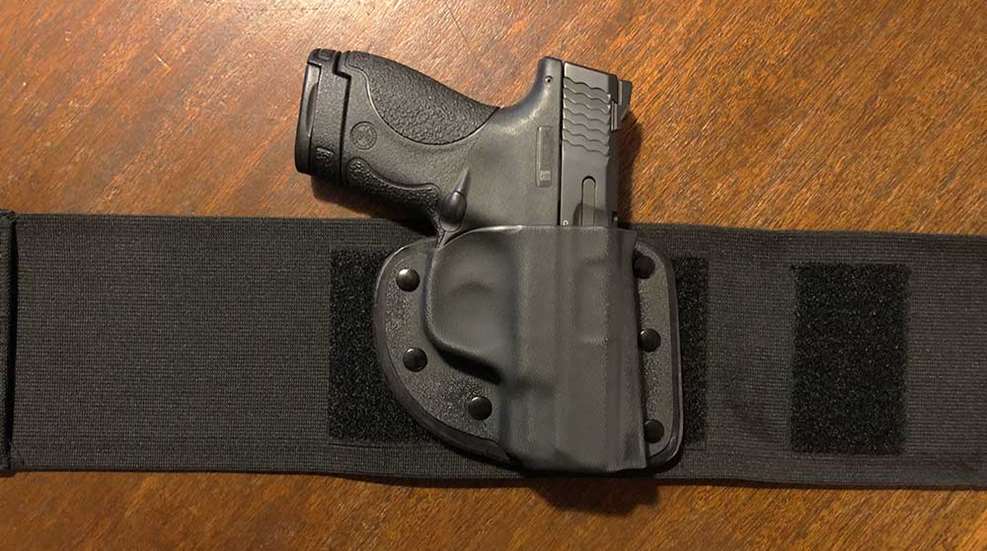 One of the biggest obstacles to carrying concealed is what to do when you can't wear a belt. This is especially true if you throw on gym shorts, yoga pants, sweatpants or anything that doesn't have belt loops.

Typical inside-the-waistband (IWB) holsters are designed to work in either the appendix or strong-side carry positions. Some holsters have the versatility to work multiple ways by moving a few clips around, but typically, they only work really well in one or the other.

While there are some alternative holsters that are designed just for women to carry, a belly-band holster can be used by both men and women in various configurations. CrossBreed offers its Modular Belly Band Package, which includes not only the wraparound belly band but also a Kydex holster that can be worn in multiple positions, so you can put it anywhere you want, front or back.

Unlike a lot of clip-free holsters designed to work with athletic apparel, the Modular Belly Band Package actually works as advertised. No matter what you wear with it, if you install the belly band correctly, it seems to stay exactly where you put it during all your activities.

The CrossBreed Modular Belly Band starts with a long, wide and extremely comfortable elastic fabric belt that has multiple hook-and-loop patches around the outside for holster placement. Whether you carry appendix or strong-side hip, you can attach your holster in any position around the waist to put it exactly where you want it, including cant adjustment, without the need to attach clips between your belt loops.

The gun is held in place by a custom-molded Kydex holster that provides the added second function of having a hook-and-loop backing plate that allows you to remove the entire holster from the belly band and put it somewhere else without taking the gun out. For example, if you get home and want to transfer your weapon to a bedside holster, just remove the entire holster from the belly band and attach it to the bedside assistant without unholstering the gun.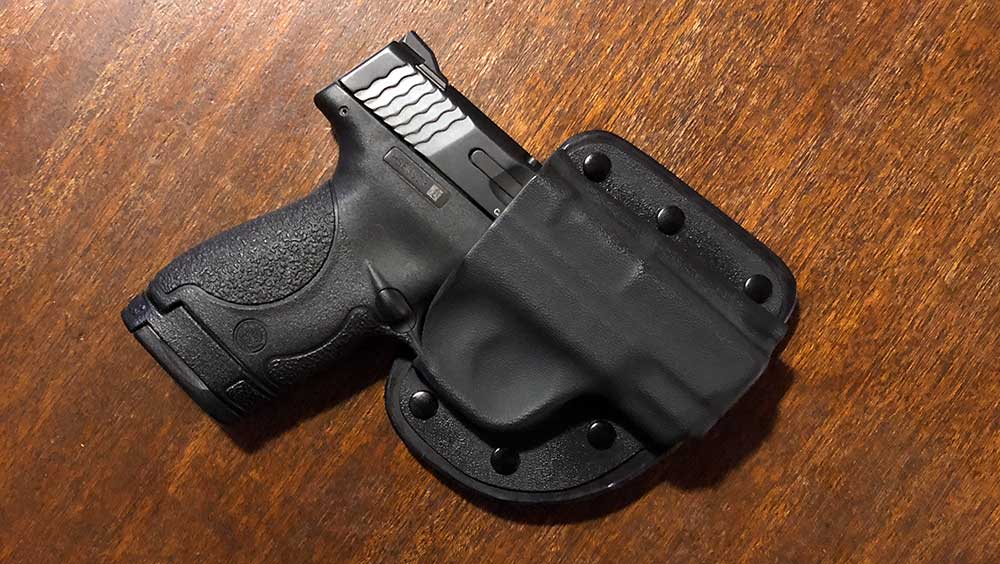 The other advantage of the CrossBreed Modular Belly Band over its competitors is the Kydex shell, which makes drawing and reholstering your gun much easier than with an elastic band only. This becomes especially important during practice. Other belly bands require a support hand to open the elastic on the belly band to reholster a gun. With the CrossBreed belly band, this is all done with one hand, since the Kydex holster shell retains its shape when empty.

This is Crossbreed's second belly-band holster. The first model, introduced several years ago, also used Kydex, but the band did not wrap around the holster, leading many customers to worry if the holster with gun inside would detach itself if they moved too much, especially when carrying a heavy, full-size firearm. The new version added several more inches of wide band that wraps over the holster and secures to the other side of the band, forming a more-stable platform.

I have never been a big fan of appendix carry, mostly because I'm fat and the gun tends to stab my upper leg when I sit, which is a common problem with appendix carry, even among skinny folk. However, I tried it again with the CrossBreed Modular Belly Band and found it more comfortable than conventional Kydex appendix-carry holsters. I almost might like it. The beauty of a belly band is, if you change your mind, simply rotate the belly band to the new position and you're back in business carrying in a completely different spot.

The band is easy to put on, with hook-and-loop enclosures that are tight enough to hold the holster-and-strap band together yet loose enough to easily take the whole rig off and reposition.

We all want to stretch our holster dollars as much as possible. At $69.95, the CrossBreed Modular Belly Band Package isn't cheap, but you're paying for a top notch, multi-use, Kydex holster and the versatility of wearing it with anything. For men, that means not having to always wear a belt. For women, it makes it easier to fit concealed carry into your existing lifestyle and wardrobe. For everyone, it's a great alternative to a traditional holster.