by
Shooting Illustrated Staff
posted on June 26, 2018
Support NRA Shooting Illustrated
DONATE
Tactical optics have always been the laboratory where the latest technology makes the transition from psychotically expensive, military-grade products affordable only for governments to less expensive (but still not cheap) models utilizing similar technology available to the shooting public. This year saw the launch of a number of red-dot optics, ranging from incredibly affordable options to high-end, military-grade optics designed to perform through all kinds of conditions. Some red-dot optics don't even have a red dot anymore, instead opting for a green dot that's more visible in certain situations. See them all here:
---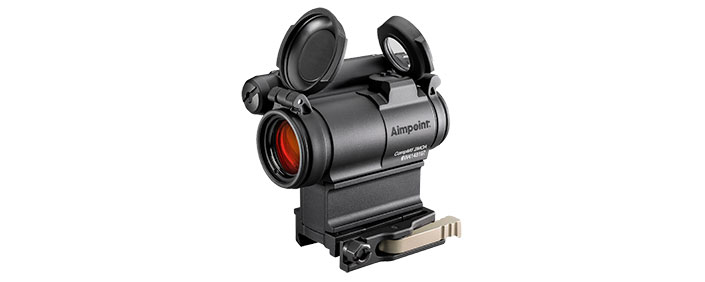 Aimpoint | CompM5
The latest red-dot sight from the company that made red-dots famous is a rugged, reliable technological marvel. Its 10 brightness settings (including four for use with night-vision devices) provide versatility, and it can last, turned on, for more than 5 years at setting seven, making it an ideal choice for a ready-to-defend carbine.
Magnification: 1X
Objective Lens Diameter: 18 mm
Reticle: 2-MOA red dot
Length: 3.3 inches
Weight: 5.2 ounces
MSRP: $1,079
(703) 263-9795; us.aimpoint.com
---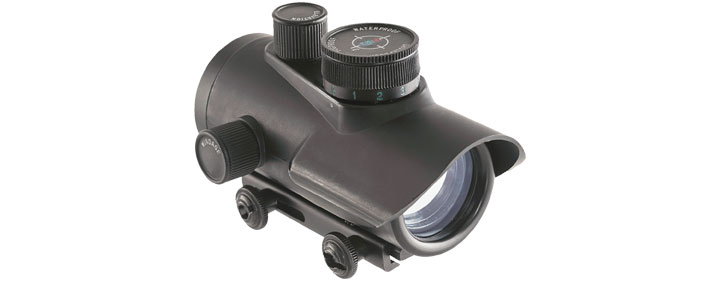 Axeon | Dot Sight
While red-dot sights have become popular options for owners of modern sporting rifles, many models on the market are limited to a single-color output. In certain environments, red-, green- or blue-dot sights can get lost in the background. Axeon solved this issue with the launch of the company's Dot Sight, designed with all three color options available with three brightness settings each to accommodate ambient lighting.
Magnification: 1X
Objective Lens Diameter: 30 mm
Reticle: 5-MOA dot
Length: 4.25 inches
Weight: 8.8 ounces
MSRP: $42.99
(479) 646-4210; axeonoptics.com
---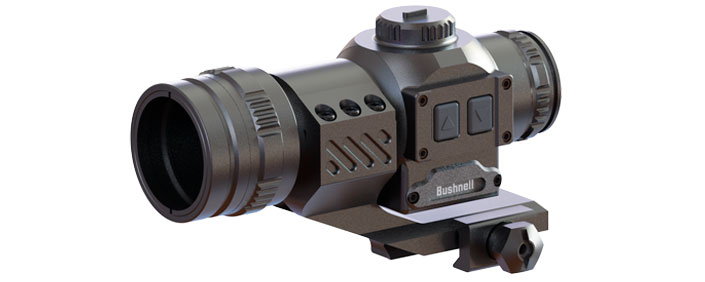 Bushnell | CQTS II Red Dot
Bushnell revamped the company's premier red-dot optic in 2018, rolling out a second-generation model designed for close-quarters tactical use. The hardened CQTS II is purpose-built for durability, having been tested to ensure its waterproof, fogproof and shockproof construction. Brightness settings on each of the reticle choices are adjustable through intuitive push-button controls.
Magnification: 1X
Objective Lens Diameter: 32 mm
Reticle: 2.5-MOA dot; circle dot; crosshair dot; circle-crosshair dot
Length: 4.8 inches
Weight: 11 ounces
MSRP: $538.45
(800) 423-3537; bushnell.com
---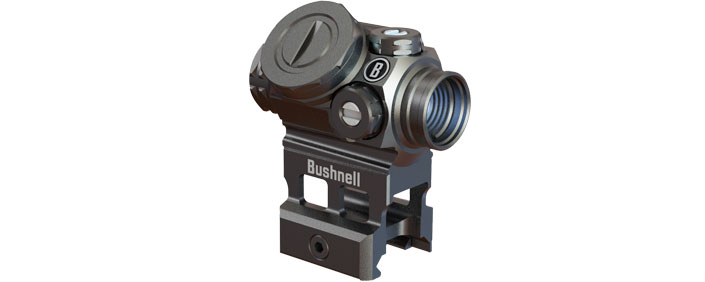 Bushnell | Tac Optics Lil P
Offering a mid-range optics category between its budget-priced brands and high-end tactical models, Bushnell launched its new Tac Optics category. One of the latest offerings is this all-new prism optic, offering an extremely light, compact sight with a drop-compensating reticle and a large eye box for fast target acquisition. The prism design of the optic also ensures that users will be able to use the reticle without relying on illumination.
Magnification: 1X
Objective Lens Diameter: 11.25 mm
Reticle: BDC (illuminated)
Length: 2.5 inches
Weight: 8 ounces
MSRP: $359.95
(800) 423-3537; bushnell.com
---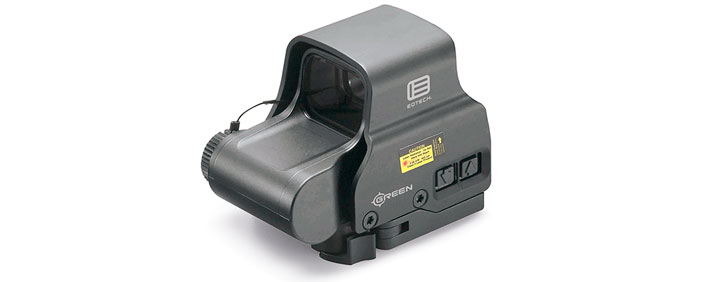 EOTech | EXPS2 Green
EOTech took the design of its holographic sights to a new level with a compact design that provides more rail space for users to mount magnifiers, backup iron sights and other accessories. The new EXPS2 also provides a green reticle instead of the traditional red. Additionally, the sight features a QD lever for easy mounting and removal.
Magnification: 1X
Display window: 30 x 23 mm
Reticle: Green; nine styles available
Length: 3.8 inches
Weight: 9 ounces
MSRP: $665
(888) 368-4656; eotechinc.com
---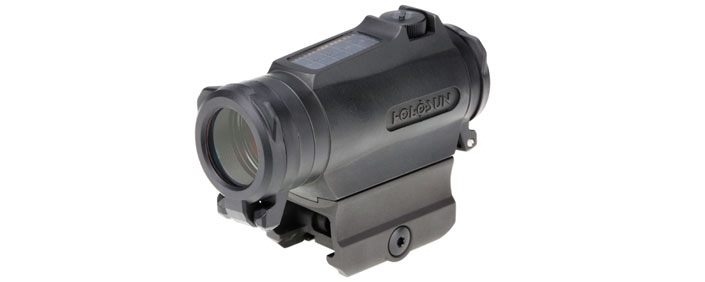 Holosun |  HE515CT Elite
Loaded with the company's Multi-Reticle system, the HE515CT is designed as a compact, lightweight sight option that can rapidly switch reticle choices with a single push of a button. Reticle illumination is powered by a CR2032 battery that keeps the sight going for up to 5 years on battery power alone. The built-in Solar Fail-Safe technology allows for battery-free operation in daylight conditions, further extending battery life.
Magnification: 1X
Objective Lens Diameter: 20 mm
Reticle: 2-MOA dot; 65-MOA circle-dot
Length: 2.67 inches
Weight: 6.4 ounces
MSRP: $505.87
(909) 594-2888; holosun.com
---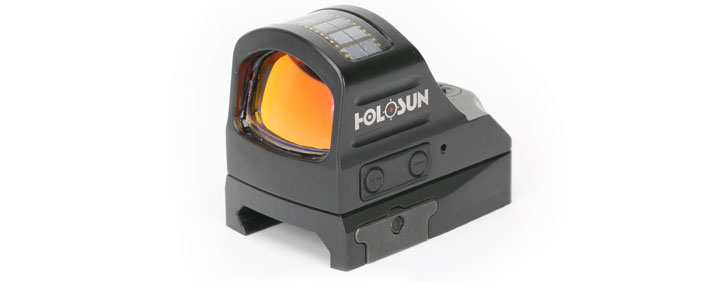 Holosun | HS507C
Built as a micro-size reflex sight that can fit a range of rifles, pistols and even shotguns, the new HS507C is constructed with a rugged aluminum frame. The optic is powered by a combination of a CR2032 battery and a Solar Fail-Safe backup developed by Holosun. This enables the optic to run continuously for up to 10 years on setting six.
Magnification: 1X
Display Window: 23.1 x 16 mm
Reticle: 32-MOA circle-dot; 2-MOA dot; 32-MOA ring
Length: 1.8 inches
Weight: 2.65 ounces
MSRP: $352.93
(909) 594-2888; holosun.com
---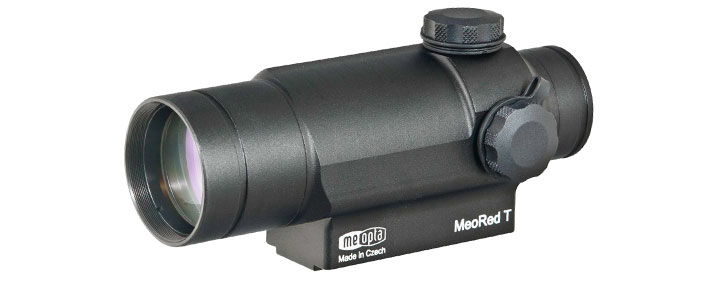 Meopta | MeoRed T Reflex Sight
The MeoRed T Reflex Sight adds Meopta quality to the advantages offered by red-dot optics, including unlimited eye relief, speed, versatility, compactness and long battery life. It features a 1.5-MOA illuminated red dot with 12 brightness settings. Compatible with night-vision devices and magnifiers, the sight is ideal for MSR platforms. At the medium setting, the MeoRed T's battery life is a minimum of 2,000 hours.
Magnification: 1X
Objective Lens Diameter: 30 mm
Reticle: 1.5-MOA red dot
Length: 4.84 inches
Weight: 8.82 ounces
MSRP: $999.99
(800) 828-8928; meoptausa.com
---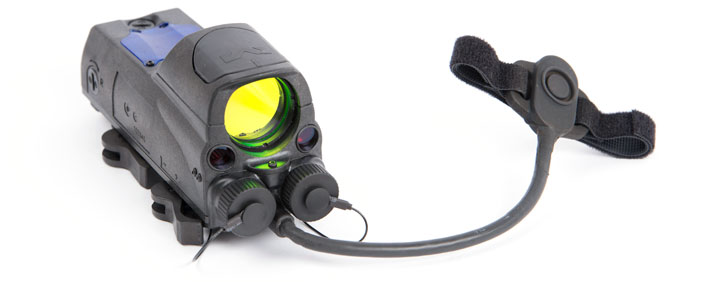 Meprolight | MOR Pro
For 2018, the versatile MOR platform gets an update, featuring a green laser, two laser-designating modes (constant on and momentary on) and an improved switch cable for activating them. In addition, the new MOR Pro has a smaller reticle option and maintains its IR laser for use with night-vision optics. It easily attaches to any railed firearm via a QD mount.
Magnification: 1X
Objective Lens Diameter: 30 mm
Reticle: 2.2-MOA red dot
Length: 5.9 inches
Weight: 15.9 ounces
MSRP: $1,199 to $1,249
(631) 843 0490; themakogroup.com
---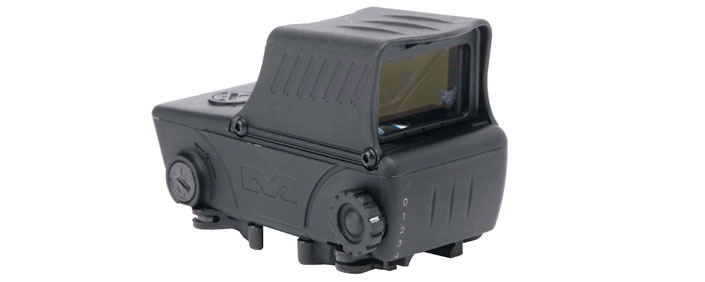 Meprolight | RDS Pro v.2
This popular red-dot will have some significant enhancements for 2018, including 16 brightness-level options instead of the original four. In addition, the reticle will be available as a dot, a bullseye or a drop-compensating version for .300 BLK, and the reticle will display in red or green with the press of a button. It promises thousands of hours of battery life from its single AA battery.
Magnification: 1X
Display Window: 33 x 20 mm
Reticle: 2-MOA dot; bullseye; .300 BLK BDC
Length: 4.7 inches
Weight: 10.6 ounces
MSRP: $589
(631) 843 0490; themakogroup.com
---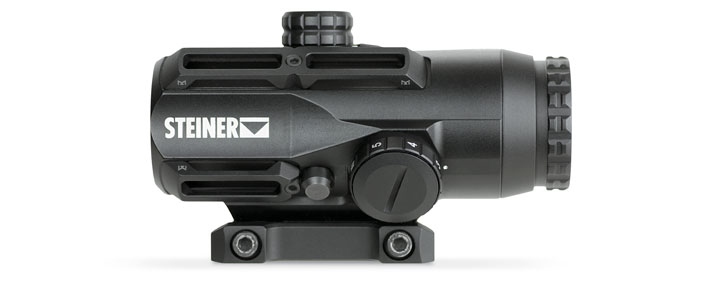 Steiner | Prism S Series
Available with either 3X or 4X magnification, the Prism S Series features a wider field-of-view, a larger eye box and more eye relief than its predecessors, providing for faster target acquisition. It is waterproof to 10 meters, fogproof and rugged enough to withstand abuse equivalent to 900 Gs. Side-mounted rotary-dial controls make windage, elevation and reticle-brightness adjustments simple and intuitive.
Magnification: 3X or 4X
Objective Lens Diameter: 32 mm
Reticle: Rapid Dot
Length: 5.7 inches
Weight: 21.6 ounces
MSRP: $1,299.99
(888) 228-7747; steiner-optics.com
---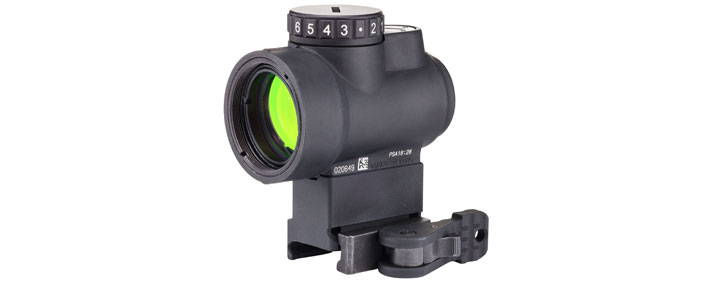 Trijicon | MRO Green
Trijicon's popular MRO is now available with the option of a green dot. That's important, as the human eye is more sensitive to green than red, making the new optic somewhat better for rapid target acquisition in low or changing light. There are eight brightness settings (including two for night vision), and a particularly bright setting for use with a weaponlight, all adjusted via an ambidextrous brightness control.
Magnification: 1X
Objective Lens Diameter: 25 mm
Reticle: 2-MOA green dot
Length: 2.6 inches
Weight: 4.1 ounces
MSRP: $613
(800) 338-0563; trijicon.com