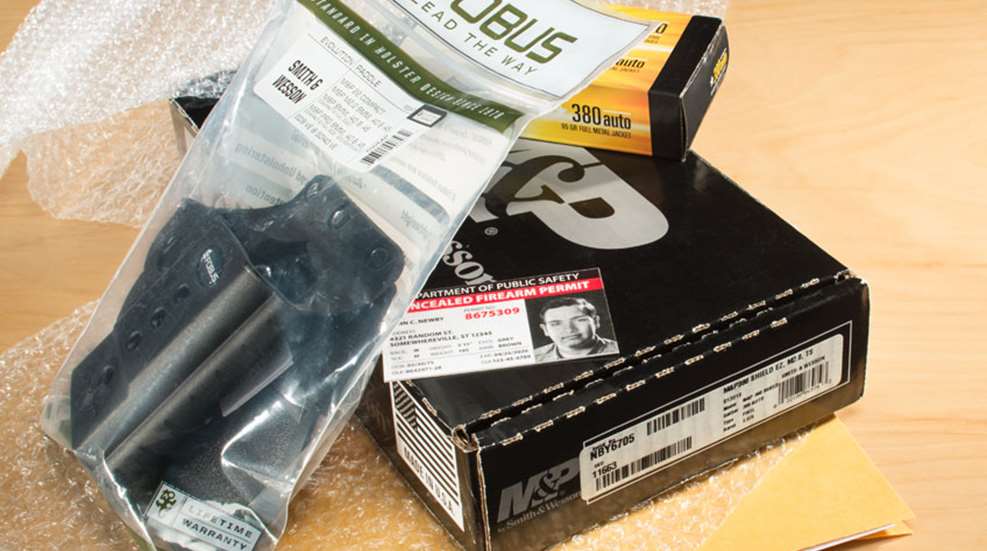 Those new to concealed carry can find themselves overwhelmed. The industry has exploded over the past few decades, and rightfully so, as folks take ownership of their own safety. It is a personal responsibility, but it is also a learned skill. The first challenge for those new to concealed carry is understanding a three-tiered approach toward carrying concealed. Breaking the three tiers down into the base, lower- and upper-body garments gives structure to a rather nebulous subject.
When I first started carrying concealed, I didn't know what I was doing. I had received countless hours of firearm- and tactics-related training, but nothing in the sense of how to carry concealed. I was not only on my own, but I was thrown into the deep end of a shark-infested pool wearing a meat suit to perform my duties. I wasn't afforded the opportunity to make mistakes—I had to get it right the first time and every time thereafter. It forced me to think carefully about not only what I was carrying, but also how I dressed.
I am excited to see so many people take a more-vested interest in their personal safety. I honestly don't question their reasons. My job is to prepare them for what will be the worst day of their lives in the best way possible. I have taken an active interest in understanding their "why," as it helps me do my job of better educating them. I also have to understand the various barriers to entry that may keep them from learning.


The two most common are fear of the unknown and fear of not knowing. While these two items may seem similar, they are vastly different. Fear of the unknown is simple—it is not knowing what to expect. Not knowing what to expect puts people in a defensive posture at times, standoffish and not open to change. The best piece of advice I can share is you are not alone. Everyone has been there and what I love about this community is how eager folks are to help. The fear of not knowing is more challenging. This is being afraid to look the fool, to not know what you are doing. Again, you are human and this is normal. My best piece of advice is to keep your eye on the prize. If you are doing this for a reason, stay focused on that reason. Everyone has to start somewhere; remember that.
I spend a lot of time answering questions. A common question I get is what firearm is best for the person in question to carry. We are blessed with many options, but that, too, is a curse. What I do is give you criteria, not what I carry. I give you the "why" so you can best source the firearm that fits your needs. Assuming reliability standards are met, the three most-important aspects are capacity, compactness and logistics. It is ideal if you can avoid a reload in a gunfight, so having enough ammunition is what I'm talking about. I don't much care what caliber you select—the caliber wars are over. What matters to me is how many rounds I can carry. For this reason, the 9 mm is king. You get optimal terminal performance combined with capacity, specifically a minimum of 10 rounds.


When you think concealment, you naturally think small or compact. There is a point of diminishing returns where too small is a poor choice. You have to find a good compromise to fit your needs. The micro-compact pistols are great, but they are not easy to shoot well. Two things to consider are reliability and accuracy. The smaller guns have smaller parts, that shouldn't come as a surprise, but it can be challenging to foster robust operation as parts shrink. Accordingly, smaller parts can have shorter shelf lives and direct effects on the accuracy component. The micro-compact pistols can be difficult to shoot, not always fitting into our hands well or having more-pronounced recoil. In order to combat these issues, you will need to practice, which means more wear and tear on those smaller parts. While I love these micro-compacts and my belief is a small gun is better than no gun, I view these more as "gateway guns."
As the newcomer practices, they become more aware, and their equipment choices evolve along the way. The last element to consider is logistics. There is an old saying, "amateurs argue tactics while professionals argue logistics." The supporting-equipment industry for concealed carry is like any other industry and it is driven by profit. Manufacturers are not going to make custom items for less-popular firearms without significant investment, instead focusing their efforts on top sellers. They had to devote resources toward product development, materials, tooling, marketing and a host of other costs to ensure a return on their investment. The more-popular models will afford more available options and increase the chances of finding something fitting your needs.


Once you have settled on a primary-carry pistol, your next task is finding a safe holster. While some micro-compact pistols can fit in a pocket, I strongly suggest you always use a holster. The holster will accomplish several things. Starting with the administrative stuff, it will shield the firearm from unwanted foreign objects and debris—stuff like lint, loose items, body oils and perspiration to name a few. While it doesn't seem like much, they can foul up the operation of your firearm, or worse, apply pressure to your unprotected trigger leading to a negligent discharge.
A holster will be many things, but these are the features it must have in order to be considered a good one. It must first retain the firearm. When properly inserted, the firearm should be secure, to the point where if you were to carefully turn it upside down (over something soft like a pillow) the firearm stays secure in the holster. Next, it must protect the trigger from unauthorized access. This can come in the form of many things, some of which were mentioned earlier. Loose clothing, the holster itself and other items (even your own fingers) should not be allowed access to the trigger while the gun is holstered. It must fit securely to the body. You obviously don't want to lose the firearm/holster, but you also don't want to draw and find your holster came along for the ride. Believe me, it happens more than you think. Lastly, you want to obtain a firing grip while still holstered. If parts of the holster or positioning make it difficult to properly grasp with a firm, firing grip, find something else. Under high stress if you start off with a poor grip it is not going to improve itself on the way to the target. Once you've selected a good holster, next is a good belt. You may even find you need multiple holsters for the same gun to cover different situations.
Remember to balance comfort with carry. For many new to concealed carry, it is awkward—and in some cases, uncomfortable. If you are not comfortable you will constantly be adjusting, tweaking or fidgeting. Either case, you are drawing attention to yourself, and the first rule of concealed carry is avoid doing just that. There are advantages and disadvantages to the various methods of carry; whether outside or inside the waistband. Inside will greatly reduce your profile, but some find it uncomfortable. Outside seems more comfortable to many, but not as concealed. Whatever your choice, you will need a rigid or sturdy belt to hold the weight of your gear. Like everything else we have discussed, there are features to look for and belts are no different. The most-important feature to consider is stiffness. Stiffer construction will mean avoiding belt sag. The outboard drooping will force the inside surface of the holster to contact your hip region. At first, it seems minor, but the longer you carry, the more pressure it applies to that point. It will get more uncomfortable and intensify pretty fast.


You have limited options for belt material, usually leather or nylon. While many love a good-looking leather belt, you have to be OK with it getting scuffed up—because it will. Nylon is versatile, but to get the stiffness there needs to be more than a single layer. Here's where stitching comes into play, not only joining two (or more) pieces, but adding rigidity. Three- and five-row stitching are the most common, but other options include internal stiffeners. The buckle is the final piece to this puzzle. Your buckle should be low key, secure and adjustable if possible. If you change holster positions or live in a seasonal climate, having an adjustable belt will make life easier. Buckles come in all different sizes and shapes, keep it low key and follow your personal preference as long as it secures the belt.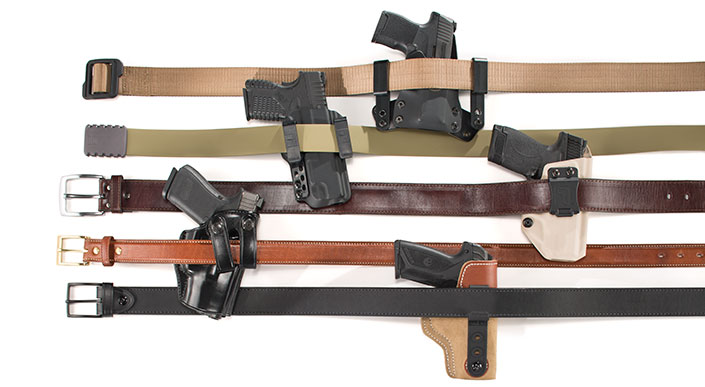 While there are many subtleties in selecting your equipment, this is a great place to start. You will notice we introduced the top and bottom layers, but didn't go into detail. It may seem overwhelming, but don't be discouraged. Take each of the base layers one at time. Research and even try out your firearm. Select a good holster for comfort and conceal it well. Invest in a solid belt to keep it all secure. I will give you one final piece of advice. Don't be married to your gear. Technology, designs and material are in a constant of flux. New products are being introduced frequently. Now, you have a method to measure how well they will work for you. Over the years, I have gone through countless holsters. My experience has led me to these simple considerations; which should help guide you on your new journey. Good luck.
---
About the author:
Jeff Gonzales serves as president of Trident Concepts and director of training for The Range at Austin. He served as a decorated and respected U.S. Navy SEAL, having participated in numerous combat operations throughout the world. His duties involved a wide variety of operational and instructional assignments on both coasts. Through Trident Concepts, Gonzales pioneered new advances in firearms and tactics instruction. His unique understanding of adult learning, detailed curriculum development and rigorous adherence to performance standards continue to set him apart from a crowded field.
Recently, Gonzales has increased his focus on concealed carry. Leveraging his experience operating in non-permissive environments all over the world, he has unique knowledge to share with members of law enforcement, the military and responsible armed citizens.