by
Shooting Illustrated Staff
posted on April 18, 2018
Support NRA Shooting Illustrated
DONATE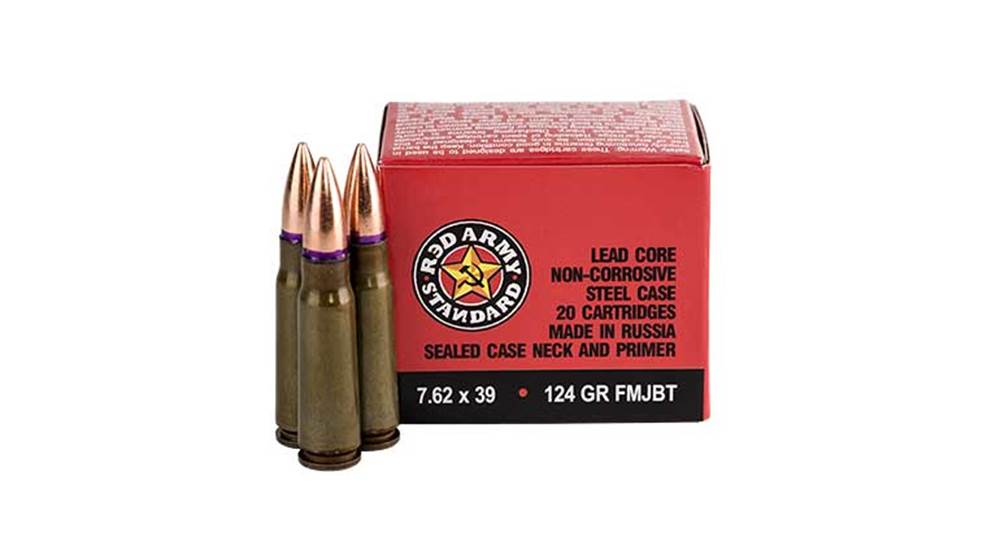 Introduced to the American market in mid-2017, the
Century Arms
Red Army Standard 7.62x39 mm ammo is designed to provide an affordable and well-made ammo option for owners of popular AK-style rifles. Nearly a year after its launch, the company announced it was again importing limited quantities of the ammo for consumer purchase.
"We've spent a great amount of effort to develop what we feel is the best 7.62x39 mm ammo currently imported into the country," said William Sucher, the company's director of business development. "As the leader in the AK market, we wanted to ensure that our customers have access to the best ammo possible to run through their rifles and pistols. We have been thrilled by the reception of this SKU and are working diligently on increasing capacity to meet the demand."

Each Red Army Standard round is loaded with a 124-grain full metal jacket boattail projectile, and the ammunition has been tested in each of Century Arms' AK-style rifles and pistols to ensure accurate, reliable performance. The rounds are manufactured in a Russian ammunition plant that produces ammunition for military and sporting use.

In addition to the lead-core round, the cartridges are produced using non-corrosive primers to ensure barrel life and use a lacquered-steel case that aids in consistent feeding and extraction. After the round is loaded into the case, the rim of the cartridge mouth and the primer pocket are covered in a military-grade sealant that preserves the viability of the ammo, even in long-term storage.

In addition to the company's 7.62x39 mm ammo offering, Century Arms plans to roll out further cartridges in the Red Army Standard lineup by mid-May 2018. The expanded offerings will provide consumers with affordable 5.45x39 mm FMJ and .223 Rem. FMJBT cartridges.

The Red Army Standard 7.62x39 mm offerings are available at a suggested retail price of $5 per 20-round box or $250 per case.