by
Shooting Illustrated Staff
posted on December 12, 2018
Support NRA Shooting Illustrated
DONATE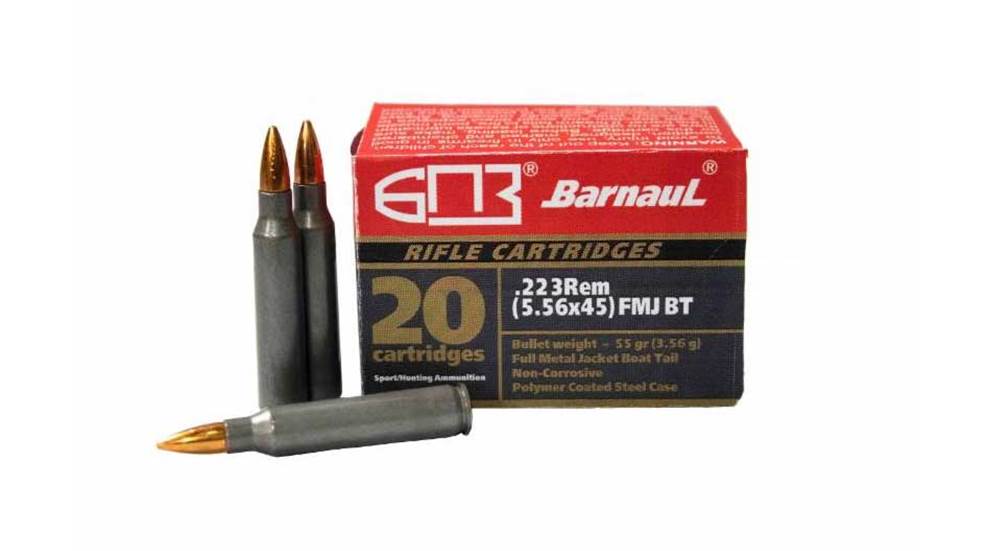 With a long, rich history of service to the Motherland, Plant No. 17 of the former Soviet Union continues its legacy of ammunition production to the current day as the Barnaul Cartridge Plant, part of the Barnaul Machine-Tool Building in (Where else?) Barnaul, Russia. At the end of 2018,
MKS Supply
announced it would become the first company to begin importing Barnaul-branded ammunition into the United States.
However, Barnaul ammunition isn't new to shooters in the Western world. Currently, Australian and New Zealand shooters enjoy 12 of the company's products produced for rifles, pistols and shotguns through Russianz Ltd., currently the exclusive importer of this Russian-made ammo for all of Australia and the South Pacific.
In fact, though not sold under the Barnaul name, ammunition produced by Barnaul has been seen in the United States for some time under several different brand names. Marketed under the Academy Sports Monarch name, Barnaul's steel-cased ammunition has been sold in the company's stores. So, too, is the Bear Series of ammunition produced by Barnaul, including lacquer-coated Brown Bear, zinc-coated Silver Bear and brass-coated Golden Bear steel-cased offerings.
Starting in 2009, Barnaul began producing steel-cased ammunition with a lubricious polymer coating under the Centaur brand. These Berdan-primed rounds are loaded with
Hornady
bullets and use Belgian-produced propellants, all in an effort to enhance quality for sale in both American and European markets.
Barnaul-branded options being imported through MKS Supply, based on an attached photo announcing the importation, appears to be using the same polymer-coated steel cases as the Centaur-branded loads, along with non-corrosive primers. These rounds will be available in the following calibers: 7.62x39 mm, 5.56 NATO, 6.5 Grendel, 5.45x39 mm, 7.62 NATO, 7.62x54R, .30-06 Springfield, .45 ACP and 9x18 mm. Available bullet profiles vary according to caliber offerings, but FMJ, SP, HP, FMJBT, HPBT and SPBT bullets will be offered in the lineup.
Pricing details for the majority of SKUs are still being hammered out between MKS Supply and Barnaul, but
Shooting Illustrated
learned that imported quantities of Barnaul-branded 7.62x39 mm FMJ and 5.56 NATO FMJBT loads will retail for $5.99 per box of 20 rounds.