by
Shooting Illustrated Staff
posted on October 16, 2018
Support NRA Shooting Illustrated
DONATE
Looking for the perfect stocking stuffer for your family firearm fan? Each of these 10 items can be had under $25 and include great accessory options for many of today's popular firearms, as well as standalone accessories designed to enhance your range experience or add extra enjoyment to your daily life. Check out the list below to find the best options for your family or friends: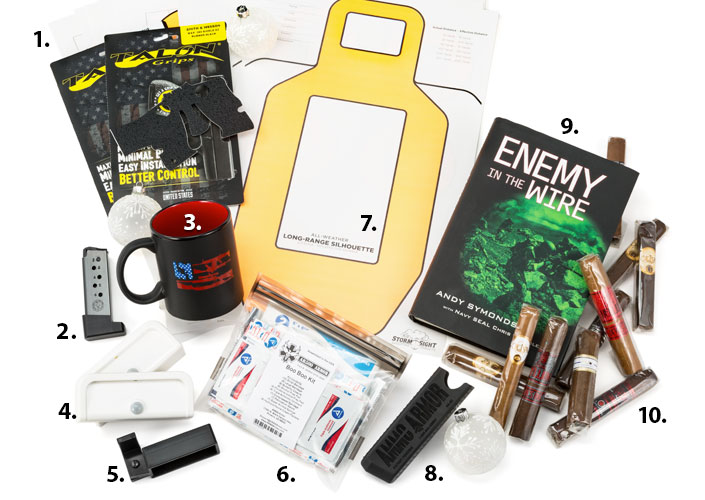 1

|

Talon Grips – SIG Sauer P365 and Taurus G2C Grips

Talon Grips has expanded its lineup of laser-cut, adhesive grips to include the SIG Sauer P365 and Taurus G2C, among other popular guns. The grips are available in rough granulate texture for the utmost purchase in any conditions, and a rubberized material for good purchase and comfort. $17.95;
talongrips.com


2

|

Hyve Technologies – +2 Mag Base Pad for the Ruger LCP II

You can never have too many rounds. Hyve Technology's magazine extension will give you two extra for your factory magazine, while simultaneously improving your grip on the firearm. $23.99;
hyve-technologies.com


3

|

Black Rifle Coffee Company – Freedom Flag Mug

Show your support for America and our Second Amendment while drinking your daily coffee. This mug is adorned with some of America's favorite firearms, decked out in the national colors. $13.99;
blackriflecoffee.com


4

|

MR Beams – Wireless LED Lights

Possessing stick-anywhere versatility and motion activation, this set of two wireless LED lights is ideal for providing extra light in locations where it is needed, such as hallways and stairwells. $18.99;
mrbeams.com


5

|

Gibborim Tactical – Self-Ejecting Magazine Cover AR 556

Useful for preventing the ingress of dirt or the egress of ammunition, this magazine-cover auto-ejects from a coupled secondary magazine when reloading, thanks to a nifty L-bracket contacting the receiver. $14.50;
gibborimtactical.com


6

|

AR500 Armor – Boo Boo Kit

Acknowledging the fact that most range or field injuries are not major trauma, but rather cuts and scrapes, AR500 Armor's Boo Boo kit addresses these minor injuries. The 46-piece kit includes bandages, closures and disinfectant and takes up very little space. $10.15;
ar500armor.com


7

|

Rite in the Rain – All-Weather Long-Range Rifle Target

Rainy day? No problem! Rite in the Rain has your target needs covered. Its weather-proof targets feature a 100- to 200-yard reticle on the front, and a long-range silhouette on the back.
$19.95;
riteintherain.com


8

|

Ammo Armor – Ammo Armor

Clean, undamaged magazines are essential to the reliable functioning of your semi-automatic pistols. American-made Ammo Armor allays concern by precisely fitting and covering your valuable magazines, protecting from dirt, dents and corrosion. $9.95;
ammo-armor.com


9

|

Andy Symonds – "Enemy in the Wire"

A great gift for the book-lover on your list, "Enemy in the Wire" provides a fictionalized look at day-to-day life as a SEAL, using input from former SEAL Chris McKinley. $22.95;
andysymonds.com


10

|

Thompson Cigar Co. – Oliva All Star 10 Cigar Sampler

This pack of 10 premium cigars of multiple varieties represents a 73-percent savings off of retail. Using the URL below and the code TA972, shipping is free, too! $19.95;
thompsoncigar.com/TA972