Good night-vision equipment is more readily available than ever before. While Generation 3 tubes are where premium performance truly begins, reputable Gen. 2 night-vision gear is still suitable for basic shooting needs. Night-vision scopes and goggles with Gen. 1 tubes are inexpensive, but they lack the resolution needed to clearly identify targets without an additional light source. Here, I'll specifically address the basics of how to incorporate commercial night-vision devices into your shooting game.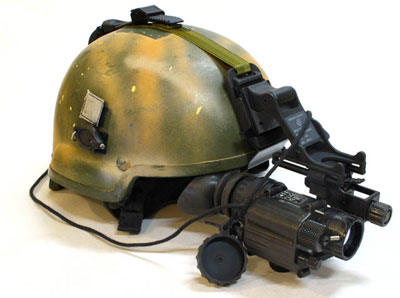 Night-vision devices used for shooting can be separated into two categories: worn and firearm-mounted. Worn equipment consists of monoculars and goggles/binoculars. Weight distribution is the key to long-term comfort and ease of wear in this category, so look for lighter designs that keep weight closer to the face. The inexpensive head-harness method of wear is also uncomfortable. We called them "face prisons" in the Army because wearing one is akin to corporal punishment. If a harness is your only mounting choice, suck it up and wear it as tightly as you can tolerate. The night-vision goggles' forward weight will cause the whole setup to flop around unless kept snug.
I hated wearing a helmet in the Army, but when it comes to working at night, the stability offered by helmet mounts cannot be beat. Not all commercial night-vision goggles have this option, and mounting systems are generally unique to a specific type. A bracket for an night-vision attachment can either be bolted on or strapped to the helmet. Drilling holes through Kevlar may reduce protection and void the warranty, so use caution if considering that option. Chin and harness straps need to be tight to keep the night-vision goggles and helmet in place. A good internal suspension system with padding will be relatively comfortable and stable, even for long-term use. Higher-end night-vision goggles use helmet mounts that flip up when not needed, which is a good feature when working in an environment with rapidly changing light conditions.
You have several options for putting rounds on target with head-mounted NVDs. A reflex sight with night-vision rheostat settings will dim the dot/reticle so it will not overwhelm the image intensifier tube, thus allowing use of the optic in conjunction with the monocular or goggle. NVDs normally must be focused to magnified optics and a fixed distance between the two is required to keep everything clear. Slight movements will blur the reticle, target image or both. A simpler aiming option is to zero an IR laser to the rifle at a specific distance. Several Class 1 IR lasers are available on the commercial market, so this combat-proven pairing is an option for anyone.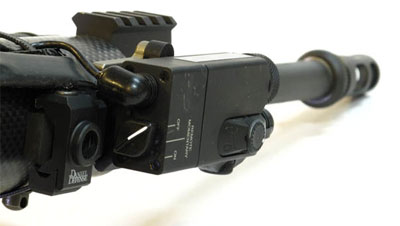 One trick I learned when zeroing IR lasers is to place a very small (.25-inch square) piece of reflective tape at your intended point of impact on the zero target. When your IR laser hits this tape, it will reflect brightly, letting you know you're aiming at the right spot, but it won't wash out your target image. If you need to observe a wide area, such as when calling in coyotes at night, patrolling or when pulling guard, worn NVDs and a good IR laser provide good situational awareness and allow the fastest reaction times.
Firearm-mounted night-vision scopes are the other way to see a night target by amplifying the ambient light. They can be had as stand-alone, rear-mount or front-mount optics. Stand-alone night-vision optics require the day optic to be removed in most cases, so the gun essentially becomes a dedicated night platform. These NVDs are typically large and the continual mounting, dismounting and remounting of day and night optics affects zeros. Rear-mount NVDs do allow use of the normal day optic, but require a special coupling bracket for magnified optics. Zero can be affected, and the loss of eye relief is dramatic. Most shooters find it difficult to shoot comfortably in this manner.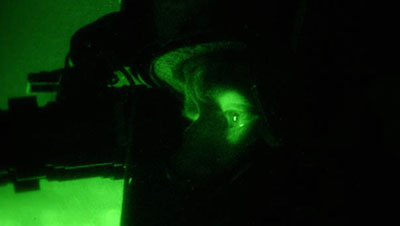 If enough rail space is available, rear mounting behind a reflex sight works well. The best firearm-mounted night-vision scopes options attach in front of the day scope. Zero is unaffected and there is no change to the shooter's normal head position on the gun. The downside is front-mounted night-vision scopes are expensive and place weight forward on the gun. A less-common variation in this category is the piggyback mount used by the SIMRAD and NAD families. These designs have serious zero-retention problems and are being replaced by the front-mounted PVS22-type devices. Front-mounted NVDs are the way to go for precision-shooting applications.
An IR illuminator will help light up a target for any I² night-vision device. The "flood" size can often be adjusted so just the right amount of additional light is cast downrange for 100 to 200 meters. Remember, nearly anyone can afford some form of night vision these days. Even a $75 Gen. 1 device will see the light an NVD casts on your face, so wear the rubber eyecups to help manage your signature. Same goes for IR laser and illuminator use: employ them sparingly and avoid sending up bat signals to prevent being detected if that is a concern.
I've used several versions of each of the above-described systems in combat, and have lately begun using commercially available night-vision devices. When employed properly, night-vision equipment will open your eyes to the times usually dominated by four-legged critters and two-legged ne'er-do-wells, giving you the advantage.