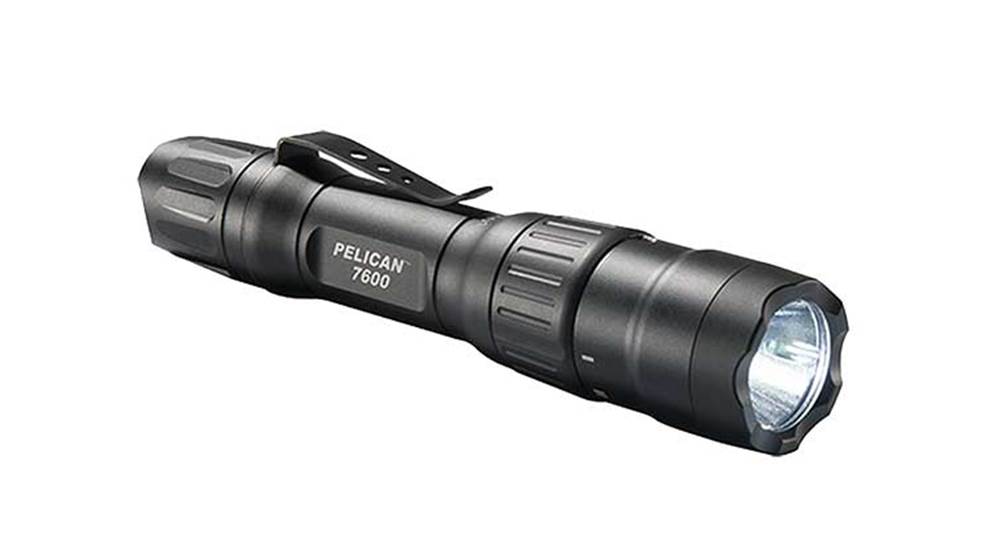 Andax Industries
 introduced one of its newest and most-advanced tactical products in 2017 with the launch of the company's
7600 Tactical LED flashlight
, designed by
Pelican Products
.
The light measures in at 6.19 inches in overall length, yet produces an impressive 944 lumens of illumination. The light features a rechargeable lithium-ion battery that powers the light at its highest setting for more than three hours. Battery life at the flashlight's lowest setting, which measures in at 37 lumens, lasts for 29 hours. The battery can be recharged with an included USB cable and can also run off CR123 batteries.
The light also features a rotary collar that allows users to select between white-light, red-light and green-light LEDs that allow for the use of night vision. The light also operates through the use of a tailcap switch, which allows users to switch between high, medium, low and strobe settings. The Pelican is also user-adjustable with five separate programs to allow the modes to progress in whatever order is needed by the end user.
Other features of the Pelican 7600 Tactical LED flashlight include a battery-level indicator and a hard-anodized light body that incorporates a carbon-steel pocket clip. The light is rated IPX8 waterproof and can be submerged to a depth of 1 meter without issue. The total weight of the light is 6.9 ounces.
The suggested retail price on the new Pelican 7600 Tactical light is $82.50.