by
Shooting Illustrated Staff
posted on February 16, 2018
Support NRA Shooting Illustrated
DONATE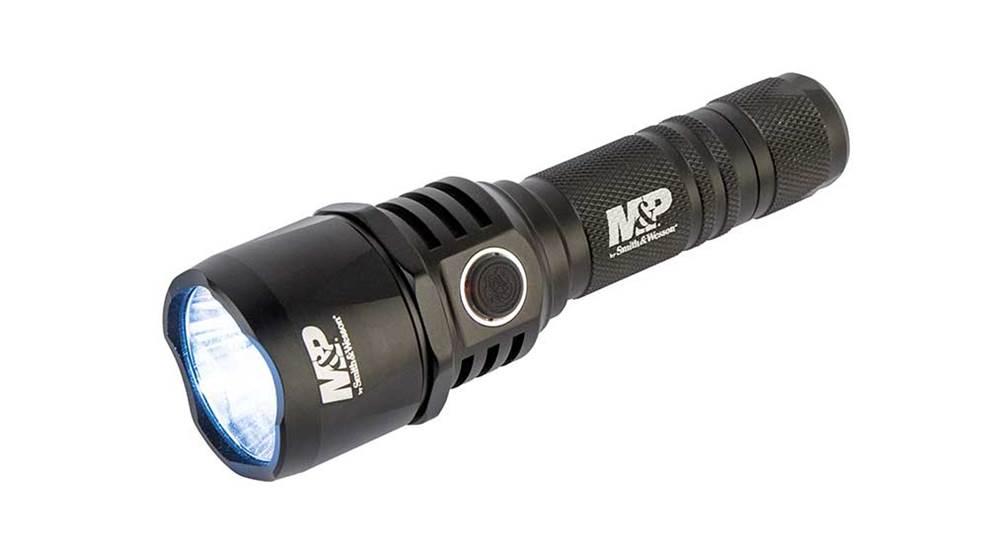 The
Smith & Wesson
M&P lineup is expanding beyond handguns and rifles and into other elements of everyday carry, such as pocket knives and now the company's line of rechargeable LED flashlights.
All-new for 2018, the company's flashlight lineup launched with five new models from the start, each constructed from a high-strength housing machined from aerospace-grade aluminum and treated with a hard-anodized finish. Each light body is designed to be impact- and moisture-resistant and even comes with a crenulated bezel that allows the lights to be used as a self-defense implement in a pinch.
One of the other shared features of the new lineup is the inclusion of a rechargeable battery in each flashlight body. Battery power is topped off through the included USB-to-Micro-USB charging cable, enabling users to recharge their light in any number of locations. Each model is also equipped with quality CREE LED lights for added durability.
The base model of the Smith & Wesson rechargeable LED flashlight lineup is the company's Delta Force MS RXP 18650 light. This mid-size light, offering a maximum output of 1,050 lumens, provides users with low, high, strobe and momentary-on modes. A built-in memory-retention feature remembers the last setting used on the light, so owners can stage the light to provide whatever mode they need immediately, activating it with the on/off tailcap switch. The light includes a charging cord and a lanyard strap and retails at a suggested price of $69.99.
Four other models in the rechargeable LED light lineup are part of the company's Duty Series. Each light in the new-for-2018 Duty Series is powered by 18650 rechargeable batteries and are available in different-size models that provide output ranging from 1,045 lumens up to an incredible 10,000 lumens. The M&P Duty Series CS RXP 18650 light is sized as a compact, daily-carry option with five different output modes and a pocket-carry clip. The light includes the same memory-retention mode found in the Delta Force and retails at a suggested price of $54.99.
Another unique option in this lineup is the M&P Duty Series MS RXP, which provides the same output as the CS model by also incorporates a 3,400mAh internal battery bank, enabling it to serve as a charging device for cell phones, lights and other electronic devices. The light is also equipped with 5 different output settings reaching a maximum output of 1,045 lumens.
Finally, the Duty Series of lights also includes two Duty Series FS models, which are built as large, high-output options that can be incorporated into a tripod mount for a free-standing source of illumination. These two models provide maximum outputs of 3,100 lumens and 10,000 lumens, respectively. Both also incorporate a digital power meter. The starting retail price for the FS model flashlights is $124.99.