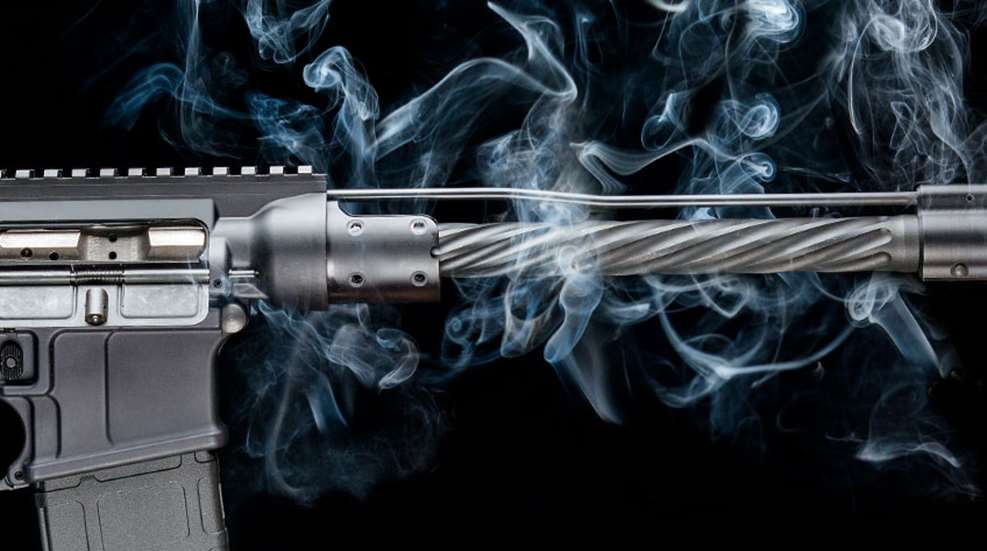 Most AR makers start out with direct-impingement (DI) gas guns and then later, as an afterthought (or to chase the market), they subsequently build a piston gun. LWRC International did the opposite. The company started with piston-driven, AR-style rifles and after becoming established in that market it released a DI gas gun.
The IC-DI 5.56 is the company's first toe dip into the crowded direct-impingement rifle market, and to get noticed it needed a gun that would bring something interesting to the table. While many others tried that with gimmicks and gee-gaws, LWRC simply made a well-designed, reliable, accurate and ergonomically designed carbine. I know it's a radical approach these days to stick to the basics of quality, reliability and practical design, but that's what usually works.
I suppose this rifle owes its existence to the government. LWRC developed a gun for entry into the government's Individual Carbine competition. Like all the players, the company worked quite hard on developing a rifle that could win. Then the government pulled the plug on the competition and left them all hanging. LWRC used what it learned to develop the company's IC line of carbines for commercial sale.
Later, the Army announced the M4 PIP (Product Improvement Program,) which inspired them to develop some new and inventive options for the rifles. LWRC decided to combine those innovations with its line of IC carbines in a direct-impingement gun. The result was the IC-DI 5.56.


With these reviews, an editor once told me to start at the front and work back, so that's what I'll do. The "front" is a squirrel-cage flash hider put on with a crush washer. There is a wide, closed (or A2-style) bottom that helps keep the dust down when shooting prone. The 16.1-inch, hammer-forged barrel measures .70-inch behind the flash hider. LWRC hammer-forges the chamber at the same time as the bore, which eliminates issues like reamer wear or machinist error, resulting in a perfect chamber every time.
According to Jeff Clemmer, vice president of product development for LWRC, this also results in a much longer-lasting barrel. First, there are no machining marks or other imperfections that give gas erosion a starting point. The chamber, leade and bore are all smooth and clear. Clemmer also states hammer-forging results in the metal being work-hardened, so it resists erosion and wear. Finally, the metal receives a NiCorr or Ferritic Nitrocarburizing (FNC) treatment. This is a precise, low-temperature, case-hardening treatment that produces an extremely hard, wear- and corrosion-resistant surface. This process does not change the dimension of the metal like chrome-plating, which adds material. To chrome-plate, the steel tolerances must be adjusted to allow for the plating and the plating must be done correctly to achieve the precise dimension needed. That does not always happen, and I have encountered several barrels over the years with headspacing and/or pressure-related problems due to a faulty chrome-plating process. The FNC process eliminates those concerns and, according to Clemmer, it has shown to be a far better option in LWRC's testing than chrome plating. In addition, the FNC process heats the metal to 1,200 degrees Fahrenheit, which also stress-relieves the barrel.


The barrel on this rifle does not have the grenade launcher cut, as is common to most M4 barrels. For the commercial market, that feature is foolish. It adds machining and production costs and can actually be detrimental to accuracy. Leaving it off is a good thing. In addition, the barrel has spiral fluting that enhances the aesthetic appeal as well as reduces weight while adding surface area for cooling. Furthermore, the fluted area is about .20-inch larger in diameter than the muzzle of the barrel behind the flash hider and it is interrupted for the low-profile gas block. The gas system is mid-length with the port at 9 inches. (The gas tube is also NiCorr treated.)
The barrel is made from 41V45 carbon steel. The "V" indicates there is vanadium in the alloy. It's often called "machine gun steel" because it's the same steel used for the M249 and M240 machine gun barrels. This rifle is chambered in 5.56 NATO, and it has a 1:7-inch twist rate that can handle heavy bullets. Part of my test was with Norma ammo using 77-grain Sierra MatchKing bullets and, as expected, it stabilized them easily.
Both receivers are made from coined forgings. They are struck, heat-treated, then struck again for dimensional accuracy and surface finish. They are finished with a black Type-3 hardcoat anodizing. The lower receiver even features a QR code engraved on it, along with EID, PN and SN numbers. Opposite, the upper has an integral rail. Each slot is numbered, continuing through the hand guard rail and there is also an American flag engraved on the rear-tang section.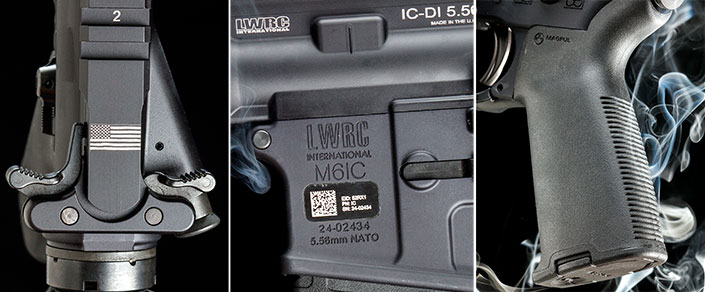 The freefloating handguard is 7075 aluminum with an integral top rail. It's skeletonized to reduce weight and is user-configurable. (Finish wise, the same black anodizing is used as on the receivers.) Guard rail panels are shipped with the rifle along with an angled hand stop that features a built-in QD socket attachment. There is also a 3.5-inch rail installed on the left side on this rifle. The "advanced" trigger guard (the bottom of which is molded plastic) is large and roomy enough to safely operate with gloves. A Magpul MOE+ grip ships on the gun, and a PMag is included. The buttstock boasts ambidextrous QD sling sockets and adjusts across six positions for enhanced versatility. The end is capped with a rubber buttpad for an added touch of comfort.
One look at this rifle suggests ergonomics and modularity played a key role in its development. Fully ambidextrous controls include: sling attachments, mag and bolt release and safety. All are correctly placed for intuitive use with either hand, although the right-side bolt release is .9-inch back from the traditional location. The ambidextrous magazine release is one of the best designs I have seen. It's low profile and quite dependable for use by either hand. The charging handle is a true ambi design with large, rugged, unlocking levers on each side. The receiver contains simple pictograms around the safety for "fire," "safe" and  "full auto," but sadly the safety stops at the semi-auto position.
One of the most innovative features of this rifle is the new bolt-carrier group. It is designed to run in adverse conditions and features "sand-cuts" to allow it to keep working even when there is a build-up of crud or, you guessed it, sand. The gas key is integral to the bolt carrier—meaning it's all one piece. No screws to work lose, nothing to be staked and no joint to leak. The receptacle for the gas tube is screwed into this key and is pinned in place. Similarly, the firing-pin retainer is nested for added retention. The carrier is coated with nickel-Teflon plating to reduce reliance on liquid lubrication and reduce wear for easier clean up.


Then there's the bolt, which has a 40-percent larger extractor with a whale-tail design that features two springs to dampen the effects of bounce. The bolt is made from a high-strength super alloy that came out of Formula 1 racing's transmission technology. LWRC tested this bolt-carrier group over the course of 10,000 rounds—without cleaning or lubricating—and had no stoppages or failures.
Alas, the gun is shipped without sights. Gasp! At the risk of incurring the wrath of the tactical-pajamas brigade, you don't need them on a civilian carbine. When is the last time you actually used your BUIS once you mounted an optic? Never, right? Most believers take off the low-price-point factory sights on most rifles and replace them with aftermarket sights anyway, so why not save a few bucks on the rifle and leave the BUIS off?
Every rose has a thorn, and my only real complaint is the trigger. It's a shame to put a crappy, mil-spec trigger on a gun like this, but that's what the manufacturer did. It pulls at 6.75 pounds, but it's like dragging a chain through a junkyard. The trigger hitches and catches and pretty much ruins things when trying to do any precision shooting. Clemmer explained that LWRC wanted to accomplish two things with this trigger. First and foremost, to make sure it is 100-percent reliable under all conditions. Second, the manufacturer wanted to keep the cost of the rifle down. He pointed out that the trigger on this test rifle is on the outer edge of the weight range LWRC accepts. He also noted these triggers smooth out with use, and to be honest I am seeing that in this trigger. It's much better now than when I removed the gun from the shipping box. No rifle can live up to its potential with a poor trigger and this one holds this rifle back.
With a rough, hard trigger and a light rifle, it's difficult to do much precision work and that was apparent in the accuracy-testing phase. I used every trick I have developed over the years to make this test as fair as possible. But, in the end, I believe the poor trigger in my test sample negatively influenced the rifle's accuracy. I would have a nice four-shot group that was around 1 MOA, and then an unexplained flyer would spoil it.
In my never-humble opinion, this trigger is a blemish on an otherwise great rifle. It's an easy fix, but if you want this rifle to be all it can be, plan on installing a different trigger. (OK. Rant over.) Thankfully, there is a wide market devoted to AR triggers, so this problem is easy and inexpensive to fix.
When I first took this gun out of the box I liked it a lot. Shooting it increased that thought, as the gun is very well balanced and performed well in all phases of testing. It shot reasonably accurately from the bench when equipped with a high-powered Swarovski scope and nested on a machine rest. Later, when the scope was replaced with a Meprolight M21 Reflex sight, it was balanced nicely for any rapid-fire drills. I had zero stoppages while shooting. Later, as I started digging into the technology in the rifle, I realized this is a well-designed and well-executed firearm.
The old question of, "if you could only own one rifle, what would it be," is a horror to ponder. But, in terms of tactical rifles, you could do a lot worse than this one.