I bought my Bushmaster XM-15 back in 2008 (and I'll leave the reasons for the hasty purchase as an exercise for the reader). It was the first AR-15-style rifle I owned, and since I bought it in Massachusetts, where an extension of the Federal AWB was in place, it had a pinned stock, muzzle brake and (worst of all) no bayonet lug. It has been the "George Washington's Axe" of my carbines, having had the stock, pistol grip, trigger, upper receiver and now handguard and barrel replaced. I think the only original components are the lower receiver and controls at this point (and I really should put an extended mag release and ambi safety on it…)
It originally came with a standard M4-style, carbine-gas system and A2 front sight, but when I reviewed the Redfield Counterstrike for Shooting Illustrated, the laser in the Counterstrike necessitated removal of the front sight and replacement with a low profile gas block.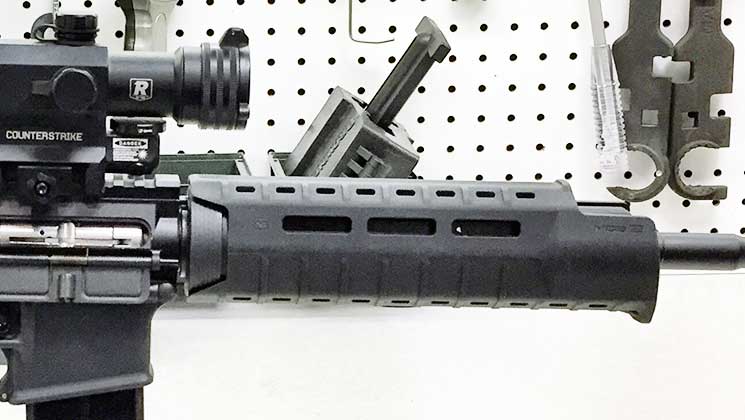 Since the Bushmaster was serving duty as my dedicated .22 LR AR (with CMMG .22 LR bolt carrier), I hadn't been terribly concerned about the lack of a front sight, but it's been one of those things in the back of my mind. When I saw the Mission First Tactical (MFT) Tekko rails designed to replace the standard delta-ring-style handguard, I decided to try it out. Offered in 7-, 10-, 13- and 15-inch sizes, the Tekko system utilizes the standard barrel nut and allows a KeyMod-style attachment rail to be added to the upper.
Installation couldn't be easier: Remove the muzzle device*, gas block and snap/weld/delta rings. The barrel nut can stay in place*. MFT has handy guides that line up around the barrel nut to guide the new rail in place; slide it over the guides and an anti-rotation tab lets you know it's oriented correctly. Once in place, simply tighten three screws and you're done. It really is that easy!
*Note: When removing a muzzle device, please STOP if you feel any resistance. Don't be like me and assume it to be Loctite and use raw, brute force to remove the device, because you might (like me) discover that the muzzle device in question was pinned in place (because the rifle was sold in a "post-ban" configuration where a flash hider would have made it a prohibited upper). If you remove a pinned muzzle device without properly unpinning it (and, here I'd recommend taking it to a gunsmith or replacing the barrel entirely), you run the risk of stripping the threads.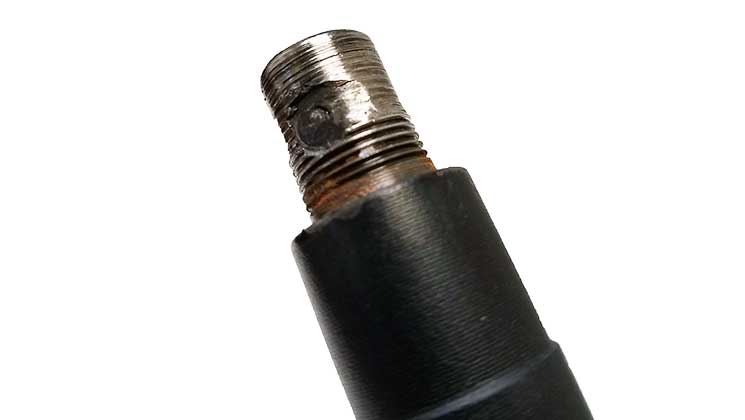 Which will necessitate either replacing the barrel or a trip to the gunsmith. Fortunately, the good folks at Brownells took pity on me (and didn't laugh directly at me) and provided an Anderson Manufacturing barrel to replace the one I, ahem, defaced…
Buttoning the project up, we replaced the standard plastic handguard with the 7-inch Tekko rail from MFT. The muzzle brake was replaced with a low-profile Faxon Firearms Loud Mouth muzzle brake, and the low profile gas block was retained to work with the Counterstrike's laser system—but at least now, I can install a backup sight should I feel the need. Again, I can't stress enough the need for care and caution when removing parts and feeling resistance. This project should have taken an hour at best to complete, and instead wound up taking significantly more time and effort simply because I failed to heed a simple warning.
The Tekko system, with KeyMod slots at the 3-, 6- and 9-o'clock positions, allows a multitude of accessory mounting options. A standard 1913-style rail meets up with the top receiver rail for a near-continuous span, allowing optics to be placed further forward on the rifle if preferred. Tension on the barrel is lessened for greater accuracy potential, and options increase. MSRP on the Tekko freefloat kits starts at $149.99.