You're watching the evening news, yet another story of burglaries and home invasions. And as the intrepid reporter at Eyewitness News pontificates solemnly about the rising tide of violence in your fair city while standing in front of a scene lit by strobing emergency lights, the home behind the crime scene tape looks vaguely familiar.
"Whoa," you realize. "That house is just a block away. I wave to that guy every morning on my way to work."
And then you decide, it's time to buy a home defense shotgun.
You've owned guns all your adult life, having been raised in a hunting family. You own pistols, and may even carry one daily. You enjoy going to the range and chewing out the center of a target, letting the stress of the day bleed off as you practice those pistol skills.
Yet, if you had to define yourself as a hunter or a shooter, you'd fall well over onto the hunter side of the spectrum. Not only that, but your spouse hasn't acquired the proficiency with pistolcraft that you have, and you can't be home 24 hours a day. Yet she can swing a shotgun in a dove field as well as you can.
So a home defense shotgun it is, but which one? And how do you acquire one without breaking the monthly budget, or running afoul of your spouse's "No new guns until you sell an old one" rule?
You can relax. You've probably got a perfectly adequate home defense shotgun sitting in your safe right now. In fact, it's arguably the best home defense gun that you can use.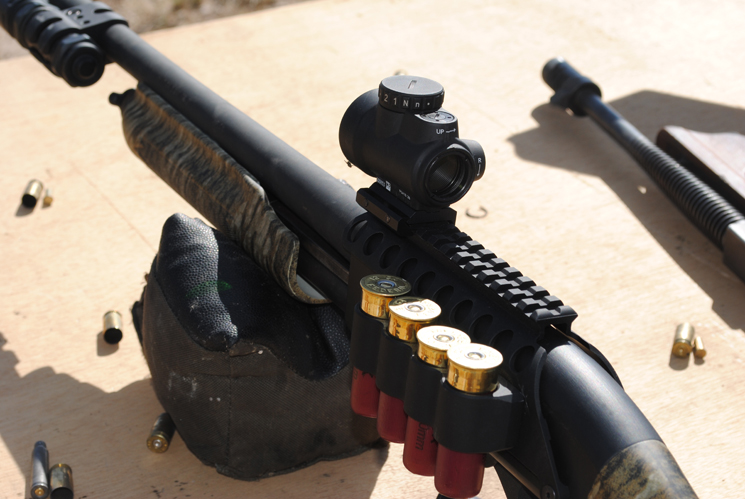 **********
As shooting tools go, shotguns are among the most versatile. But wing shooting and home defense are very different applications, and we want to find the right tool for the task without breaking the bank. The purpose of this article is not to build the perfect shotgun for both, but to find one that can perform yeoman's work at either, with a minimum of gunsmithing or significant modification required.
We'll start with the ubiquitous Remington 870, one found in duck blinds and police cruisers in equal measure. Not to say that a Mossberg or a Browning can't serve equally well, but in the stress of a self-defense situation, your fine motor skills are apt to be compromised, and you'll find yourself running on muscle memory; the repetitive actions hardwired into your brain from a few thousand mornings in the duck blind. It's important to use a gun with which you are thoroughly familiar with the manual of arms.
That familiarity while performing multiple divided attention tasks is why having a home defense gun that operates the same as your hunting gun is so important. During a self-defense encounter, you shouldn't have to think about how to shoot, only whether to shoot, based on the threat. And since I have a well-worn 870 Express in the safe that feels like an extension of my left arm, the 870 it is.
First, keep it simple. We're doing this on a budget, right? You can buy enough tacticool accessories to hang on your receiver that you can quickly exceed the amount it would take to buy an entirely new gun. All you really need is more magazine capacity, a shorter barrel, a light source, and the right ammo.
You'll need a shorter barrel. While a 26- or 28-inch barrel is a wonderful aid to a smooth swing, you're not going to be swinging that barrel in your home. You're going to be pointing it, around corners and in confined spaces. And at bad-breath distances, you must consider the possibility that an attacker can be between you and the muzzle in the blink of an eye. A shorter barrel is a must.
For a little over $100, you can purchase an 18-inch, fixed IC choke barrel with 3-inch chamber from one of the online retailers such as Brownells or MidwayUSA. Mine cost $109.99, plus shipping. I wasn't satisfied with the brass bead on a pedestal base, so I added a tritium front bead from XS Sight Systems and affixed it in place with Brownell's Acraglass, for $54.
There is no need to modify the stock or forend unless you really want to. They already make a stock designed to help you get on a fast-moving target very quickly. It's called a standard field stock, and it will serve you equally well in a home defense situation.
Next, you need a light source. If you don't already have one, purchase a good flashlight, 200 lumens or more. Affix it to your barrel with a simple, rugged barrel clamp from Nordic Components for roughly $31, and you'll be able to light up those things that go bump in the dark.
Magazine capacity is easy. Remove the magazine plug, and you've got four in the magazine and one in the pipe. The addition of a sleeve-type buttstock shell carrier, available in any sporting goods store for less than $10, can increase your ammo capacity to ten rounds.
Next comes ammo choice. As a hunter, you know that different hunting conditions dictate your choke and ammo selection, and home defense is no different. Keep in mind your environment–your home, where only scant inches of drywall and framing studs separate your loved ones from injury or death–and the principle that we own every round we send down range. Every No. 1 buck pellet is a .30 caliber lead ball capable of penetrating multiple layers of interior drywall, even in the low-recoil varieties.  
So for home defense, we want a very tight buckshot pattern with as many pellets as possible, and to keep every pellet on target. For such an application, there is really only one choice: Federal Premium law enforcement buckshot using Flite Control wads.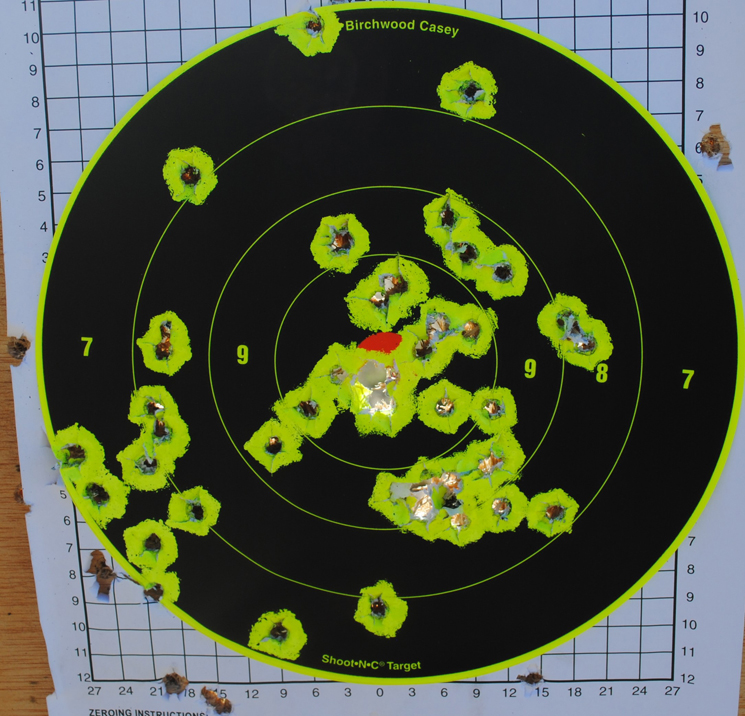 I chose the 2.75-inch Federal No. 1 buckshot (LE132-1B). No. 1 buckshot gives you 15 pellets over nine pellets of 00 and a slightly heavier shot charge, yet still penetrates more than 12 inches into standard ordnance gelatin. One thing to remember: at home defense distances, you don't have a pattern. What you have instead is a loosely-arranged, very heavy bullet. Make no mistake, you will have to aim your shotgun. Even in an Improved Cylinder barrel, at bedroom distances, the Flite Control wad leaves one ragged hole. In my range testing, patterns opened up at around 18 yards–far greater than in-home distances–but still kept all 15 pellets on a standard silhouette target at 25 yards.
Of course, this being a gun and gear review, I couldn't resist playing with a few new toys and going the semi-elaborate route in setting up my home defense shotgun. I chose the Mesa Tactical 4-round sidesaddle carrier with integrated Picatinny rail, and mounted on it a Trijicon MRO reflex sight.
The 4-round Mesa Tactical carrier is machined out of aircraft-grade aluminum and black anodized, and bolts to your receiver using the existing holes for the retaining pins for your trigger group. Unlike the 6-round carrier, it requires no modification to your fore-end. Retention of the shells is accomplished by a replaceable rib of elastic polymer that provides just enough friction to keep shells securely in place, and the elevated Picatinny rail allows co-witness with the standard bead sight. It's a solid, robust piece of kit, well worth the $120 price tag. My only complaint is that one of the mounting holes was slightly undersized, requiring a bit of reaming to accommodate the provided Chicago screws.
Trijicon's new MRO optic was a perfect fit for the new home defense shotgun. A rugged, waterproof sight in a very small package, the MRO allowed for clear and rapid sight acquisition while not significantly altering the handling characteristics of my shotgun. It has a lighted reticle which can be left on for up to five years before changing the battery. The only criticism I'd offer is that the sight adjustment clicks could be more positive. They were a bit mushy, making zeroing a bit more difficult. Once zeroed, however, it held through 150 rounds of mixed Federal Premium and Sellier & Bellot slugs and buckshot, and another 150 rounds of birdshot shooting skeet, and even after removing and re-installing the Mesa Tactical shell carrier to which it was mounted. At a MSRP of $579, it's a far steeper option than the inexpensive XS Big Dot tritium bead I used, but still well below its competitors in the reflex sight market.  
With less than $200 spent on a new barrel, tritium sight and flashlight mount, I was able to convert my 870 Express into a perfectly serviceable home defense shotgun with no gunsmithing, and converting back to hunting configuration took less than 30 seconds. If you're willing to spend more money, you can add a Mesa Tactical shell carrier and Trijicon MRO to create an even more specialized home defense shotgun, and converting back to hunting configuration still takes less than a minute. For the obvious reasons, I'd recommend leaving it in home defense configuration until it's time to leave for the hunt.
With a little strategic online shopping and the right ammo choice, you too can build a double duty shotgun without breaking the bank.

Keep an eye on our friends at American Hunter for Kelly's companion piece on turning your AR-15 into a hunting rifle.