With batteries installed, the Zeiss Compact Point reflex sight weighs a scant 2.5 ounces on my digital postal scale. It mounts to a Weaver or Picatinny rail via a clamp that is tightened by a hex screw (a wrench is included with the sight). There are two stainless steel studs protruding from the bottom of the sight. These fit into the rail groove and serve as a recoil lug. The Blaser version of the Compact Point is designed to mount to the barrel of a Blaser rifle without screws.
The sight has only one control button, located on the front. Depressing it for about 1.5 seconds turns the sight on or off. This same button is used to adjust brightness incrementally between five settings. Press the button once for the second brightness level and again for level three. Once the brightest level is reached, subsequent button depressions reduce the dot's brightness one step at a time. When you turn the sight off, it remembers the previous brightness setting and resumes at that intensity when powered up. After four hours of continuous operation, the unit automatically shuts off.
I tested the Compact Point on two different carbines and one pistol: a Smith & Wesson M&P15T, a SIG Sauer SIG522 Classic and an Advantage Arms 1911 conversion kit. My eyes aligned perfectly with the Compact Point on both rifles, but it was too low to co-witness with the iron sights on the M&P. You'll have to use a conventional riser to sort out co-witnessing problems.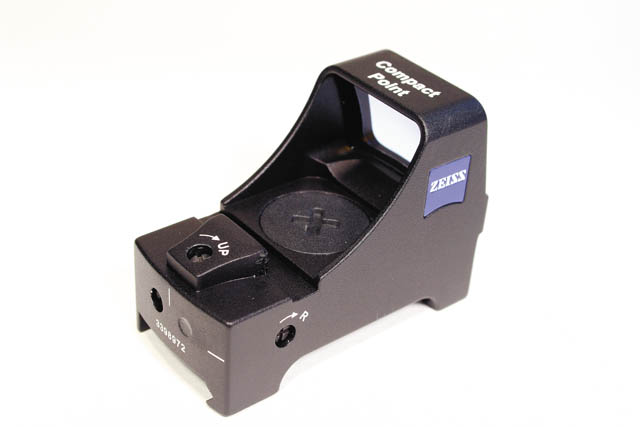 Sight adjustments are made by turning small slotted screws on the top and side of the sight. Zeiss supplies a little screwdriver just for this task. It also fits the lock that must be loosened before reticle adjustments can be made. Zeroing proved easy enough, and the sight held point of aim through 50 rounds with each firearm. It was a blast on the handgun.
I really appreciated the ease with which the sight could be turned on and off. Mount it far enough forward on the rail, and you'll find the control a snap to operate with your non-shooting hand. Dot brightness was spot-on, too. In bright sunlight, the dot was easy to see on the highest setting. In near-dark conditions, the lowest settings did not wash out the target or overwhelm my vision.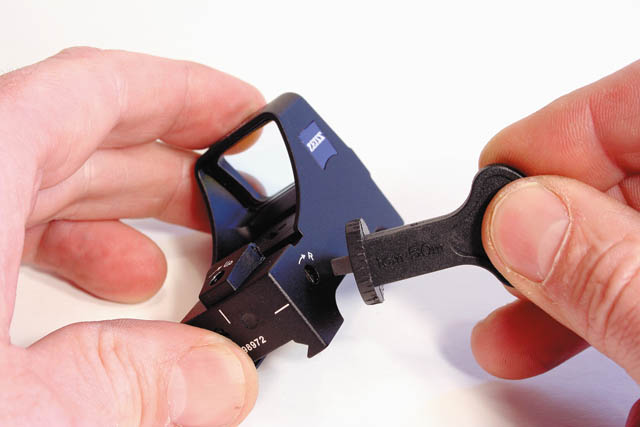 Zeiss claims the Compact Point is waterproof to 100 millibars (mbar). That means about as much to me as a politician's promise, so I contacted Zeiss for an explanation. It turns out 100 mbar is the equivalent of submersion in 3.3 feet of water for 20 minutes. I didn't get that technical in my test; I just dropped it in a full sink for about 5 minutes with no adverse effects.
If you want a red-dot sight that keeps weight to a minimum, the Zeiss Compact Point is an option to consider. It's also priced right to compete with similar offerings from Trijicon and Leupold.
Manufacturer: Zeiss Sport Optics; (800) 441-3005
Type: Reflex sight
Magnification: None
Eye Relief: Unlimited
Parallax Setting: Free at 43.7 yards
Adjustment Range: 167 inches of elevation and 188 inches of windage at 100 yards
Coating: LotuTec
Reticle: Illuminated, 3.5-MOA red dot
Power: Two 3V Lithium CR1632
Run Time: 130 hours plus
Finish: Matte-black
Length: 2.31 inches
Width: 1.16 inches
Height: 1.6 inches
Weight: 2.5 ounces
MSRP: $499