by
Shooting Illustrated Staff
posted on January 19, 2012
Support NRA Shooting Illustrated
DONATE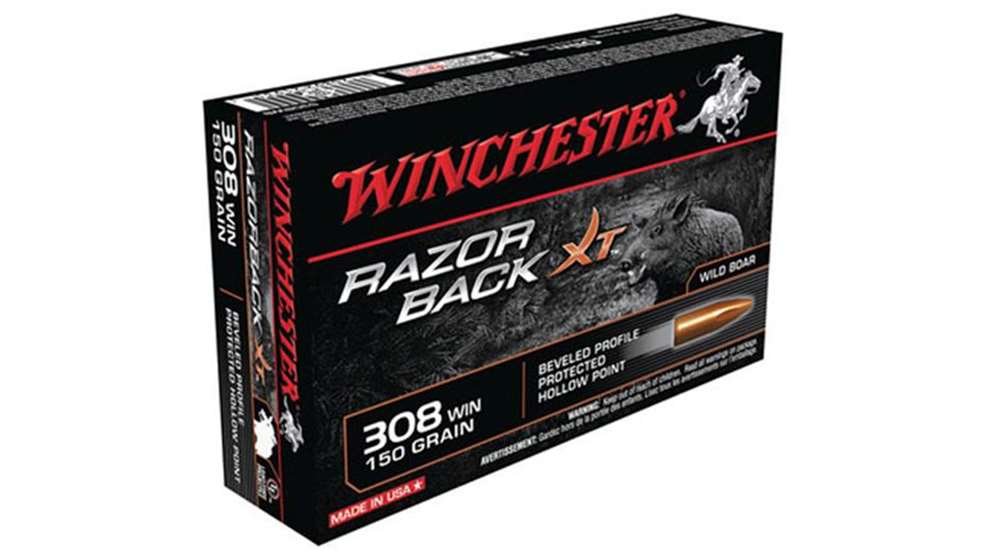 Thanks to Winchester Ammunition, bringing down big boars just got a whole lot easier.
New for 2012, Winchester Ammunition is creating excitement among hog hunters from the California coast to the swamps of Florida with the launch of Razorback XT - the world's first specialized cartridge specifically designed for wild hog hunting.
"Razorback XT is our response to the rising popularity of hog hunting and the necessity to control wild hogs where they are a nuisance," said Brett Flaugher, Winchester Ammunition vice president of marketing and sales. "Hunters need a cartridge that can drive through thick hide and bone for quick, ethical harvest shots on the toughest wild boars and Razorback XT will get the job done, shot after shot."
The Razorback XT lead-free bullet has a beveled profile and is made of solid gilding metal with a hollow point for delayed expansion on extremely tough wild hogs. Flash suppressed powders make Razorback XT perfect for use in low light or after dark with night vision technology. Initially, Razorback XT will be produced in two of the most popular hog hunting calibers - .223 Rem and .308 Win. Razorback XT is designed for use in bolt-action rifles as well as modern sporting rifles like the AR-10 and AR-15.
According to one state wildlife agency website, wild hog populations have exploded to an estimated 4 million in the United States - with no sign of slowing down. In many areas of the country, wild hogs devastate farmland and wildlife habitat leaving many farmers, hunters and other conservationists feeling helpless.
Wild hog hunting has captivated hunters and non-hunters alike with interested viewers tuning in to network television shows like American Hoggers and Hogs Gone Wild.
Razorback XT in 2012:
Caliber Symbol Bullet Weight Velocity.223 Rem S223WB 64 grain 3020.308 Win S308WB 150 grain 2810To learn more about Razorback XT other Winchester Ammunition products, visit Winchester.com.
With a company heritage dating back to 1866, Winchester Ammunition was there for the taming of the American West, the Allied Forces' victory in World War II and through the years, millions of fond memories made in the great outdoors. Known as The American Legend™, Winchester is a global leader in sporting, law enforcement, military and personal defense ammunition production. Winchester continues to raise the bar with new products like Blind Side® waterfowl and PDX1®Defender™ personal defense ammunition.
For more, visit Winchester.com, or connect with The American Legend on Facebook at Facebook.com/WinchesterAmmunition.