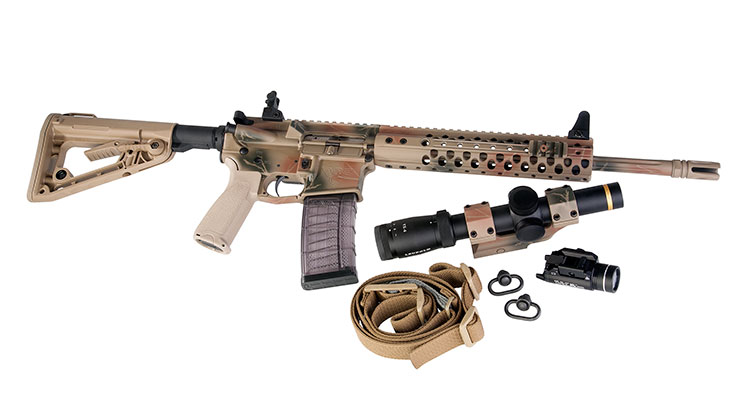 Fancy gear and complex techniques are not what distinguish a really good shooter from one who is just average. While it's true riflemen at the upper level of performance—whether they be pro 3-gun competitors or combat-experienced Tier 1 operators—usually run top-end guns and have wow-factor skills, their ability to  perfectly and repeatedly execute the basics is what makes the difference. They are able to master every aspect of the shot within their control—every time—which breeds supreme confidence, leads to accuracy at speed and distance, and separates them from most of us.
Train for a few hours with one of these guys, and you'll learn this—particularly if you're shooting with Paul Howe. A retired Army master sergeant who spent half of his
20 years of service with Special Operations Forces, including as a team leader during the First Battle of Mogadishu, Howe does not suffer gimmicks gladly in guns or techniques.
"You don't need a bunch of widgets," he says. "It's about training. Figure out your body and how to best use your weapon with your body."
"You don't need a bunch of widgets," he says. "It's about training. Figure out your body and how to best use your weapon with your body."
As the owner and lead instructor of Combat Shooting and Tactics in Nacogdoches, TX, Howe focuses his curriculum on honing proven fundamentals to a razor edge, pushing his students to then apply them with decisiveness and success in complicated situations. His approach to shooting may be rather plain, but it's remarkably effective.
Bill Wilson, founder and owner of Wilson Combat in Berryville, AR, has similar thoughts when it comes to building guns. He first concentrates on elevating the basics, tuning reliability and accuracy to the utmost level. With those two primary objectives satisfied, Wilson moves on to aesthetics and ergonomics, adding or modifying features only in a way that doesn't sacrifice the pair of fundamental requirements.
"Our goal is always to make sure the gun fires every time you pull the trigger," he notes. "We use quality components and pay attention to detail. That's what makes a gun reliable and accurate. Looks and feel can be important, but they come second."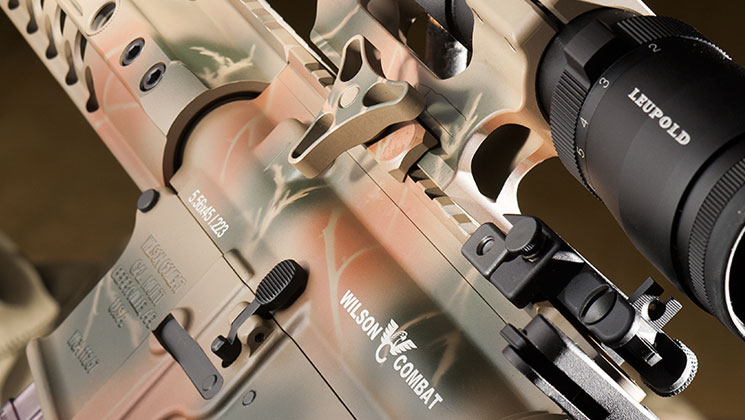 The method isn't complicated, but just like perfecting marksmanship mechanics, it takes dedication. After almost 40 years of making firearms, Wilson Combat has proven the model works. The company has earned a reputation for turning out guns that shoot extremely well and look good doing it.
The connection between the philosophies of Paul Howe and Bill Wilson is evident in Wilson Combat's latest carbine. Built on Howe's idea of what features a defensive long gun should—and shouldn't—have, with the precision craftsmanship for which Wilson Combat is known, the Paul Howe Tactical Carbine offers straightforward utility that comes by way of practical refinements. There is no adjustable gas block or ambidextrous magazine-release linkage, no muzzle brake that looks like it belongs on a howitzer. Just quality components and some subtle enhancements applied with the good sense that comes from a collaboration of two men who have made their living with firearms.
Much of Wilson's background as both a successful competitive shooter and an acclaimed gunsmith is with 1911 pistols, but about a decade ago he made the AR platform part of his business. Wilson Combat now offers seven base models, each of which is open to customization, and recently completed a 5,600 square-foot expansion in order to produce more components for building ARs. The Paul Howe Tactical Carbine is one of the first to come from the company's new machining center.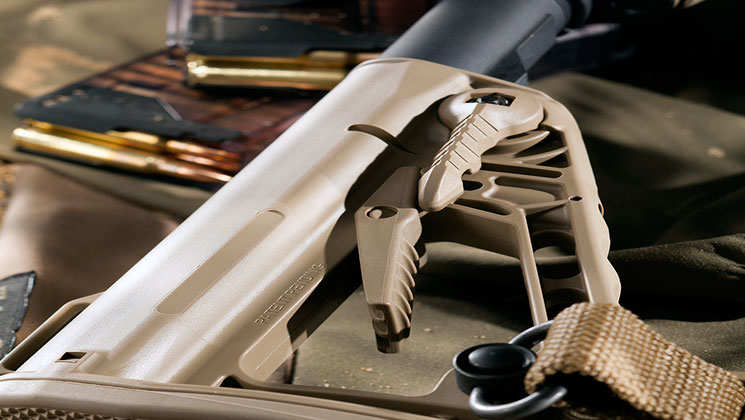 The carbine's upper and lower receivers start as 7075-T6 aluminum forgings, and then the CNC machines go to work. Although the receivers are machined to mil spec, Wilson Combat's team of builders still hand-matches each set to ensure a superbly tight fit. The upper receiver of the Paul Howe Tactical Carbine I received for testing closed on the lower like the cover of a fine pocket watch, hinting at Wilson's upbringing in his father's jewelry store. A small rubber plunger that sits inside the lower applies a bit of tension to the upper's rear takedown-pin lug to snug up things even more. I couldn't find a rough surface or a machining mark anywhere on the gun—inside or out—which speaks to not only CNC precision but also Wilson Combat's quality control.
The company gives an equal amount of attention to the carbine's barrel. Chambered in 5.56 NATO, the 416R stainless steel, match-grade component is 14.7 inches long. A permanently attached, three-prong Accu-Tac flash hider brings the total barrel length to 16 inches. Six deep flutes run the length of the medium-
contour barrel, save for the space occupied by the gas block. On the inside, the button rifling has a 1:8-inch twist. The company's gunsmiths hand-polish both the bore and the feed ramps, yet another example of an unflagging commitment to the essentials of reliability and accuracy.
Wilson Combat further promotes reliability by equipping the gun with a mid-length gas system, as opposed to the traditional carbine-length system. Although the shorter carbine-length system has the potential to be over-gassed when used with a barrel of 16 (or 14.7) inches and lead to undue stress on the bolt-carrier group, it usually runs fine for the weekend warrior who puts some time into proper cleaning and maintenance. However, "usually" isn't good enough for either of the parties who had a hand in developing the Paul Howe Tactical Carbine, and both run their guns quite a bit harder than the casual shooter. The kinder, gentler mid-length system got the nod because it doesn't beat up the bolt-carrier group over the long haul.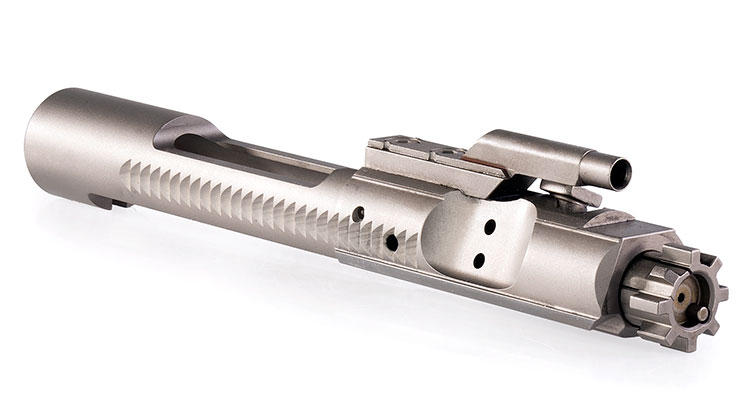 Another edge in reliability comes in the form of the NP3 coating on the bolt-carrier group. A surface treatment that combines PTFE with electroless nickel, NP3 is slick, hard, and resistant to fouling accumulation and corrosion. Applied to components like the bolt, bolt carrier and cam pin—which are in near-constant contact with other metal parts and take a shot of hot carbon with every trigger pull—NP3 reduces wear and the build up of gunk that could lead to malfunctions.
In his training classes, Howe often emphasizes finding the ideal relationship between body and firearm for consistent accuracy and speed. The fore-end on the carbine bearing his name helps in this area because it's both comfortable to grasp and adaptable according to where the shooter wishes to place his hand. Wilson Combat calls it the TRIM fore-end—for Tactical Rail Interface, Modular—a clever acronym that accurately describes the fore-end's shape. It's less than 2 inches wide but seems even slimmer than that in the hand, thanks to the relieved areas between the rail flats. The 10.4-inch TRIM fore-end has a full-length top rail, while flats at the
3-, 6- and 9-o'clock positions permit attaching sections of rail via hex-socket screws as needed to mount accessories. The right and left flats each provide nine threaded holes for attachment, while the bottom flat has 11. In addition, a socket machined into each side of the fore-end allows the use of push-button, quick-detach sling swivels. The fore-end attaches to a beefy barrel nut with six hex-socket screws and does not contact the barrel or the low-profile gas block.
Wilson Combat did not overlook the role the buttstock can play in achieving optimal gun fit, either. Here the company tapped the knowledge of another noted instructor, Bill Rogers. Like most collapsible buttstocks, the Rogers Super-Stoc is adjustable over six positions, but what makes it different is a cam that tightly locks the stock to the buffer tube once set. Pulling the cam lever upward eliminates virtually all of the wobble that plagues many multi-position stocks.Complementing the Super-Stoc is a Bravo Company Gun Fighter's Grip, which provides a more vertical angle than a standard A2-style pistol grip. It fits nicely with the Wilson Combat Tactical Trigger Guard; there's no annoying gap between the two since the trigger guard extends rearward to meet the front edge of the grip.
The Tactical Trigger Unit (TTU) Wilson Combat puts in the carbine demonstrates a good trigger doesn't have to be super light. Because military and law enforcement personnel often wear gloves in the field, Howe wanted a two-stage trigger with a 4.5-pound pull weight. The TTU isn't a match trigger, but it is every bit as crisp as one, and there's no missing the positive reset. Completely self-contained within its module, the TTU has a 1911-style half-cock notch for added safety in the event the carbine is dropped.
With reliability and accuracy accounted for, Wilson Combat turned to its Armor-Tuff finish to provide a distinctive but functional look for the Paul Howe Tactical Carbine. The medium-tan camouflage should do a good job of blending in with a variety of environments. It should also help protect the gun, as testing has shown Armor-Tuff can resist corrosion, chemicals, heat and abrasion.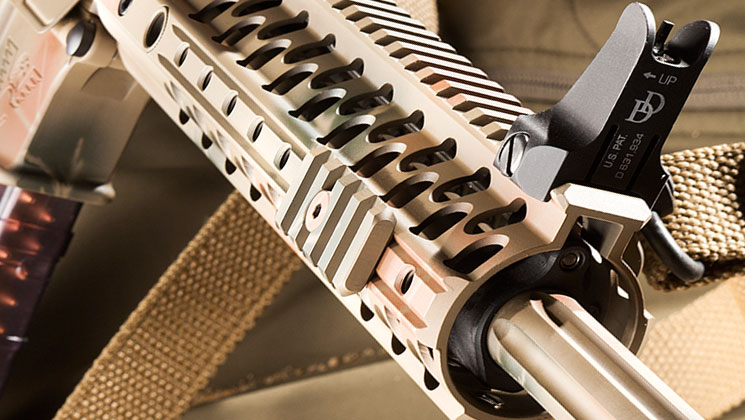 The carbine comes with a 30-round Lancer L5AWM magazine, a Wilson Combat 10/2 Quick-Detach Sling Swivel Mount and a set of iron sights. While the rear sight folds down and includes Howe's CSAT notch/aperture design for close-quarters and medium-distance shooting, the combat veteran prefers a protected front sight that stays in position for its rugged qualities. As such, the front sight is a fixed model from Daniel Defense.
The Paul Howe Tactical Carbine is available from Wilson Combat alone or as part of a package, which includes gear Howe has come to trust. The kit combines the gun with a Leupold VX-6 1-6x24 mm riflescope in a Wilson Combat AccuRiser mount, a 630-lumen Streamlight TLR-1 HL weaponlight, a Blue Force Gear Vickers Combat Applications Sling and two push-button, quick-detach sling swivels.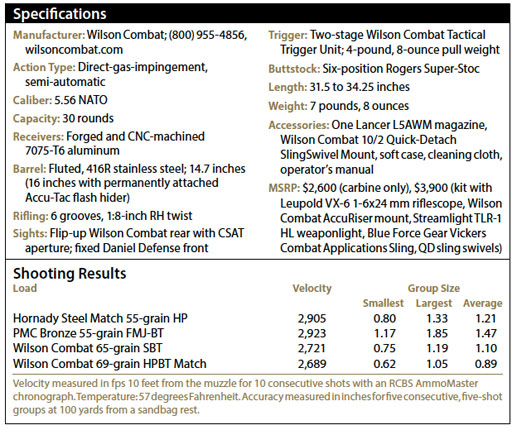 I spent some time with Howe at CSAT testing his namesake carbine, and I immediately liked its balance. The gun is nimble but has a weight-forward feel that prevents it from becoming whippy when transitioning between targets. As should be expected from a $2,600 Wilson Combat firearm, it ran without fail and rang the steel as long as I did my part. Later I received another carbine for a more thorough evaluation. It digested an assorted mix of loads with no malfunctions, turning in an impressive overall group average of 1.17 inches for 20, five-shot groups with four types of ammo.
The Paul Howe Tactical Carbine from Wilson Combat is a reflection of the warrior for whom it is named. It doesn't offer frills, just serious, top-notch performance that comes from concentrating on the things that count.