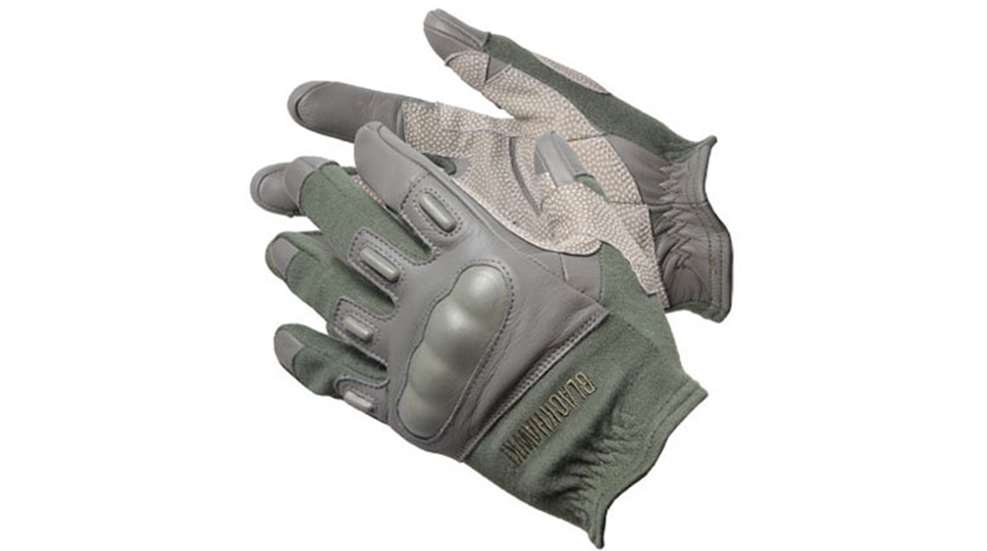 I was never one for shooting with gloves until recently. Sure, I wore gloves for product testing or if it was very cold during an outside event, but I saw them as more of a nuisance than a benefit. Then, this year, I attended multiple classes where hundreds of rounds were fired daily. I was glad I had the gloves, both for protection against nicks, bruises and burns and to keep my gun-gripping surface dry.
At a Gunsite event in March, I wore Blackhawk's Fury Commando HD w/Kevlar gloves, which have a hard shell knuckle for added protection. Unlike most tactical gloves I've used, they did not have a hook-and-loop closure, but rather an elastic wrist with a nylon loop for pulling each glove tightly on the appropriate hand. This system has pluses and minuses. The nice aspect is the gloves go on with minimal effort, no noise and they fit quite closely thanks to the elastic. On the other hand, they are substantially more difficult to take off than gloves with a fastening strap and while the fit is close, it cannot be adjusted. That said, these are very rugged gloves—they won't fray or tear, will take a lot of abuse and thanks to the hard knuckles, can dish some out, too. The Fury Commando HD w/Kevlar has an MSRP of $89.99 and they are available in black or olive drab.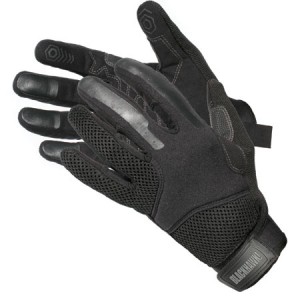 This past summer at Telluric Defense and Security in Brunswick, GA, I attended a day-long course where we fired approximately 500 rounds in just a few hours. Now, summertime in southern Georgia is, shall we say, rather hot and humid—enough to make a lizard say, "Screw this! It's too hot and humid. I'm going back under my rock." Fortunately Telluric's range is indoors, but with a full class of shooters and a whole bunch of ammo burned, the line got uncomfortably hot pretty quickly. I was very glad to be wearing the Blackhawk Hot Ops Ventilated Hot Weather Gloves, which have a copious amount of ventilation while still offering enhanced purchase on a firearm and some protection against hot brass from the guy in the next lane. These gloves have a hook-and-loop fastener, which proved very useful. As the heat index rose, I found it refreshing to undo the strap and let my hands breathe when I was off the line. Then, when it was time to shoot, getting the right fit was quick and painless. The only drawback is these gloves offer only minimal protection against scratches and bruises, but that's the trade-off for added comfort in the heat. The Hot Ops Ventilated Hot Weather Gloves have an MSRP of $34.99.
Don't write off gloves as a luxury item as far as shooting is concerned. If you plan to put a bunch of rounds downrange and work on a variety of manipulation drills, movement exercises, etc., gloves can save you a lot of pain and ensure the gun stays in your hands.