The new Weatherby PA-459 TR 8-Shot is the tactical pump shotgun I like to think I'd have built myself if I built shotguns. It "fixes" my biggest complaint with pump-guns, has everything it needs to do its job as it comes out of the box and can easily be modified within the bounds of practicality. Furthermore, it is lightweight, ergonomic and has a simple manual of arms. Painful as it is for a bitter cynic to admit, this is pretty much an ideal tactical pump shotgun.

My primary complaint about pump-action shotguns has always been the placement of the fore-end. It's too far forward for me. The problem, of course, is the fore-end cycles the action and has to be fully forward for the gun to be in battery and function correctly. When in battery, at its forward-most position, the fore-end forces me to reach too far forward, preventing me from getting my support hand beneath and near the shotgun's balance point.
Weatherby (and at least one other manufacturer) solved this problem with an extended fore-end with a rear cutaway that allows the fore-end to overlap the receiver while leaving the ejection port uncovered. You can grasp the fore-end much farther back than on most shotguns, cycle the action and ram it into battery with your support hand relatively far back on the shotgun. It is both easier to cycle the action and more comfortable to balance, hold and fire the gun. It's the kind of seemingly simple solution to a vexing problem that leaves you wondering why it wasn't thought of before now.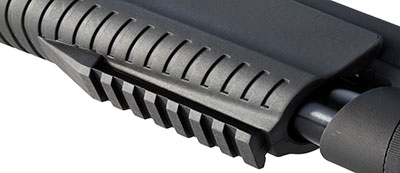 Tactical shotguns have been offered with a variety of sighting options in the past: beads, rifle sights, ghost rings, etc. The Picatinny rail is becoming standard equipment on tactical long guns, with some manufacturers simply installing a rail, throwing up their hands and telling consumers to just get the aftermarket sights of their choice. While some consumers may like opting for such customization, others feel like it is the firearm equivalent of "batteries not included." They want their new shotgun to be "good to go" as it comes from the box. The PA-459 TR 8-Shot satisfies both types of consumers by offering a rail for easily mounting red-dot, holographic or optical sights and an excellent iron sight setup that may well obviate optical sights. The iron sights consist of a protected rear ghost ring with simple, clearly marked adjustments and an AR A2-style front sight with an ambient light-gathering fiber optic for low-light use without reliance on tritium or batteries.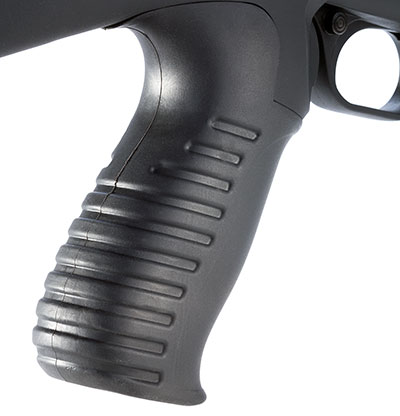 In addition to the rail on top of the receiver, the PA-459 TR 8-Shot has a second rail on the underside of the forearm, near the front. Small and unobtrusive, it doesn't get in the way of your support-hand grip (thanks to the length of the forearm), but is there should you choose to trick out the gun with a light, laser, vertical foregrip or some combination thereof.
The PA-459 TR 8-Shot is no slouch in terms of firepower. The "8" in the designation refers to the shotgun's 2 ¾-inch-shell capacity with the included magazine extension installed and one round loaded in the chamber. 
The gun's injection-molded stock is fixed, something I don't mind at all. Adjustability is nice, but the K.I.S.S. (Keep It Simple, Stupid) principle applies more to defensive firearms than to just about anything else I can think of.  The short, 13.5-inch length-of-pull fits a wide variety of shooters just fine, and the thick, soft recoil pad soaked up some of the kick from 00-buckshot loads. A soft rubber-enhanced pistol grip contributes greatly to leverage on and control of the shotgun. Further, it makes proper hand placement fast and repeatable, placing the digits where they can quickly manipulate the trigger-guard-mounted safety, the trigger and be near the slide release (located ahead of the trigger guard).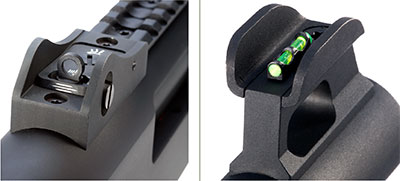 The Turkish-made gun displays good styling, fit and finish. It's practical, but has nice lines, and everything fits. There are no gaps, no rattles and no sloppiness. At 6.5 pounds, it is a very light gun—much lighter than it looks. That makes it quick to handle, but you pay a price in felt recoil. The funny thing about felt recoil, though, is it is primarily a concern only in practice or competition. No one I've spoken to who's had to shoot a firearm in self-defense can even recall felt recoil after the incident.
The PA-459 TR 8-Shot's 18.5-inch, chrome-lined barrel is equipped with a removable choke tube (cylinder) as some tactical experts now recommend tighter chokes for certain law enforcement or military engagements. A homeowner is likely fine with the stock cylinder tube.
There isn't a lot to say negatively about the PA-459 TR 8-Shot. It's ready to rock as it comes from the dealer, but can be accessorized. It's light, fast-handling and ergonomic, and fits a wide variety of shooters. It's simple to operate and does so reliably. It's even affordable. All that makes a hater's job pretty difficult.