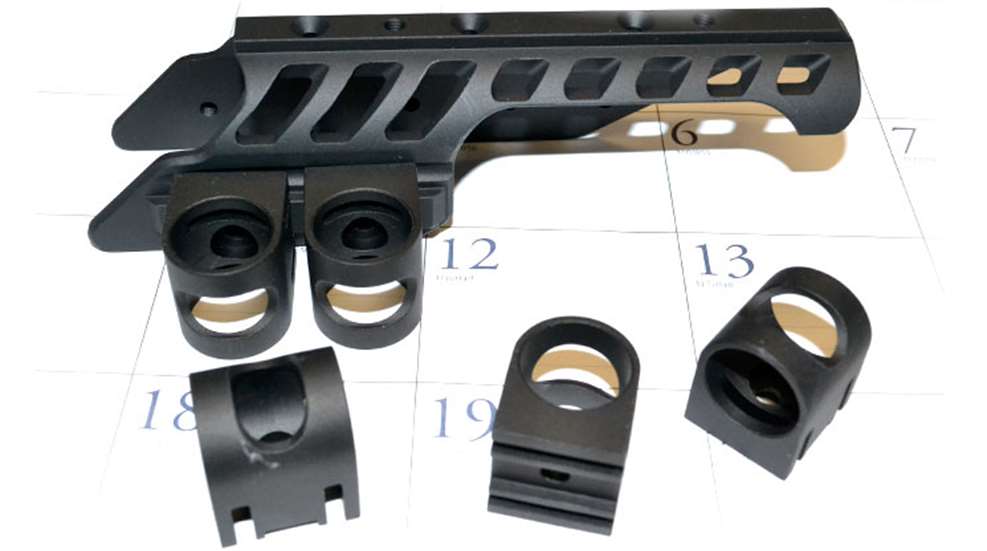 The pump-action shotgun is a formidable tool for home defense. It's powerful, has a simple manual-of-arms and is nigh invulnerable with minimal maintenance and fuss. The one drawback of the shotgun is the low capacity, although mitigated somewhat by the overwhelming power of shotgun rounds.
ATI's Halo Side Saddle for the Remington 870 12-gauge shotgun addresses both the capacity issue as well as providing a picatinny rail for adding optical sights if needed. This sidesaddle has five additional shellholders that screw into the sides (two on the ejector port side, three on the opposite) to keep reloads close at hand. Two additional holder slots are available if additional reloads are desired.
The picatinny rail offers 6 inches of rail space over 14 slots for a shotgun scope, red-dot sight or iron sights if needed. The Halo mounts to the shotgun using existing scope mount holes in the top of the receiver, so no modifications are needed to your shotgun. The rail and shellholders attach directly to the Halo unit for one rock-solid method of keeping additional ammunition close at hand.
MSRP: $109.99.