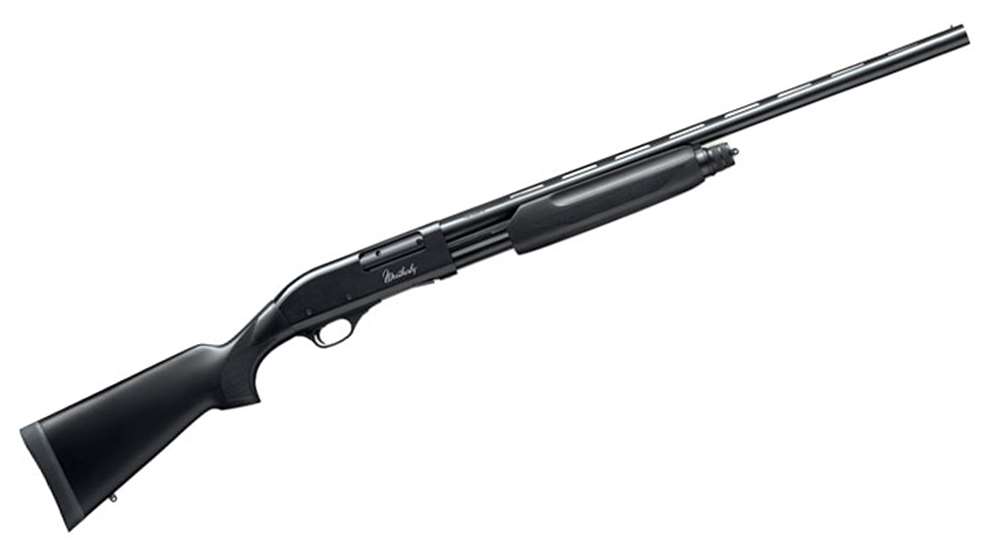 The versatile Weatherby PA-08 Synthetic is built to be a reliable, easy-to-use workhorse for various bird hunting applications, from doves to turkeys. TR (Threat Response) shotguns are designed for home and personal defense.
"Our new 20-gauge pumps offer dependable performance with less felt recoil than 12-gauge models," said company President Ed Weatherby. "They are lightweight and easy to operate-a great shotgun choice for beginners and experienced shooters alike."
Available with either a 26- or 28-inch barrel, the PA-08 Synthetic features a black lightweight injection-molded stock. All metalwork is matte black to reduce glare. The barrel is chrome lined to withstand years of high-volume shooting, while lengthened forcing cones help reduce felt recoil. A vented top rib dissipates heat and helps facilitate target acquisition, as does the brass bead front sight. Three application-specific choke tubes (Improved Cylinder, Modified and Full) are included with each gun. The 20-gauge PA-08 Synthetic weighs 6.5-7 pounds depending on barrel length. Magazine capacity is 5+1 (2 ¾-inch shells) or 4+1 (3-inch shells). MSRP: $399.
PA-08 TR features include the easy-to-use pump design and dual action bar system that have proven their dependability with the PA-08 sporting version. This shotgun also has matte black metalwork and a black lightweight injection-molded synthetic stock. The fixed cylinder bore barrel is 18.5 inches long and chrome lined. A bladed white dot front sight is readily visible when aiming, even in low-light conditions. Weight of the 20-gauge PA-08 TR model is six pounds; overall length measures 39 inches with a 14-inch length of pull. Magazine capacity is 5+1 (2 3/4-inch shells). MSRP: $399.

Key features of the PA-459 TR include a short 13.5-inch length of pull and an ergonomic pistol grip-style buttstock with rubber-textured grip areas for snag-free shouldering. All metalwork has a matte black finish; the 18.5-inch chrome-lined barrel is fitted with an extended removable ported cylinder choke tube for application-specific patterning. The LPA-style ghost ring rear sight is adjustable for windage and elevation. The 20-gauge PA-459 TR weighs 5.75 pounds and measures 39 inches in overall length. Magazine capacity is 5+1 (2 ¾-inch shells) or 4+1 (3-inch shells). MSRP: $499.