What we're talking about here is getting a pistol fully reloaded in the most efficient and quickest way possible.
There are two forms of speed loads for the semi-automatic pistol: slide forward and slide locked to the rear. Since we would rather not run out of ammunition, whether in either a match or a fight, a slide-forward reload is executed at some point before running dry.
If the slide locks to the rear, this means you have run out of ammunition. Sometimes referred to as an emergency reload, the slide-lock reload differs from the slide-forward reload only in the added step of racking the slide or depressing the slide stop to get the gun back into battery after inserting a fresh magazine in the pistol.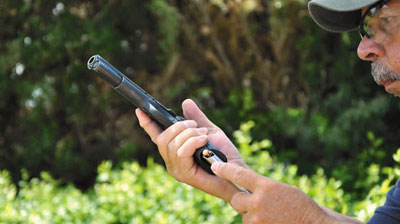 The two-plus-two drill is for practicing the speed load while combining it with accuracy training. Simply put, this involves firing two shots, executing a reload and then firing two more. More complex than it sounds, this drill combines the need for a solid shooting stance in order to fire two fast shots (often referred to as a hammer) accurately, properly change the magazine and manipulate the pistol, followed by two more fast shots. The drill is also useful for learning to separate your problems—you have to think about shooting when you're shooting, loading when you're loading, then shooting again.
Start slowly on one target from the low-ready position. Once you have this down, you can move to working the drill from the holster, again, starting slowly and building speed as you become smoother and more efficient. Set the target at 3 yards, then move back to 5 or 7 yards as your skills increase. Regarding accuracy, try to keep your hits inside an 8-inch circle—a paper plate makes a good target.
If you can run a slide-forward two plus two from the holster with good hits in 4 seconds or less, you're doing very well.
Variations on this drill can include using two targets, stepping to the side as you draw the pistol or running it from slide lock. To set up a slide-lock version, ready the pistol with a round in the chamber and insert a magazine containing only one round. After firing your first two shots, the slide will lock to the rear.
Here's a hint: Despite what some trainers may tell you, it's fine to look at the pistol during the reload—all the best shooters do it and it's almost impossible not to. You're going to glance at the pistol at the point of inserting the magazine, and that's OK. Just don't stare at it long enough for an instructor to criticize you for getting lost in the gun. It's important to get your head up and back in the fight.