Canik is a Turkish-based firearm manufacturer whose primary business is air and space precision manufacturing. The company has been creating ripples in the American shooting market ever since its TP9 pistols first hit the scene nearly a decade ago. The original TP9 9mm pistols, along with virtually the rest of Canik's product line, are based on the Walther P99's semi-automatic, striker-fired action; in the case of the newer Canik models, these guns take a step further and refine the original actions.
Canik Rival-S Overview
The new Canik SFx Rival-S 9mm pistol is Canik's steel-frame, full-size competition model based on its polymer-framed older brother, the Canik SFx Rival. Like the SFx Rival, the 43-ounce Canik SFx Rival-S is an easy-shooting handgun built and optimized for action pistol shooting sports. The full-sized steel frame absorbs 9mm recoil, though, and makes shooting fun for anyone, not just competitors.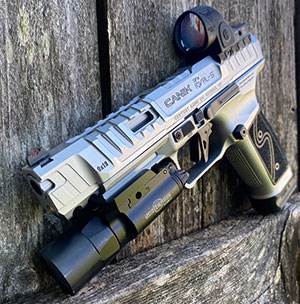 This gun is relatively heavy, with a light and crisp trigger with a clearly defined break. The heavy frame means the gun returns to its original point of aim, while the light trigger allows the shooter to accurately fire as quickly as possible without significant movement in the sights. The Rival-S, like its polymer predecessor, is match or range ready out of the box. That box, by the way, is more aptly described as a roomy heavy-duty carrying case. Even if the gun never sees a competition in its life, the Canik SFx Rival-S checks all of the boxes for what a full-size modern handgun should have from the factory. It comes with excellent metal sights, it's optics-ready, it's ambidextrous and it comes with different grip inserts to better match the gun to your hand and it comes with a reversible mag catch. The pistol uses proven and reliable Mec-Gar 18 round double stack magazines. Mec-Gar, an Italian company, has such a good reputation in the industry that they supply factory magazines to a multitude of gun companies. These magazines are also easy to modify with extended baseplates for greater capacity.
Gripping the Rival-S
Three differently sized textured backstrap inserts are included with the pistol. The Rival-S's grip is ergonomic and will fit the majority of fully-grown adult hands with a grip circumference that is neither the widest nor the slimmest, but fits somewhere in the middle. The undercut allows shooters to build a proper two-handed firing grip with plenty of space on the grip. Forward immediately of the takedown levers, two textured polymer inserts can be found on the frame. These are smaller-sized "gas pedals" for a better grip and also act as index points for a thumbs-forward two-handed firing grip. The front strap has some coarse checkering that helps the firing grip fingers get some purchase, but the checkering is neither extremely sharp nor abrasive. The dust cover on the Rival-S also has a Picatinny accessory rail.
Rival-S Ignition, Sights and Slide
The Rival-S's striker-fired trigger is built with a flat-face metal trigger shoe. Like many contemporary designs, the inner trigger acts as a safety and must be completely depressed before the trigger itself can be actuated. The inner trigger also incorporates some texturizing for the trigger finger's pad. Reset is minimal, with little forward travel and even less resistance.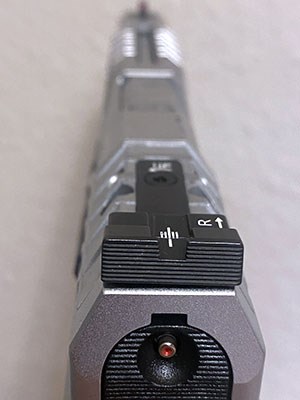 The Rival-S is furnished with excellent metal sights and includes a fully adjustable rear sight, which is plain and serrated with a wide square notch. The front sight is also serrated and includes a red fiber-optic insert (a yellow spare insert is included as well). I found the gun to be perfectly zeroed at 25 yards when shooting freestyle at NRA B-8 targets, with American Eagle 124-grain FMJ range ammo. In addition to the useful metallic iron sights, the slide is optics-ready and cut from the factory, with fairly low that allows for a lower backup sight to be used. Five different optics plates come included for the most common mounted-red dot patterns such as the Trijicon SRO/RMR/Holosun, the Leupold Delta Point and others. Canik also sells different plates for other optics like the Aimpoint ACRO separately. The slide itself features various lightening cuts, some which act as serrations for manipulations, and other cuts that remove material and expose parts of the pistol's 5-inch barrel, which is externally fluted.
Sending Lead Downrange
I fired approximately 280 rounds of 9mm through the Canik SFx Rival-S. These included Federal's American Eagle 124-grain FMJ, 147-grain FP and Syntech 124-grain TSJ rounds. I also fired Speer's 124-grain Gold Dot JHP and Fiocchi's Range 115-grain FMJ rounds. In addition, I shot a fair amount of my own 115 and 124-grain handloads during two local action pistol matches that I took the Rival-S to. It is extremely easy to place bullets exactly where you want them with this handgun. In my opinion, this gun seems to do quite well with mid-weight 124gr 9mm projectiles, however, given its adjustable sights or dot-friendliness, it will handle any weight of bullet. The frame's weight absorbs 9mm felt recoil quite well and, in conjunction with its light trigger, the gun is extremely forgiving to shoot, bordering very close to 1911 territory. This is something that shooters of any experience type can leverage. I took advantage of both the factory fiber optics sights and its optics-plate system and mounted a 2.5 MOA Trijicon SRO dot sight. Whether irons or a dot, the pistol points naturally and the slide is easy to track. During its maiden voyage, I shot some of my best 9mm NRA B-8 target freestyle scores to date, in the high 90s with the iron sights. Given my modest skill, this is noteworthy. When pushing the gun hard, I was still able to shoot tight groups with relative ease. In the hands of a truly phenomenal shooter, the Canik Rival-S can become a serious force to be reckoned with.
The Takeaway
With the Canik Rival-S being a fully metal pistol, there is a gentle break-in period in order for the parts to meld together. During my first match, I had to ease the pistol's slide into battery as it was dragging somewhat. Some shooters have pointed out that they find the chrome versions of this pistol to be a bit slippery and prefer the finish on the "Dark Side" version instead. With a little less than 300 rounds through this specimen, only time will tell where the Rival-S takes me, but so far, I do like where this is headed. Due to its weight and size, the gun may not be the best choice for an everyday concealed carry firearm. However, seeing how well it shot the 124-grain Speer Gold Dot loads, the Rival-S may be useful as a home defense pistol, provided one carefully vets their gun with their defensive ammunition of their choice, as they should for any defensive firearm. Otherwise, this pistol is worth a look for those interested in shooting action pistol matches or who are looking for an easy-shooting handgun to bring to the firing range. Retail pricing for the Rival-S starts at $899, which is extremely competitive for any gun in this category. The Rival-S comes with extra accessories, including a basic functional holster. To learn more, please visit canikusa.com.
Canik SFx Rival-S Specifications:
Manufacturer: Canik firearms, made in Turkey
Action: Semi-automatic striker-fired
Caliber: 9mm
Barrel Length: 5-inches
Sights: Fiber optic front, adjustable plain black rear
Optics Ready: Yes (includes 5 plates)
Height: 5.7 inches
Weight: 43 ounces
Width: 1.41 inches
Length: 8.08 inches
Finish: Hard chrome or black 
Magazine Capacity: 18 rounds
MSRP: $900
25-yd Accuracy Evaluation
| | | | |
| --- | --- | --- | --- |
| Ammo (9mm) | Min. Group (in) | Max. Group (in) | Avg. Group (in) |
| 124 Gold Dot, Speer | 1.00 | 2.50 | 1.86 |
| 115 FMJ Fiocchi | 2.00 | 3.50 | 2.50 |
| 147 FP, Am. Eagle | 1.75 | 3.50 | 2.62 |