by
John Zent, Editorial Director
posted on January 6, 2016
Support NRA Shooting Illustrated
DONATE
When it comes to applications, the new Trijicon AccuPower 1-4x24 mm is as bipolar as a riflescope can be. On one hand, it's the proto optic for ARs and the like—fast, versatile, compact and rugged. But it's also an ideal glass for hunting elephants and Cape buffalo. Going from America's preferred rifle for personal-defense, law enforcement and all-round utility to the .400-something behemoths wielded by safari aficionados is quite a stretch, yet there is one striking commonality. In worse-case encounters, users of both must be capable of going on the defensive at a moment's notice. More often, though, such riflemen need scopes to facilitate precise aiming at longer distances. All that requires a specialized optic.     

What's immediately apparent is how solid the new Trijicon is, just like the company's legendary ACOG, VCOG and RMR combat sights, just like the company's earlier AccuPoint scopes. You won't find any plastic parts on an AccuPower. Apart from lens surfaces, what you get is a precision-machined billet of aircraft-grade hard-anodized aluminum rendered on a 30 mm tube. In fact the unit feels a bit heavy for its size. Under tight-fitting turret caps are adjustment wheels that turn a bit stiffly and click-stops as deliberate as those on a high-grade socket wrench. The magnification ring is equally stiff and sure-handed. There's no slop.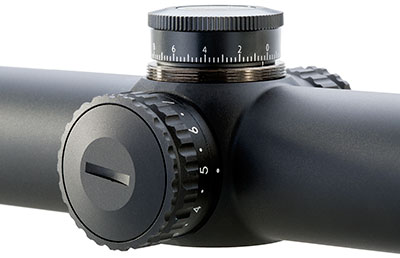 While I appreciate light transmission and sharpness as much as the next gear-head, what matters most to me is that a scope holds its zero and proves so dependable and durable that I can take for granted it'll always shoot straight and deliver useful sight pictures. That's the same if its costs $200 or 10 times that much. 
Cost is one key differential between the AccuPower 1-4x24 mm and its AccuPoint predecessor. Selling online at prices less than $700, the newcomer is roughly 25 percent less expensive and will be very competitive in its category. The three other models in the AccuPower line (3-9x40, 2.5-10x56 and 4-16x50) are equally affordable.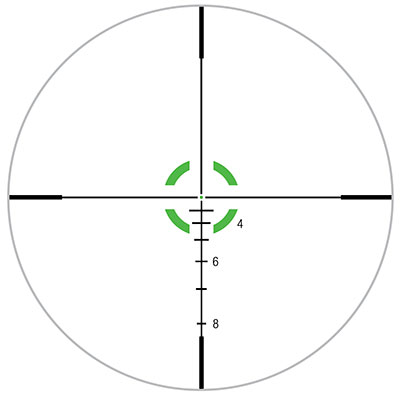 The major functional change is how the AccuPower's reticles work. Whereas the ACOG and AccuPoint rely on tritium plus fiber-optics to power their illuminated reticles, the AccuPower contains a battery for that purpose. The reticles are in the second focal plane (non-magnifying) and can be had in red or green LED, delivered in 11 brightness increments with a time-saving "off" between each step. The adjustment click values are the familiar .25 MOA or .1 mil. Battery life at max setting is rated at 31 hours, though that level may prove too bright short of glaring snow cover. 
Our test scope's segmented circle reticle proved capable of downrange precision and ballistic-drop compensation, but also was extremely fast at bracketing known-distance targets. At 50 yards on 2X, 12-inch bullseyes filled the circle, and that made placement of center hits on five-target strings much quicker than with other reticle types. The click adjustments were repeatable and accurate.   
For all but the fussiest users, the AccuPower's imaging performance will be more than satisfactory. The field it delivers is evenly sharp and clear edge-to-edge, with only minimal fringing at dawn and dusk. In full daylight at 4X I could read headlines like the one on this page at 65 yards and found the sight picture functional at least 45 minutes past sunset. The AccuPower's field of view is also generous, marginally better than what you'll see through most brands, including the AccuPoint.
As previously mentioned, these scopes are relatively heavy—about 20 percent heavier than the corresponding AccuPoints—which could be a concern to owners operating in rough terrain or at high altitude. Alternately, that bulk, which I believe reflects the scopes' inherent ruggedness, can actually help us hold our rifles steadier when shooting. 
For taking on short- to mid-range targets whatever the circumstance, the AccuPower 1-4x24 mm delivers promising performance at reasonable cost with Mil-Spec ruggedness.