by
posted on March 15, 2022
Support NRA Shooting Illustrated
DONATE
Every year at the NSSF SHOT Show I have a little game plan that always bears fruit, with this year being no different. On the first day, while everybody is ogling over the big guys in the main room upstairs, I sneak away to the basement to be with my people, AKA small business owners. In my experience, the basement has always been home to the most innovative products, and as a bonus, you typically get the opportunity to meet those most intimately attached to the product. This year in my mad dash, I had the chance to meet with Mr. Tyler Brockel, the founder, and CEO of a company that was only two weeks old, Trigger Interactive.
Trigger Interactive is a small veteran-owned prospect that has developed a realistic target system that can be affixed to nearly any steel target. Once activated, the individual smart target gives a visual cue on when it's time to engage and keeps track of your shooting performance. Shooting steel is a great way to get a lot of rounds downrange in short order but a static target that just sits there for an infinite amount of time isn't exactly realistic. This device network takes training into another dimension and I was eager to try it out once I got back home. Trigger Interactive set me up with a three-target Starter Pack and once it arrived I dusted off my favorite IPSCs and got to work.
As a rule, each kit includes a number of smart targets, control hub, charger, hook and loop faster strip(s),  and active target indicators which I like to call "flags". The idea is to peel and stick a piece of the fuzzy "loop" material to the backs of your steel targets and then the Smart Target attachments can be installed and removed at will. Once attached, the flags of one or more targets rotate up for a predetermined amount of time and you must engage them with one or more shots. This is achieved through what is referred to as a "mesh network" and consists of each target talking to each other, the control hub, and your smartphone.
As you might have guessed, a free app acts as the command center and provides the status of each device as well as how good (or bad) you're doing. I found it relatively easy to get everything jiving as there is literally only one button involved. Power on each target plus the hub, then short-press the power buttons again and the little blue LED flashes until it goes solid, indicating that everybody knows each other. This earned major points in my eyes because once something gets complicated, it typically doesn't make it out the door more than once. Furthermore, if I were to use it to train a student, they surely don't want to waste their time watching me fight with a robot.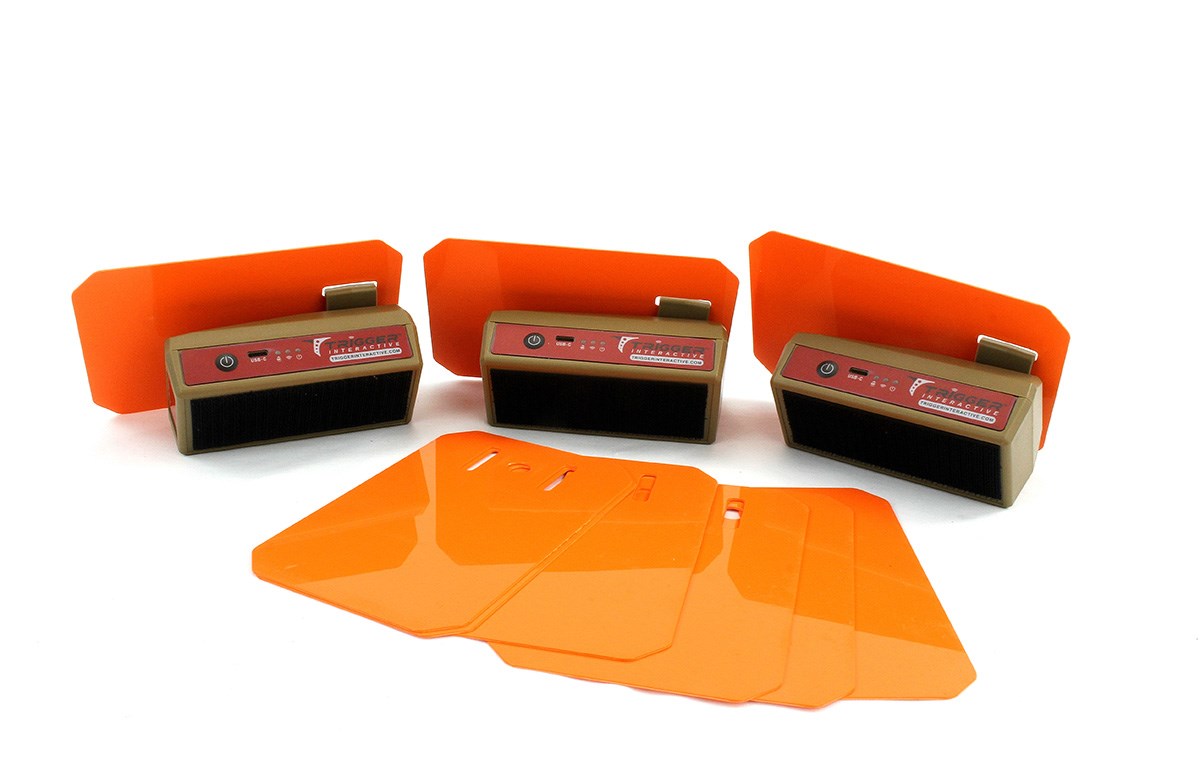 After everything was fired up, I let the app find each device which again was as simple as hitting the "Search for Devices" button, and then I was able to turn targets on and off. This is a handy feature to have if you are running a 10-target system, as you can take out and introduce threats as the day progresses. After syncing up, I tapped the "Train" tab to get to the meat and potatoes. Included with the app are the Basic Combat simulator and a few other simulators that are greyed out as they are still in development. Although nobody likes to be teased, I appreciated this approach. Tech can be tough, so keeping it simple at first only increased the chance of this system growing roots within my training repertoire. I do have to say though, the Basic Combat mode was just what the Dr. ordered and did a brilliant job at highlighting what this tool has to offer. Within the settings, I was able to adjust how long a target stayed active, how long it stayed inactive, how many targets would be active at one time, and the total amount of target presentations in a single drill.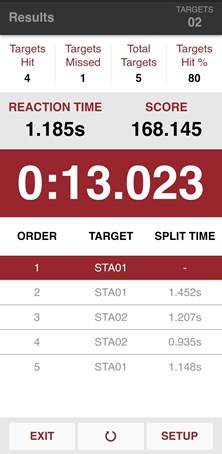 I used the system to get better acquainted with the Savage Stance that has been sitting in my safe for a bit too long. Going straight to Expert, the only thing I changed (after my first run, of course) was the number of presentations. I knocked it down to 9 from the original 10 to match the capacity of my pistol, however, if I had a second magazine with me I would have kept it right there because it would have forced a reload. The Trigger Interactive system performed just as intended and read each hit correctly, the first time, every time. One of my concerns was that if the targets were too close together it might trigger the wrong unit during a simultaneous engagement but being that they are shock activated, not sound activated that wasn't an issue. After each run, the app gave me a report cart showing me how fast I moved and how many targets I nailed while they were active. It took me a second to realize the "missed" didn't mean that I didn't hit the target, it meant that I failed to engage it in time, something good to know when diagnosing your performance.
Overall, I was extremely satisfied with Trigger Interactive's invention and plan on using it to introduce shooters to self-defense scenario training. On the lighter side of things, I was big on the fact that they used internal rechargeable batteries and charged via USB. For our 3-hour range session, they held up just fine and still had more than 60% battery life left. Besides, if they needed a recharge that would be as easy as walking them back to the car for a little while. After teardown, I worked with the system on a tabletop and found that I was able to get them to register with just a mild tap, especially with the hit detection sensitivity dialed all the way down. To me, that means that they will likely register with an airsoft blow, just so long as they are attached to a lightweight target. As for cons, there weren't too many to speak of. An audible start tone option would have been a nice touch for the guys who are used to shooting USPSA but I understand that ruins the surprise a bit. I would have also liked to see an option to change the number of hits a target needs to go inactive, with a random setting being ideal. However, that is the beauty of integrating applications and USB connectivity; with a simple firmware update, these features and more can be introduced. The Starter Pack that I had for this test can be purchased for $799 right on the website, however, a simpler one-unit Base Pack is available for just $399 and has everything you need to work on reaction time, draw speed, and shoot/no-shoot scenarios. Best of all, whichever setup you decide on you can add extra targets and even repeaters to stretch things out for long-range shooting applications. Trigger Interactive has put some serious thought into not only its design but the marketing approach as well, making it easy to get into and hard to get tired of.
For more information visit triggerinteractive.com.