by
Shooting Illustrated Staff
posted on December 13, 2021
Support NRA Shooting Illustrated
DONATE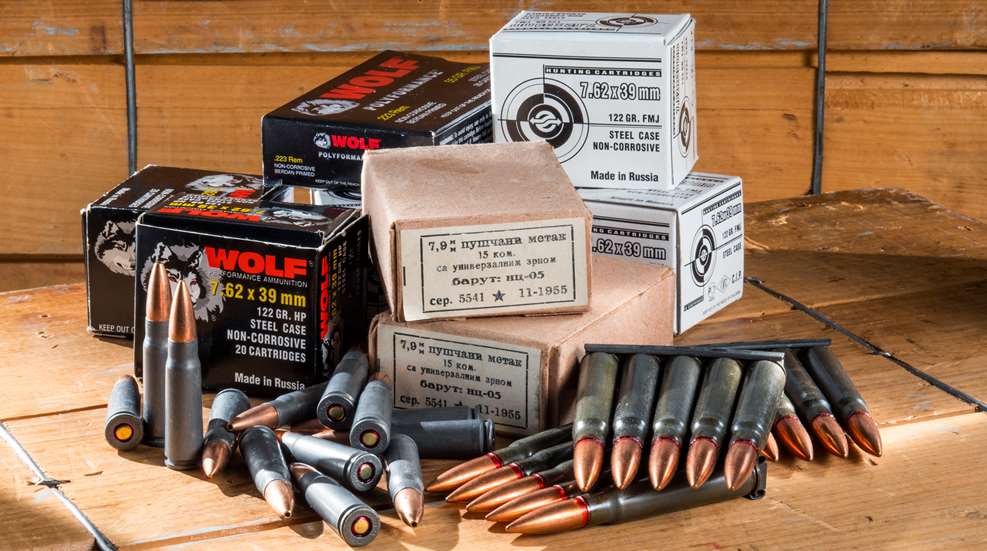 The price of Russian-made, usually steel-cased ammunition went up overnight with the Sept. 7 U.S. State Department announcement that new or pending applications for its importation will be denied. Although officially labeled as an expansion of sanctions in response to alleged violation of the "Chemical and Biological Weapons Control and Warfare Elimination Act of 1991," industry experts warn stateside gun owners are the real victims.
Ammunition manufactured in the Russian Federation is an inexpensive and reliable alternative, often the first choice for budget-conscious enthusiasts who shoot in high volume. The number of steel casings at any range confirm that fact, and it won't be long until those gun owners will be purchasing other brands—your favorite loads among them. The development jeopardizes supply that has only begun to emerge from the serious shortage of 2020.
However, it should be noted that imports are not yet completely halted. Days after the Federal Register announcement, the National Shooting Sports Foundation (NSSF) clarified confusion in a bulletin it to its member retailers. "Working with Congress, NSSF has learned that Customs and Border Protection (CBP) will honor all Bureau of Alcohol, Tobacco, Firearms and Explosives (ATF) Form 6 permits approved on or before Sept. 6, 2021 and allow the import of Russian-made ammunition and firearms even if they arrive at a U.S. port on or after Sept. 7, 2021," it stated. "The new State Department policy will only impact applications not yet approved by Sept. 7, 2021."
Despite that fact, costs did increase almost immediately. "Prices have definitely gone up across the board for Russian-made rounds since late August, but in a lot of calibers," LuckyGunner CEO Jake Felde responded in an e-mail. "We've seen the channels we go through to get Russian ammo dry up significantly. As you'd probably guess, 7.62x39 mm ammo demand was the most affected. Now, it's a waiting game to see what can get on the water before permits start to expire, etc."
Charles Brown, president of MKS Supply—an importer of Barnaul ammo—responded that, "We have seen a 15- to 20-percent increase in retail prices since this order came to light, obviously the consumers out there are worried about being able to get ammo in the future—as they should be."
Asked if he's currently experiencing difficulty in cartridge supply, Brown responded, "Not yet, but that time is coming. We have several approved Form 6s—this is the approval from our government to import ammo and the exact caliber/description and amount we can bring in—a Form 6 has a 'lifespan' of 2 years. If you do not fulfill the approved quantities by 24 months, the Form 6 'dies' and you cannot use it anymore. All new Form 6s are being denied so from this point on we will be working off of those older approved forms … that is, until they expire."
"Keep in mind, ammo manufacturers were struggling to keep up with demand prior to Russian import changes," Felde said. "So, it wasn't like there was an unlimited supply of this ammo ready to ship out to retailers for shooters to buy. The supply chain was already in a tight spot and this complicates and exacerbates that."
ATF estimates the total number of Russian rounds arriving in 2020 was 765,487,845. Mexico came in a distant second place among importers, with more than 600,000,000. Opinions vary on what percentage of the market those cartridges represent. Brown estimates it reflects as much as 40 percent of all ammunition sold in the United States, although his figure is likely on the high side. Mark Oliva, public affairs director at NSSF said, "Our best estimate on Russian ammunition is that it comprises between 4 to 8 percent of the total ammunition in the U.S. market." Felde preferred not to disclose LuckyGunner's figure, but confirmed it's somewhere between the two estimates.
Every company contacted was eager to reaffirm their dedication to fulfilling their respective customers' needs.