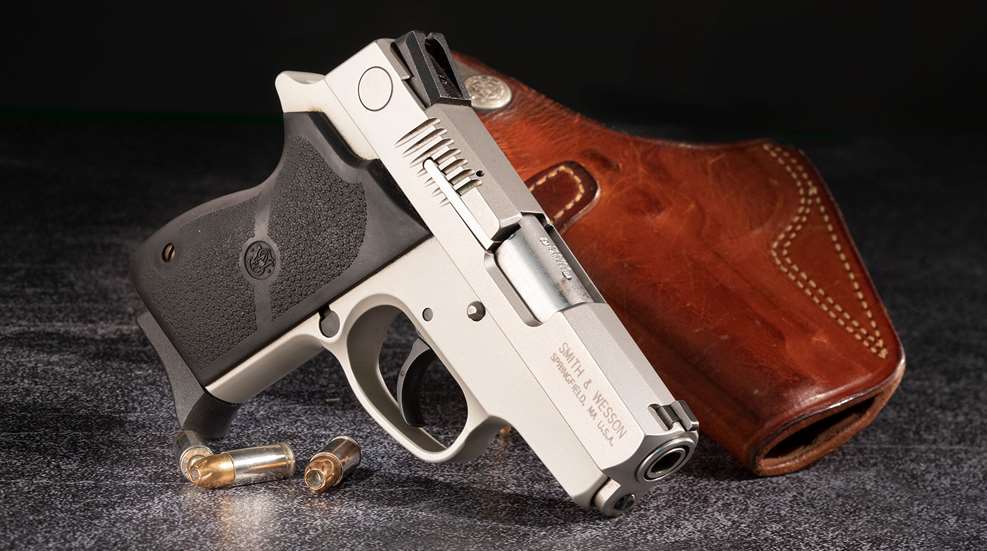 For now, the CS9 will have to share a Bianchi thumb break holster, as most holster makers no longer support these 1990s-era pistols.
As 2022 drew to a close, I began to weigh the options for my next carry-gun project.
Regular readers of this column will know I strenuously discourage the weird habit of the "carry rotation," whereby one selects one's CCW pistol every morning based on the color of one's mood ring or whether its grips match one's choice of socks that day.
That being said, every year or two I will change out my own primary CCW pistol. Most frequently this is because I've wrung out a project to my satisfaction and want to go look at various frontiers of pistoleerdom I have yet to explore. This winter would be an example of that desire.
Two years of carrying the FN 509 MRD with a Trijicon SRO mounted have me thoroughly convinced that the striker-fired pistol wearing an MRDS is absolutely a viable proposition for carry, but I'm ready to take a deep dive into something else.
Initially I was thinking about going with a large-bore revolver. I have .44 Spl. wheelguns in sizes for most carry applications, from duty-size six-shooters to smaller, lightweight five-round guns for when deeper conceal- ment is a must. It's mostly the ammo situation that's holding me back there. A middlin' busy year, with a couple of classes, a few matches and a regular amount of live-fire practice is dauntingly spendy when each of those big rounds has a big 2023 price tag attached to it.
My other plan was to try something retro with an '80s/'90s flavor. How would a classic, traditional double-action, say from venerable Smith & Wesson, hold up to my expectations roughly 15 or 20 years after they'd largely been discontinued?
This had me taking a hard look at what I require from a handgun to make it my regular CCW piece for a year or two.
For starters, I can't have just one. I need, at a minimum, two more-or-less identical guns that share not just ammunition but holsters, magazines, a manual-of-arms and (for preference) pretty much all spare parts. Ideally, two of the same gun. Not a problem in this case: I just happen to have a single-stack 9 mm Smith & Wesson Model 3913, and also its Ladysmith twin, the 3913LS.
An added bonus would be a more compact gun for those situations where concealment is at a premium, and I have that angle covered with a CS9 ("CS" standing for "Chiefs Special"; Smith began mining its corporate heritage for names as far back as the '90s.) The CS9 is basically a 3913 shortened in both slide and grip. Think of it as the Glock G43 to the 3913's Glock G48.
So, cool, now we look at holsters. I already have that base covered, at least initially—sort of? I have a Bianchi #3S Pistol Pocket leather IWB holster for the 3913, and it'll hold the CS9, too. It's a quality leather concealment holster with a reinforced mouth and adjustable cant and the only thing I really don't like about it is the fact that it has a thumb-break retaining strap. The thumb break is well designed and doesn't really interfere with the draw, provided you know how to run one. However,  they're not really necessary on a concealed-carry rig and can interfere with re-holstering cleanly, especially in the artificial environment of a training class where you're doing it dozens of times a day. At the very least, the few extra seconds can add up to minutes. 
Not a prob, we'll just use the Bianchi Pistol Pocket as a temporary while we order some IWB open-topped holster like a Galco Summer Comfort or DeSantis Cozy Partner—only, oops, most all manufacturers have dropped support for the old Smiths from their off-the-rack holster lines. Guess I'm going to have to order a custom Summer Special from Milt Sparks.
That reminds me to check what the magazine situation is looking like. It's not bad. I've got three mags for the CS9, and five 3913 eight-rounders.
Here's the thing, though: A lot of modern firearms class curricula are structured around the fact that everybody's going to be carrying some flavor of double-stack semi-auto with a minimum capacity of 10 rounds. As an example, the e-mail sent by the late Todd Green for his pistol-training.com (P-T) classes instructed students to bring enough spare magazines that when their relay stepped up to the line, they had at least 50 rounds in loaded mags on their person.
I took my first P-T class with Green using a .45 ACP 1911-pattern pistol and I remember spending half the class feverishly thumbing rounds into mags. I don't even "have" enough 3913 magazines to hold 50 rounds, clearly a shortcoming I need to fix.
Lastly come spare parts. At a minimum, if you're planning on putting serious miles on guns that you're also going to count on for carry, you want to be well-stocked on recoil springs and maybe a spare extractor. Depending on your particular firearm, though, there may be other known problem areas; maybe they eat locking blocks or trigger-return springs or something else. Brand-specific forums can be a gold mine for this sort of info; look past the fanboys and get advice from the clear-eyed devotees who know both the strengths and weaknesses of your chosen platform.
Whether it's an old and discontinued platform or a current-production-but-off-the-beaten-path oddball import, these are the sorts of things you want to check out before you decide to make a deep, high-round count, multi-year commitment to a pistol that's a little funkier than what's currently floating around in the mainstream.
Get a spare gun in case your blaster takes a dump at a class or match in the middle of nowhere. Get your holster, magazine and spare parts situations sorted before you are hip-deep into shooting the new gun. And, for heaven's sake, check the price and availability of case lots of that magical 10.73x22 mmR Ruritanian surplus ammunition before you fall in love and decide that the Ruritanian P1987m is simply the must-have gun for you.