Introduced in 2021, the KelTec P17 is a lightweight .22 LR pistol with the eponymous capacity of 17 rounds (16+1). Built with a plastic frame and polymer magazine ribbed for improved strength, P17 was intended as much as a kit gun as a trainer. It is, indeed, ideal as a knockabout for farmers, hikers or just anybody who might need a reliable-but-light .22 LR for daily use. Having used P17 since its pre-production stages, I have come to appreciate it as a nearly ideal tool for teaching new shooters.
The manual-of-arms for P17 resembles a typical defensive handgun. Safety, slide stop, and magazine release are all where they would be on a typical defensive design. The ambidextrous safety and magazine release are fenced against accidental activation, but are still accessible without shifting your hand position. The accessory rail can hold a light and/or a laser for either low-light training or to show the shooter's point of aim to the observing instructor.
Lightweight, just over 11 ounces, combined with neutral balance enable even the weakest trainee hold it up without strain. I've trained 8-year-old kids and 83-year-old seniors with this pistol. Should a more forward balance be designed for quicker return from recoil, it's easy to add an A2-style flash hider/compensator or a Tandemkross muzzle brake. For noise reduction without a sound suppressor, a linear compensator, such as the lightweight aluminum model by Pike Arms effectively redirects the blast downrange.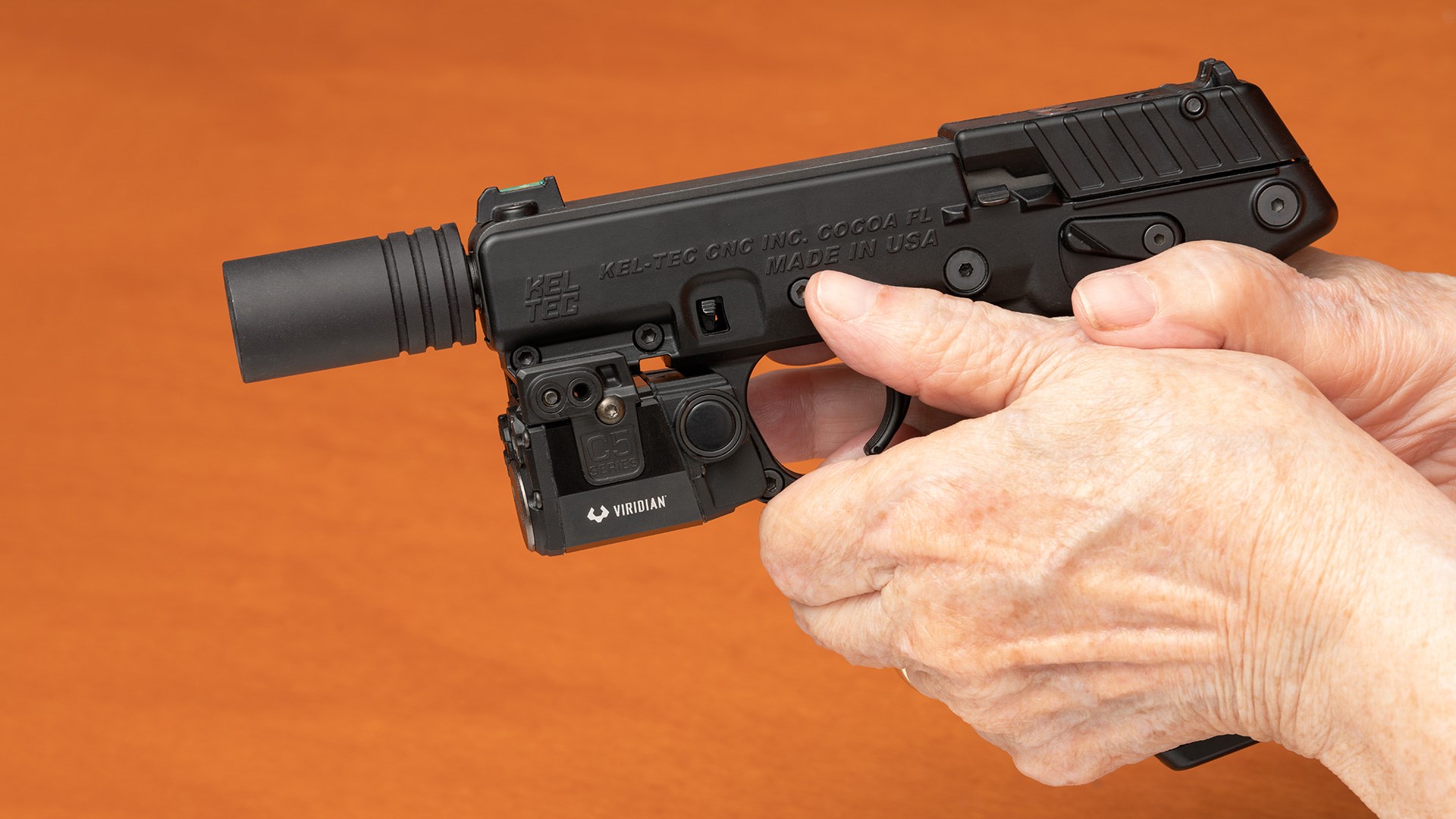 The magazine is light, space-efficient, very durable and can be easily loaded without any mechanical aids. If dropped, the magazine doesn't get damaged even after an impact on concrete floors or rocks. It's also easy to take apart for cleaning. The pistol comes with three (!) in the box, and additional spares are quite inexpensive. 
The action of the pistol is very reliable: the gun will run anything from subsonic rounds to extra velocity loads with equal reliability. In the rare case of an ammunition-induced misfire, (more than with most pistols, thanks to the concealed hammer firing mechanism), the extra-wide ejection port makes it easy to remove a dud cartridge from the chamber. The P17 boasts an extreme resistance to fouling: the two samples I have have each fired thousands of rounds without cleaning, with no stoppages yet. The 3.8-inch-long barrel is just long enough to get a useful velocity from the .22 LR cartridge. Field-stripping for cleaning takes only seconds: the top slide and bolt lift off the frame, providing easy access to the internals and the breech side of the barrel. 
Sights are easily adjustable for windage and elevation. The fiber optic pipe on the front sight draws the eye, making it easier to train front sight focus. The trigger is light and crisp without being too touchy for new shooters. That adds up to good practical accuracy, though P17 is no match pistol. On a silhouette target, it's good to about 50 yards, on small game out to about 15 yards.
The design is sound-suppressor friendly, but I recommend using only subsonic ammunition if you choose to use a suppressor. The P17 will run supersonic ammo just fine, but with a risk of singing the support hand thumb with burning powder flakes due to the proximity to the ejection port. Without the extra backpressure of the suppressor, however, that is not a factor. The non-moving upper receiver forward of the ejection port is especially helpful for new trainees. On many .22 LR pistols, thumbs held along the slide induce enough friction to short-cycle the gun, and as a result, they require a low hold that is inconsistent with how a centerfire handgun would be grasped. With P17, a conventional hold with both thumbs high and forward works fine, building good habits.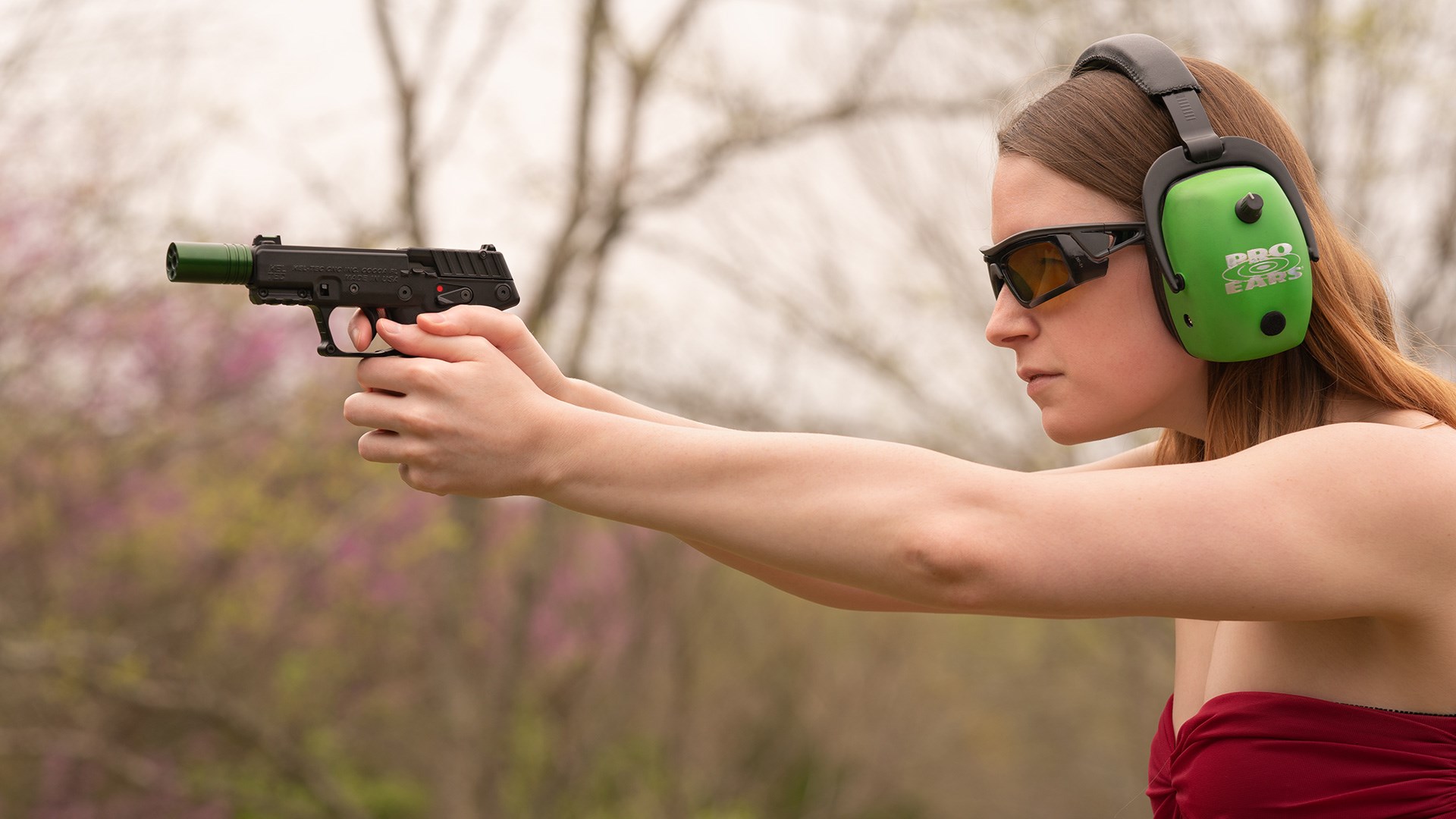 With a $199 MSRP, the pistol is very affordable. Magazines are likewise affordable at $14.95 MSRP or less. The full-scale production of P17 did not start until after KelTec tested the prototypes exhaustively for reliability with a wide variety of ammunition, for rust resistance, and for functionality in adverse weather conditions such as a Wyoming winter. At the same time, it was tested to work with gloved hands.
Perhaps the best argument for P17 is how many people, having tried a wide variety of dedicated rimfire pistols and .22 conversion kits on centerfire frames preferred to train with this gun. More than a few elected to buy a P17 of their own, either for training or for daily carry. For people who cannot handle a centerfire handgun due to hand strength limitations or because of noise sensitivity, a P17 with Federal 45-grain subsonic ammunition provides 17 reliable rounds of adequate penetration and moderate muzzle blast.