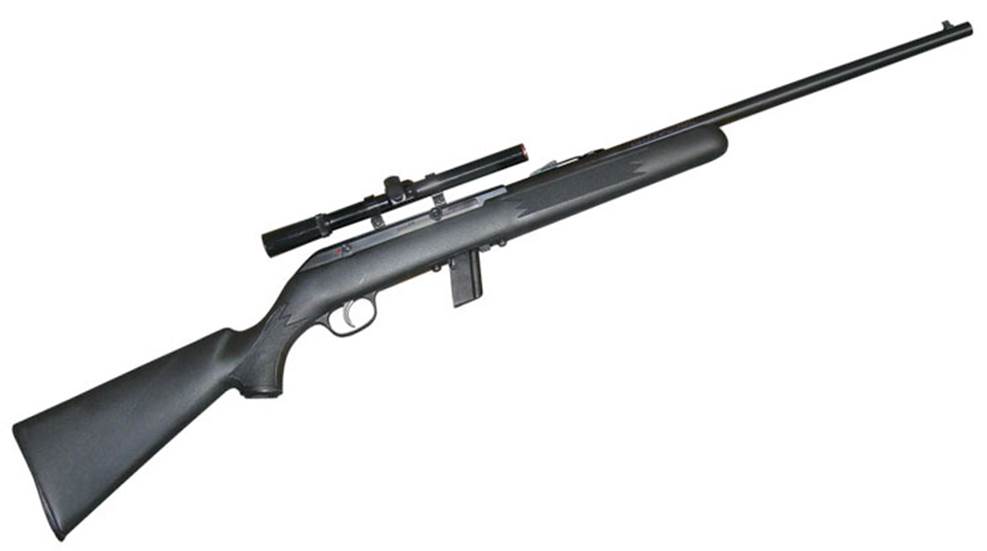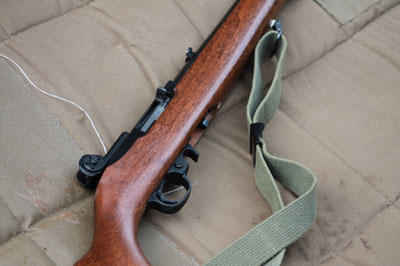 If you want to train to improve your rifle-marksmanship skills, you need a goal and a rifle. A solid goal to make yourself a rifleman (or riflewoman) is to be accurate to within 4 MOA out to a distance of 500 yards—the "rifleman's quarter-mile"—with iron sights using a properly functioning military-surplus rifle.
In my research and experience, certain characteristics have emerged in a reasonably-priced training rifle optimized to the 25-meter ranges commonly found at indoor and outdoor ranges. Keep in mind, there is no specific "correct" rifle, but these common characteristics seem to make for a better experience for the majority of shooters.
They include:
●     .22 LR chambering
●     Semi-automatic operation
●     A 1.25-inch G.I. cotton or nylon web sling, as used on the M1 Garand
●     Sling swivel studs
●     Quick-detachable (QD) sling swivels
●     U.S. military-style aperture sights
●     At least two detachable magazines with a minimum capacity of 10 cartridges, each
●     An enhanced magazine release (Where needed)
Two rifles in particular seem perfect for modifications into this training-rifle platform, and it will come as little surprise that one of the semi-automatic .22 LRs favored for conversion to an LTR is the Ruger 10/22, in both rifle and carbine configurations.
The 10/22 is an obvious selection, being a very popular rifle because of its relatively low cost, good accuracy potential, modularity and immense aftermarket support. They vary from off-the-shelf rifles to highly-tuned precision variants retailing for more than $1,000.
Common additional modifications made to 10/22s include the previously mentioned extended magazine release, an automatic-release bolt hold-open, an aftermarket extractor and a tuned or aftermarket trigger.

A full list of modifications can easily double the price of a 10/22-based training rifle, however, and the added cost has played a role in the emergence of the Marlin Model 795 as a cost-effective alternative that will still deliver exceptional performance without much customization.
Based on the Marlin Model 70, which is itself an offshoot of the tube-fed Marlin and Glenfield Model 60s, the Model 795 is not blessed with the wide array of aftermarket parts that you will find for the 10/22. There are fewer stocks, no diverse aftermarket of barrels in various sizes, configurations and materials and fewer cosmetic options.
What the Model 795 does boast is out-of-the-box accuracy many claim is superior to a factory Ruger 10/22 and most other.22-caliber semi-automatics. This accuracy is attributed to a consistent, time-tested trigger, but more so to Marlin's proprietary Micro-Groove barrel, which uses 16 small rifling grooves to impart spin on the bullets, instead of the four to eight grooves found in similar rifles (factory 10/22 barrels use six grooves). Less deformation by the many shallower grooves means the bullet keeps its shape better and flies straighter.
When equipped with recommended training-rifle features—such as a 1.25-inch G.I. cotton or nylon web sling, QD sling swivels and U.S. military-style aperture sights—a shooter can have an training-rifle-spec Marlin 795 for roughly as much as he or she could expect to spend for a base-model 10/22.
Which is "better" between the Marlin 795 and the Ruger 10/22 as a training rifle? That depends entirely upon the shooter.
Physiologically, all base-model rifles are developed around the measurements of a mythical "average person." If you are drastically taller or shorter, have appreciably longer or shorter arms, less than average flexibility in your shoulders, back, neck, etc. or specific physical maladies, you might legitimately perform better with a rifle that has a custom stock or other enhancements, and the aftermarket is going to favor the 10/22.
Likewise, if you want to have a firearm to tinker with—swapping parts out to make the same base gun a tactical or benchrest rifle—the 10/22 is also going to be your better option.
For those with average physical dimensions and a smaller budget, however, the Marlin 795 provides a cost-effective training rifle offering all the accuracy you'll need to improve your marksmanship skills.
Both variants—and other semi-automatics that can be built to these standards—provide a tool for quality marksmanship training at reasonable prices, while still emulating the post-and-aperture sight picture used on American military rifles for the past 100 years.
You can spend more money learning to master the basics of marksmanship shooting centerfire ammunition, but any variant of this concept is a smart shooter's more economical choice.