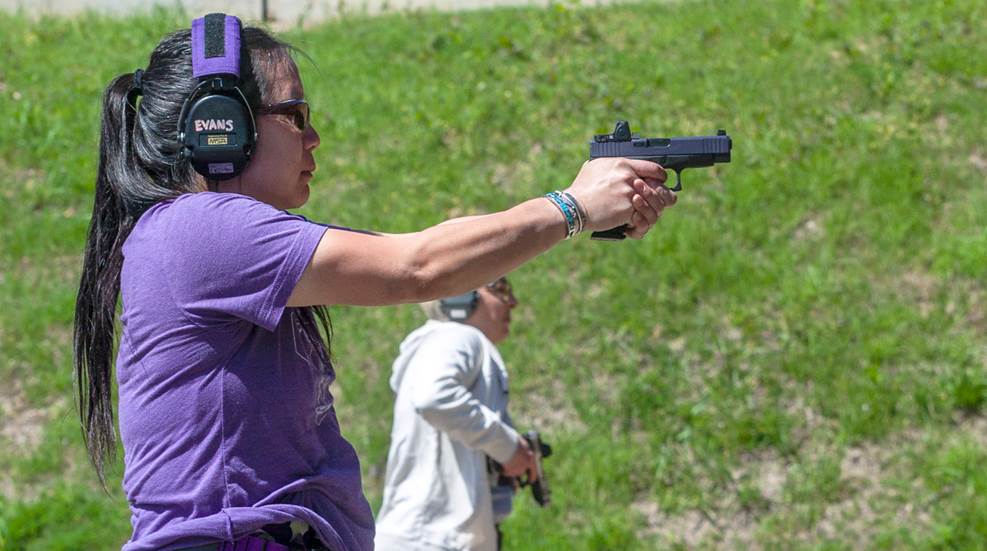 As was typical of many shooters at the TacCon event, Annette Evans engaged targets with her MRDS-enhanced Glock G48, drawn from appendix carry.
As I write this, I'm freshly returned home from the 2021 Rangemaster Tactical Conference. "TacCon" as everyone calls it, because the full name is a lot of keystrokes, is an annual event that started out as something to do while waiting to shoot stages at the International Defensive Pistol Association Indoor Winter Championship back in the late 1990s. It was hosted by trainer Tom Givens, one of the first members of the then-new IDPA, at his Rangemaster facility in Memphis, TN.
Claude Werner, the official historian for the event, relates at his "Tactical Professor" blog that Givens' association with many of the big names in firearm training, plus the classroom space at his facility, allowed him to fill in the downtime during the indoor match with seminars taught by some of the premier trainers of the time.
As the years have gone by, the event has grown and morphed to the point that the match has become something of an appendix to an ever-larger weekend of classroom, hands-on and live-fire training covering nearly every aspect of the—for lack of a better term—"CCW lifestyle." While attendance is capped at around 300, it provides an interested observer a good look at a broad cross-section of people who have basically only two things in common: They carry a gun pretty much every day, and they care enough about it to give up a nice three-day weekend in late March to learn more about how to be better and smarter about that lifestyle.
For the last few years, I've basically roamed the event as the semi-official photographer and it not only lets me see familiar faces and touch base with friends, but I also get a good look through the lens at what the current trends are in guns, holsters and gear among the sort of people who are into the totin' life.
An immediate observation is that the Glock G43X/G48 and SIG Sauer P365/P365XL have probably succeeded beyond their manufacturer's wildest expectations. Easy-to-carry size and reasonably large magazine capacity continue to be a winning formula across a pretty wide spectrum of experience levels.
While Glocks were probably the most common products on offer, it wasn't the crushing numerical superiority they used to enjoy. The plurality of attendees were probably toting some size variant or another of the Austrian Drastic Plastic, but there were lots of SIGs, both P320 and P365 variants as well as at least one notable classic DA/SA in the hands of the champion of the Lady's Shootoff. SIG offerings seem to have slid past Smith & Wesson M&P variants as the most common not-a-Glock in holsters at TacCon.
Appendix carry continues to grow in popularity. Among the roughly three-fifths of attendees who competed in the match, it was probably the most popular carry position by a slight majority. Another surprise was the increasing commonality of some sort of red-dot optic on carry guns. Among the 16 men and eight women who made into the single-elimination shootoffs, at least half were rocking some sort of slide-mounted optic. A slight majority used an MRDS of one brand or another, with a slightly larger number using Holosun than Trijicon, and then a handful running SIG Romeos or Swampfox-brand offerings.
Caliber-wise, even in the middle of the worst ammo drought since World War II, the 9 mm remained the overwhelmingly most popular choice. If you were a handloader and wanted to find your own brass, the easiest way to do it would have been to shoot anything other than nine. The .40 S&W and .45 ACP were well on their way to being eclectic choices.
The fact that the TacCon match scoring does not distinguish between revolvers and semi-automatics probably contributed to the fact that Werner was one of only three shooters to actually shoot the match itself with a wheelgun. Despite this, Lee Weems of First Person Defense managed to teach three well-attended blocks on the use of the revolver in a personal-protection role.
One of the more interesting blocks of instruction was taught by Chuck Haggard of Agile Tactical and focused on subcompact and pocket-size guns—from the Glock G43 down to these little pocket .380s popular today—teaching the specialized manual-of-arms required by these tiny pistols, as well as pointers for operating them from pocket or ankle holsters.
I just have to end this by throwing out mad props to PHLster Holsters and its innovative Enigma carry platform. I rode to and from TacCon with my friend John Johnston. It was all of a 15-hour drive each way. Johnston drove both ways wearing a Glock G45 with a compensator, weapon-mounted light and Holosun MRDS in the appendix position in a PHLster Enigma. In sweatpants. And he used this rig to do well enough in the match to make it into the second round of the shootoff. That's a pretty convincing demo for the new carry rig.