The better the gun is concealed, the harder it is to draw. That said, sometimes social convention, wardrobe choices or a significant other who is annoyed that you never tuck in your shirt may prevent you from strapping a full-sized pistol and a magazine pouch on your belt. In those cases, pocket carry beats having nothing at all. If you value the body parts below your waist, then always pocket carry with a holster.
I've carried a Kel-Tec P3AT with a Crimson Trace laser for years. I found myself swapping out pocket holsters and belt holsters quite a bit, depending on my choice of attire. This was tedious and required handling an unholstered pistol more than I wanted. I thought it would be a good idea if someone made a holster that could do double-duty, both as a tuckable belt holster and as a pocket holster. This would clear out a slot in the holster drawer and reduce the number of times I handled a loaded firearm. Sounded like a win-win.
So, I contacted Michael Hast at The Holster Site and told him what I was thinking. Hast makes high-quality, made-to-order holsters and bags of all sorts and in custom colors. He makes them from the ground up to your liking, and they come with a lifetime warranty and satisfaction guarantee. I'm not a holster maker, so I didn't know the best configuration for such a holster. But, Hast knows what he's doing and he ran with the idea. Within a few weeks, he shipped me a holster he called The Executive, though I would have preferred something more avuncular sounding.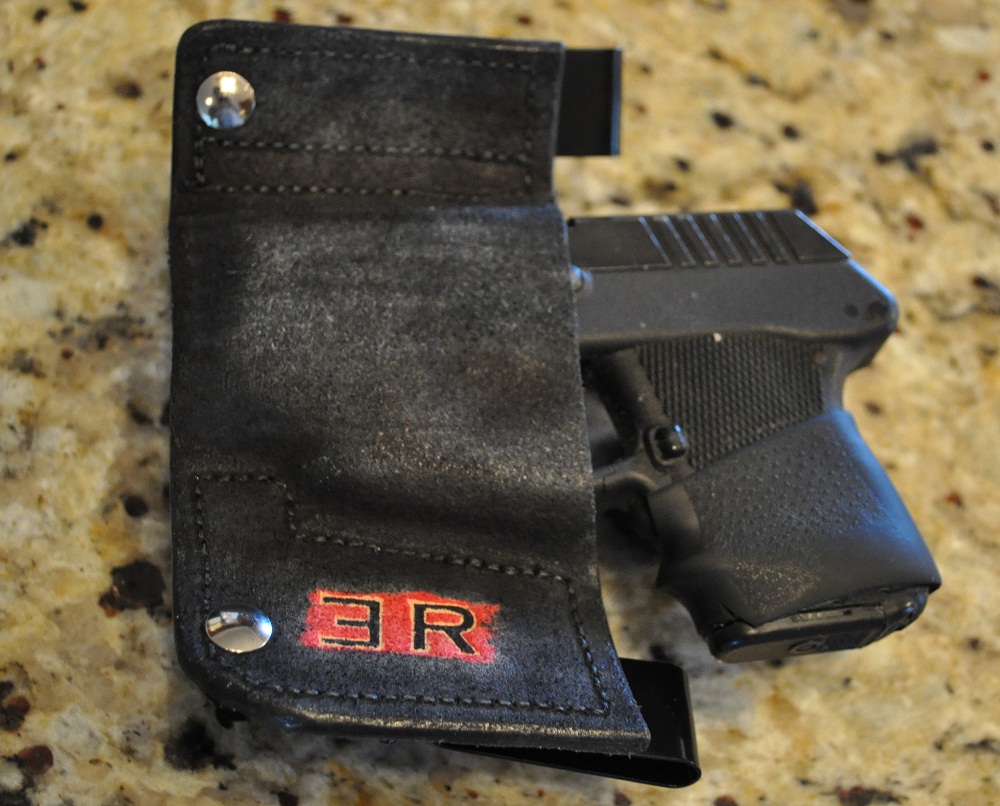 The holster I received came in a distressed-black finish and treated with silicone for protection from moisture. Kevlar threads lend to its solid construction. It also comes with two tuckable belt clips. I originally thought I wanted a holster with a single tuckable clip, but the two clips keep the handgun more secure.
For pocket carry, it's easy to conceal in large front pockets and cargo pockets. The leather is rough side out to help to secure the holster and pistol in place. I've had issues with smooth-side-out holsters turning sideways in a pocket. Smooth-side-in holsters also make for an easier draw.
When clipped to a belt for inside-the-waistband carry, The Executive is hardly noticeable. With a shirt tucked in, it practically disappears save for the tips of the clips showing under the belt—even in a T-shirt and jeans.
I've carried with this holster a lot with no complaints. It is high quality, built to last and comes with a lifetime guarantee.