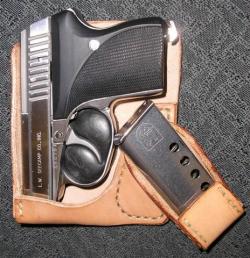 Pocket carry needs are met with designs for front, back and cargo pockets as well as options for access to spare magazines.
New Models:Kel-Tec PF9NAA GuardianSeecamp LWS32 & LWS380Ruger LCRWalther PPK
Recluse Solo with Single Magazine Pouch
Recluse holsters are handmade from high quality U.S.A. steer hide and horsehide with a limited number of models available in Kydex manufactured by Blade-Tech Industries.
Recluse pocket holsters can be found (although not seen) in the pockets of countless concealed carry holders as well as law enforcement officers and military personnel throughout the country.
https://www.recluseholster.com/
Visit us in St. Louis - NRA booth 3819